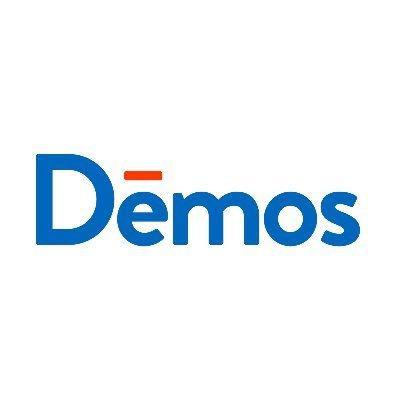 Demos Statement on Sallie Mae Report Showing Skyrocketing Student Credit Card Debt
"A Shocking Increase of More than 44 % in 4 years For College Seniors; Congress Must Act To Protect Student Borrowers, Reform Higher Ed Funding"
NEW YORK
This week, Sallie Mae
published a new report showing a massive increase in credit card debt among
college students over the last four years. The study, entitled "How
Undergraduate Students Use Credit Cards: Sallie Mae's National Study of Usage
Rates and Trends, 2009" showed that, as educational expenses and costs of living
rose while student aid continued to drop, more students relied on their credit
cards to pay for college expenses.
In response, Tamara Draut, Vice President of Policy and Programs
at Demos, a national research and policy center which studies the economic
concerns of young adults and the rise of debt in America, and author of the book
"Strapped: Why America's 20-and 30-Something's Can't Get Ahead," issued the
following statement:
"The report published this week by Sallie Mae, the nation's
largest student loan provider, captures a disturbing rise in credit card debt,
much of it fueled by the rising cost of college and an anemic financial aid
system that can't keep up.
"This study reveals a large increase in the level of student
credit card debt since 2004, with the average indebted senior now carrying over
$4,100, a 44 percent increase, while the average freshman in 2008 had
accumulated over $2,000 debt. In a 'Debt for Diploma' system that already
saddles college graduates with over $20,000 in student loan debt, the evidence
of increased credit card debt further confirms that college costs are leaving
this generation with a heavy debt burden.
"The reasons for this massive debt increase are manifold:
Adjusted for inflation, college tuition at the average 4-year institution has
increased 35% in the last five years alone. The Sallie Mae report reveals that
more students are using their credit cards to cover the direct costs of college.
In fact, 30 percent put tuition on their credit card, up from 24 percent in
2004, and 92 percent of undergraduates with credit cards charged textbooks,
supplies, and other expenses, up from 85 percent in 2004. And the average
charges related to direct college costs more than doubled from 2004 to 2008,
from $942 to $2,200.
"Fortunately, there is currently Federal momentum to enact
crucial credit card industry reform as well as modernization and expansion of
federal student aid programs
"These include The Credit Card Accountability, Responsibility
and Disclosure Act, or 'the Credit CARD Act', introduced by Senator Dodd (D-CT)
last month and the Credit Cardholder's Bill of Rights Act, introduced by Rep.
Carolyn Maloney (D-NY), which would put an end to some of the most abusive
practices of the credit industry, including aggressive marketing of credit cards
to the young. The Sallie Mae report underscores the need for such reform, and
for increasing scrutiny of predatory and capricious credit card practices.
"We also have in the President's budget a foundation for many of
the key reforms needed to ensure greater access to funding for higher education
and making loans more affordable over the long term, such as moving to a Direct
Loan program and expanding grant-based aid.
"These are currently under consideration by Congress, and
deserve serious attention.
For more information about Demos' work on young adult
financial concerns, including "Strapped" (https://www.strappedthebook.com/), the 2008
"Economic State of Young America" (https://www.demos.org/pubs/esya_web.pdf) report, or
the "Contract for College," (https://www.demos.org/pubs/contract.pdf) visit Demos.org. To schedule an interview with Tamara
Draut, see contact information.
Demos is a think tank that powers the movement for a just, inclusive, multiracial democracy. Through cutting-edge policy research, inspiring litigation, and deep relationships with grassroots organizations, Demos champions solutions that will create a democracy and economy rooted in racial equity.
LATEST NEWS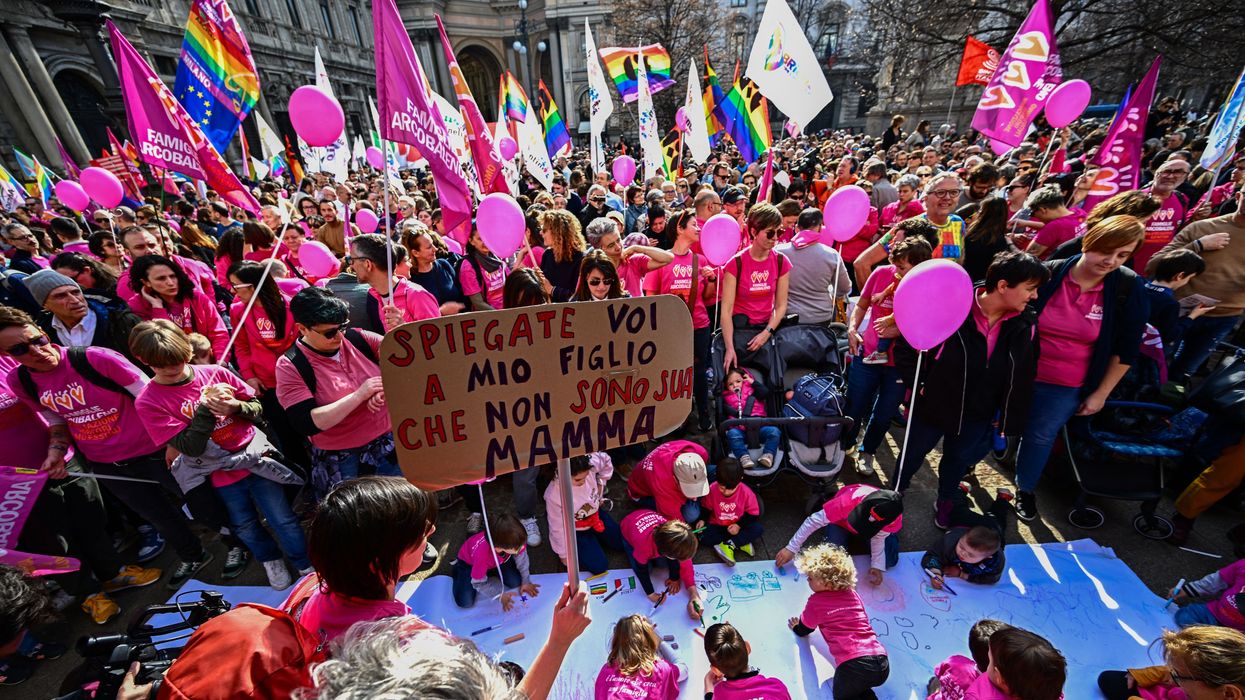 "It is an obvious step backwards from a political and social point of view," said the mayor of Milan. "I put myself in the shoes of those parents who thought they could count on this possibility."
Hundreds of people hit the streets of Milan, Italy on Saturday to protest the far-right government's assault on the parental rights of same-sex couples.
"You explain to my son that I am not his mother," read one woman's sign, while children wore shirts declaring, "It is love that creates a family."
Italy legalized same-sex civil unions in 2016, but it stopped short of granting gay and lesbian couples the right to adopt amid opposition from the Catholic Church. Since then, courts have made decisions on a case-by-case basis in response to lawsuits from prospective adoptive parents.
Some municipalities, however, "decided to act unilaterally," Agence France-Pressereported Saturday. "Milan had been registering children of same-sex couples conceived overseas through surrogacy—which is illegal in Italy—or medically assisted reproduction, which is only available for heterosexual couples."
"But its center-left mayor Beppe Sala revealed this week that this had stopped after the interior ministry sent a letter insisting that the courts must decide," the news agency noted.
In a podcast, Sala said that "it is an obvious step backwards from a political and social point of view."
"I put myself in the shoes of those parents who thought they could count on this possibility in Milan," he added, vowing to fight back.
"This government is the maximum expression of homophobia."
AFP reported that "about 20 children are waiting to be registered in Milan," citing leading LGBTQ+ rights campaigner Fabrizio Marrazzo. "A mother or father who is not legally recognized as their child's parent can face huge bureaucratic problems, with the risk of losing the child if the registered parent dies or the couple's relationship breaks down."
Earlier this week, Marrazzo said that "when a law is unjust and discriminatory those who engage in politics must have the courage to disobey it."
In the words of Gabriele Piazzoni, secretary-general of Arcigay, "The ban is one of the most concrete manifestations of the fury that the right-wing majority is unleashing against LGBTI people."
Last year, before she was elected to lead Italy's far-right coalition government, Prime Minister Giorgia Meloni of the fascist Brothers of Italy Party said in a speech, "Yes to natural families, no to the LGBT lobby!"
Earlier this week, The Associated Pressreported, "a Senate commission blocked an attempt to recognize birth certificates of the children of same-sex couples issued by other E.U. states."
Alessia Crocini, president of Rainbow Families, warned that "this government is the maximum expression of homophobia."
"Meloni says that for a child to grow up well, they need a mother and father, even if decades of research say otherwise," Crocini told AP. "It is insulting to hundreds of thousands of families with two same-sex parents."
News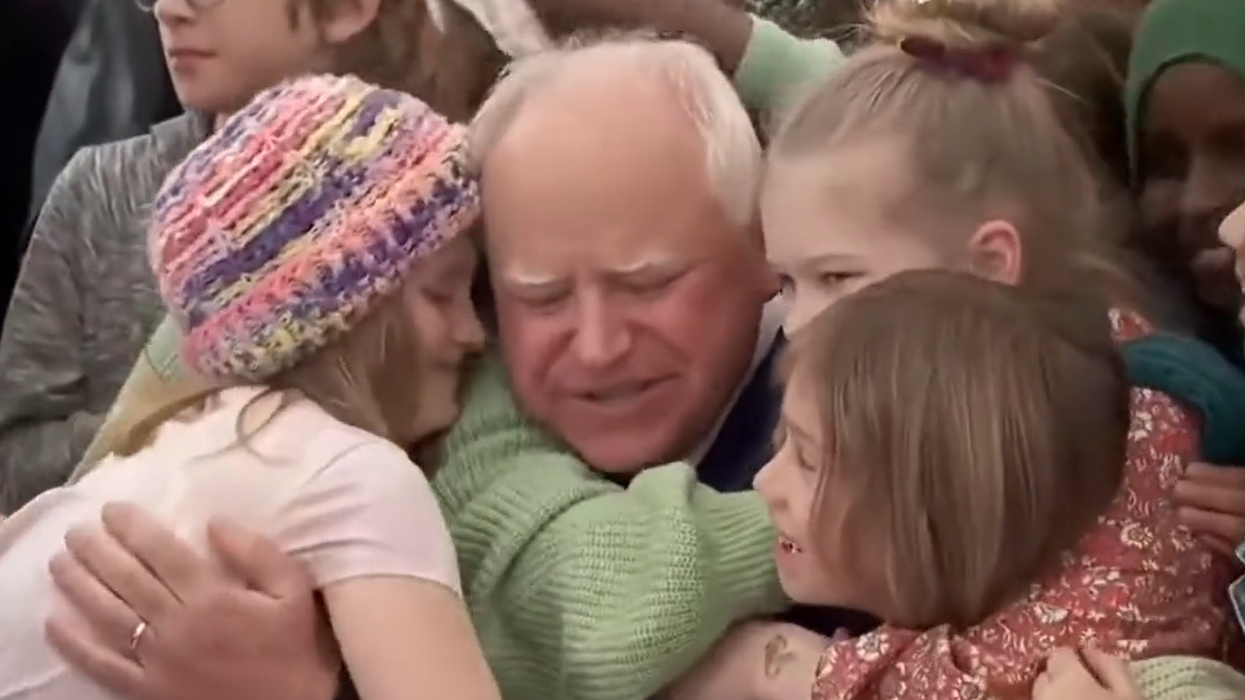 "Let this serve as a reminder that poverty is a policy choice," said one advocate. "In the richest country in the world, it is absolutely inexcusable that millions of our children go to school hungry because they are living in poverty."
Surrounded by students, teachers, and advocates, Democratic Minnesota Gov. Tim Walz on Friday afternoon signed into law a bill to provide breakfast and lunch at no cost to all of the state's roughly 820,000 K-12 pupils regardless of their household income.
The move to make Minnesota the fourth U.S. state to guarantee universal free school meals—joining California, Maine, and Colorado—elicited praise from progressives.
"Beautiful," tweeted Stephanie Kelton, a professor of economics and public policy at Stony Brook University.
"No child should go hungry for any reason, period."
UC-Berkeley professor and former U.S. labor secretary Robert Reich wrote on social media: "Let this serve as a reminder that poverty is a policy choice. In the richest country in the world, it is absolutely inexcusable that millions of our children go to school hungry because they are living in poverty."
An estimated 1 in 6 children in Minnesota don't get enough to eat on a regular basis. But 1 in 4 food-insecure kids live in households that don't qualify for the federal free and reduced meal program, leading to "mounting school lunch debts in the tens of thousands of dollars," Minnesota Public Radioreported.
Tens of thousands of children are set to benefit from Minnesota's new law, which could be operational as early as summer school in July. Some of them were there to thank Walz at the signing ceremony, where the sense of elation was palpable.
"As a former teacher, I know that providing free breakfast and lunch for our students is one of the best investments we can make to lower costs, support Minnesota's working families, and care for our young learners and the future of our state," Walz said. "This bill puts us one step closer to making Minnesota the best state for kids to grow up, and I am grateful to all of the legislators and advocates for making it happen."
The Minnesota House—led by the Democratic-Farmer-Labor (DFL) Party, the state's Democratic affiliate—first passed the bill in February in a 70-58 party-line vote. The state Senate—where the DFL holds just a single-seat advantage—approved it on Tuesday by a 38-26 margin. The state House rubber-stamped an amended version of the bill on Thursday.
In a now-viral clip from the state Senate's debate over the bill earlier this week. Sen. Steve Drazkowski (R-20) questioned whether hunger is really a problem in Minnesota—even as the state's food banks reported a record surge in visits last year, months before federal lawmakers slashed pandemic-era Supplemental Nutrition Assistance Program (SNAP) benefits.
"I have yet to meet a person in Minnesota that is hungry," Drazkowski said before voting against the bill. "I have yet to meet a person in Minnesota that says they don't have access to enough food to eat."
During Friday's signing ceremony, Lt. Gov. Peggy Flanagan (DFL) said, "To our decision-makers who believe they have never met someone who is experiencing or has experienced hunger: Hi, my name is Peggy Flanagan, and I was 1 in 6 of those Minnesota children who experienced hunger."
"By providing free breakfast and lunch to all of our students, we are removing barriers and removing stigma from the lunch room," said Flanagan. "We are helping family pocketbooks, especially for those 1 in 4 who don't qualify for financial assistance with school meals. We are leading with our values that no child should go hungry for any reason, period."
"This is an investment in the well-being of our children, as well as an investment in their academic success," Flanagan added, calling the "generation-changing" bill "the most important thing" she's ever worked on in her life.
"By providing free breakfast and lunch to all of our students, we are removing barriers and removing stigma from the lunch room... This is an investment in the well-being of our children, as well as an investment in their academic success."
As Minnesota Reformerreported: "The majority of Minnesota schools receive federal funding from the National School Lunch Program, which reimburses schools for each meal served, though it doesn't cover the cost of the entire meal. Under the new law, schools are prohibited from charging students for the remaining cost, and the state will foot the rest of the bill—about $200 million annually."
MPR noted that "the legislation is similar to a program that was introduced during the pandemic to provide meals for all students, but was discontinued at the end of last year."
Last month, The Star Tribune editorial board opined that providing free breakfast and lunch to all of Minnesota's students, including affluent ones, is "excessive."
Pushing back against this argument for means-testing, Darcy Stueber—director of Nutrition Services for Mankato Area Public Schools and public policy chair of the Minnesota School Nutrition Association—asserted that meals should be guaranteed to all kids at no cost, just like other basic learning necessities.
"We don't charge for Chromebooks and desks and things like that," she told MPR. "It's a part of their day and they're there for so many hours. It just completes that whole learning experience for the child."
Minnesota Rep. Sydney Jordan (DFL-60A), the bill's lead author, made the same point to counter GOP lawmakers' complaints following the initial passage of the legislation.
"We give every kid in our school a desk," Jordan said last month. "There are lots of kids out there that can afford to buy a desk, but they get a desk because they go to school."
Walz, for his part, stressed Friday that his administration is "just getting started" when it comes to boosting education funding.
"The big stuff," said the governor, "is still coming."
News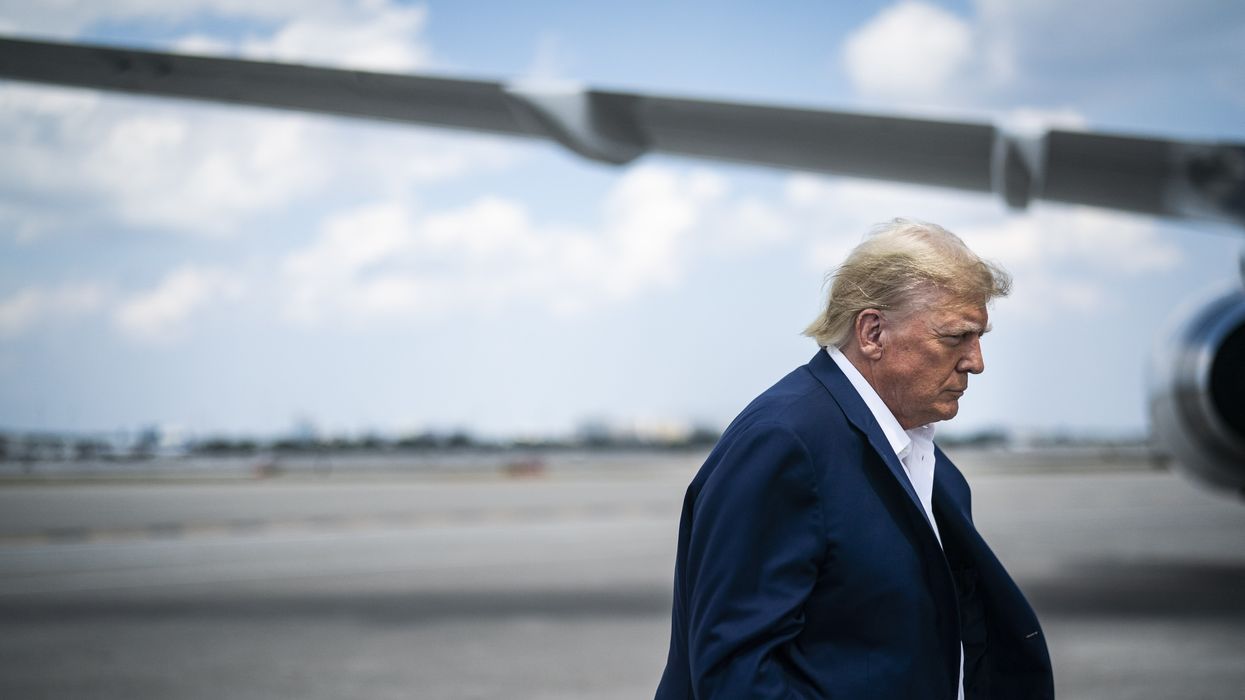 Trump has recently "excused or dismissed the violence of January 6," one journalist warned. "He is an authoritarian willing to (again) use violence for his own ends."
Former U.S. President Donald Trump claimed Saturday on his social media platform that he "will be arrested" on Tuesday and implored his supporters to "protest" and "take our nation back," sparking fears of additional right-wing violence.
Trump's call to action was reminiscent of how, six weeks after losing the 2020 presidential election, he took to Twitter to urge his supporters to join a "big protest" in Washington, D.C. on January 6, 2021. "Be there, will be wild!" he wrote. Hundreds of far-right insurrectionists showed up and, after Trump told them to march from a rally near the White House to the Capitol, stormed the halls of Congress in a bid to prevent lawmakers from certifying President Joe Biden's win. Multiple people died as a result of the failed coup, which was fueled by Trump and his Republican allies' incessant lies about voter fraud.
Trump is expected to be indicted by a Manhattan grand jury in a criminal case involving hush money paid to women who said they had sexual encounters with the former president, but its timing is unclear.
Just before 7:30 am ET on Saturday, Trump baselessly declared on Truth Social: "Illegal leaks from a corrupt and highly political Manhattan district attorney's office... indicate that, with no crime being able to be proven... the far and away leading Republican candidate and former president of the United States of America will be arrested on Tuesday of next week. Protest, take our nation back!"
Alluding to Trump's prior use of social media to provoke the Capitol attack, Citizens for Responsibility and Ethics in Washington asked, "Will Facebook, Twitter, and YouTube allow him to use their platforms to incite riots?"
Mother Jones' D.C. bureau chief David Corn, meanwhile, noted that Trump has recently "excused or dismissed the violence of January 6."
"He is an authoritarian willing to (again) use violence for his own ends," Corn tweeted. "That is a threat to the nation."
As HuffPost's senior White House correspondent S.V. Dáte pointed out, "The coup-attempting former president... began inciting civil unrest if prosecutors came after him more than a year ago."
At a January 2022 rally in Texas, Trump promised to pardon January 6 rioters if he wins in 2024 and urged huge protests if prosecutors investigating his effort to subvert the 2020 election and other alleged crimes try to bring charges.
"If these radical, vicious, racist prosecutors do anything wrong or illegal, I hope we are going to have in this country the biggest protest we have ever had... in Washington, D.C., in New York, in Atlanta, and elsewhere because our country and our elections are corrupt," Trump told a crowd of his supporters 14 months ago.
According toThe New York Times:
Early Saturday morning, there was little evidence yet that Mr. Trump's new demand for protests had been embraced by extremist groups.

But Ali Alexander, a prominent organizer of "Stop the Steal" rallies after the 2020 election, reposted a message on his Telegram channel on Saturday suggesting that he supported mass protest to protect Mr. Trump.

"Previously, I had said if Trump was arrested or under the threat of a perp walk, 100,000 patriots should shut down all routes to Mar-a-Lago," Mr. Alexander wrote. "Now I'm retired. I'll pray for him though!"

Lacking the platform provided by the White House or the machinery of a large political campaign, it is unclear how many people Mr. Trump is able to reach, let alone mobilize, using his Truth Social website.

After the FBI in early August searched Trump's Mar-a-Lago palace and removed boxes of documents as part of a federal probe into the ex-president's handling of classified materials, many anonymous and some well-known reactionaries called for "civil war" on Twitter, patriots.win, and elsewhere.
Three days later, Ricky Shiffer, a Trump loyalist with suspected ties to a far-right extremist group and an unspecified connection to the January 6 insurrection, was shot and killed by police after an hourslong standoff. Shiffer, wielding an AR-15 and a nail gun, allegedly attempted to break into the FBI's Cincinnati office and fled to a nearby field when he was unsuccessful.
Meanwhile, Trump continued to lie about the Mar-a-Lago search on Truth Social, sparking an "unprecedented" surge in threats against FBI personnel and facilities.
As Dáte noted on Saturday morning, many people downplayed warnings issued ahead of the January 6 assault.
"Many of Trump's core supporters want authoritarianism," the journalist tweeted. "They believe in neither democracy nor the rule of law."
As the Times reported:
Although prosecutors working for the [Manhattan] district attorney, Alvin L. Bragg, have signaled that an indictment of Mr. Trump could be imminent, there was no immediate indication as to why the former president appeared confident that he would be arrested Tuesday. People with knowledge of the matter have said that at least one more witness is expected to testify in front of the grand jury, which could slightly delay any indictment.

Three people close to Mr. Trump said that the former president's team had no specific knowledge about when an indictment might come or when an arrest could be anticipated. One of those people, who were not authorized to speak publicly, said that Mr. Trump's advisers' best guess was that it could happen around Tuesday, and that someone may have relayed that to him, but that they also had made clear to one another that they didn't know a specific time frame.

Trump is expected to be charged in connection with payments his former lawyer, Michael Cohen, made to silence adult film actress Stormy Daniels and Playboy model Karen McDougal—both of whom alleged affairs with Trump—in the run-up to the 2016 presidential election.
Cohen has testified that at Trump's direction, he orchestrated payments totaling $280,000 to Daniels and McDougal. According to Cohen, the Trump Organization reimbursed him $420,000 and classified it as a legal fee. Trump's former fixer pleaded guilty to federal campaign violations in 2018.
Trump has so far evaded charges but that could soon change, as prosecutors are expected to accuse Trump of greenlighting the false recording of expenses in his company's internal records.
Citing five unnamed officials familiar with the matter, NBC Newsreported Friday that local, state, and federal law enforcement and security agencies are preparing for the possibility of a Trump indictment as early as next week.
If indicted, Trump would become the first U.S. president to face criminal charges in or out of office. Trump, who has denied all wrongdoing, says that he will keep campaigning regardless of whether he is arrested.
The Manhattan D.A.'s hush money probe is just one of Trump's many legal woes. The twice-impeached president is also facing a state-level criminal investigation in Georgia over his efforts to overturn that state's 2020 election results, as well as federal probes into his coup attempt and his handling of classified government documents.
Nevertheless, Trump is still seen as the front-runner to win the GOP's 2024 nomination.
David Aronberg, the state attorney for Palm Beach County, Florida, said Saturday morning that if Trump is indicted in New York, "there will be protests here," warning: "You have to worry about potential violence."
He pointed out that questions remain as to whether Trump would surrender to New York authorities or face extradition. Republican Florida Gov. Ron DeSantis, another authoritarian demagogue who is widely considered Trump's leading rival for the GOP's 2024 nomination, "has to sign off [any] extradition orders," said Aronberg.
The Times noted that if "Trump is arraigned, he will almost certainly be released without spending any time behind bars because the indictment is likely to contain only nonviolent felony charges."
However, The Associated Pressreported that it is not clear when the other investigations into Trump "will end or whether they might result in criminal charges."
"But they will continue regardless of what happens in New York," the outlet explained, "underscoring the ongoing gravity—and broad geographic scope—of the legal challenges confronting the former president."
News
SUPPORT OUR WORK.
We are independent, non-profit, advertising-free and 100%
reader supported.