For Immediate Release
March, 09 2009, 12:14pm EDT
Contact:
Bruce Mirken, MPP director of communications
415-585-6404 or 202-215-4205
10 Years After Institute of Medicine Recognized Medical Marijuana, Policy Catches Up With Science
Big Progress on State, Federal Levels; MPP's Rob Kampia to Debate at Cato Institute Forum March 17
WASHINGTON
As the 10th anniversary of the Institute of Medicine's historic report recognizing marijuana's value as a medicine approaches, medical marijuana patients and advocates are celebrating remarkable progress that has accelerated rapidly in recent months. A decade after the report's release on March 17, 1999, medical marijuana supporters see policy finally beginning to match scientific reality.
In late February, U.S. Attorney General Eric Holder confirmed that President Obama's campaign promise to end Drug Enforcement Administration attacks on state medical marijuana laws "is now American policy." In November, Michigan voters passed a medical marijuana law by the largest margin ever racked up by such an initiative, and medical marijuana bills are moving steadily forward in legislatures across the country, including Minnesota, Illinois and New Jersey.
After California voters passed the nation's first effective medical marijuana law in November, 1996, the Clinton administration asked the Institute of Medicine to review existing research and report on potential medical uses of marijuana. The report, "Marijuana and Medicine: Assessing the Science Base," while cautiously and carefully written, clearly acknowledged marijuana's therapeutic value for some seriously ill patients, stating, "Nausea, appetite loss, pain, and anxiety are all afflictions of wasting and all can be mitigated by marijuana."
The report acknowledged the drawbacks of smoking and urged creation of a "rapid-onset, nonsmoked cannabinoid delivery system," but added, "In the meantime, there are patients with debilitating symptoms for whom smoked marijuana might provide relief." Studies published since 1999 have verified that marijuana vaporizers provide just the sort of rapid, nonsmoked delivery the IOM suggested.
Until recently, federal officials ignored the findings, prompting co-author Dr. John Benson to tell the New York Times in 2006 that the government "loves to ignore our report. ... They would rather it never happened."
"For 10 long years the federal government waged a war against science, and against the sick and suffering, but the Obama administration has clearly signaled that this insane war on patients is going to end," said Rob Kampia, executive director of the Marijuana Policy Project in Washington, D.C. "With medical marijuana bills advancing nationwide, it's clear a new day has dawned."
Kampia will join University of California researcher Dr. Donald Abrams, whose studies have further documented marijuana's medical value, and opponent Robert Dupont for what should be a lively discussion of the report's 10th anniversary hosted by the Cato Institute in Washington, D.C., on March 17 at noon. For reservations for this free event, call 202-789-5229. The Cato Institute is located at 1000 Massachusetts Ave. NW.
Studies published since the IOM report was released have confirmed that medical marijuana can safely relieve neuropathic pain, a particularly hard to treat type of pain that afflicts millions with HIV/AIDS, multiple sclerosis, diabetes and other illnesses. Other studies have shown that use of medical marijuana to relieve nausea and other drug side effects is associated with better adherence to life-saving treatment regimens for HIV/AIDS and hepatitis C.
The Marijuana Policy Project (MPP) is the number one organization in the U.S. legalizing cannabis. We passed 13 medical cannabis laws in the past 15 years, and we ran winning campaigns in eight of the 11 legalization states. No organization in the movement has changed as many cannabis laws, impacted as many patients and consumers, created as many new markets, or done more to end cannabis prohibition in the U.S. than MPP.
LATEST NEWS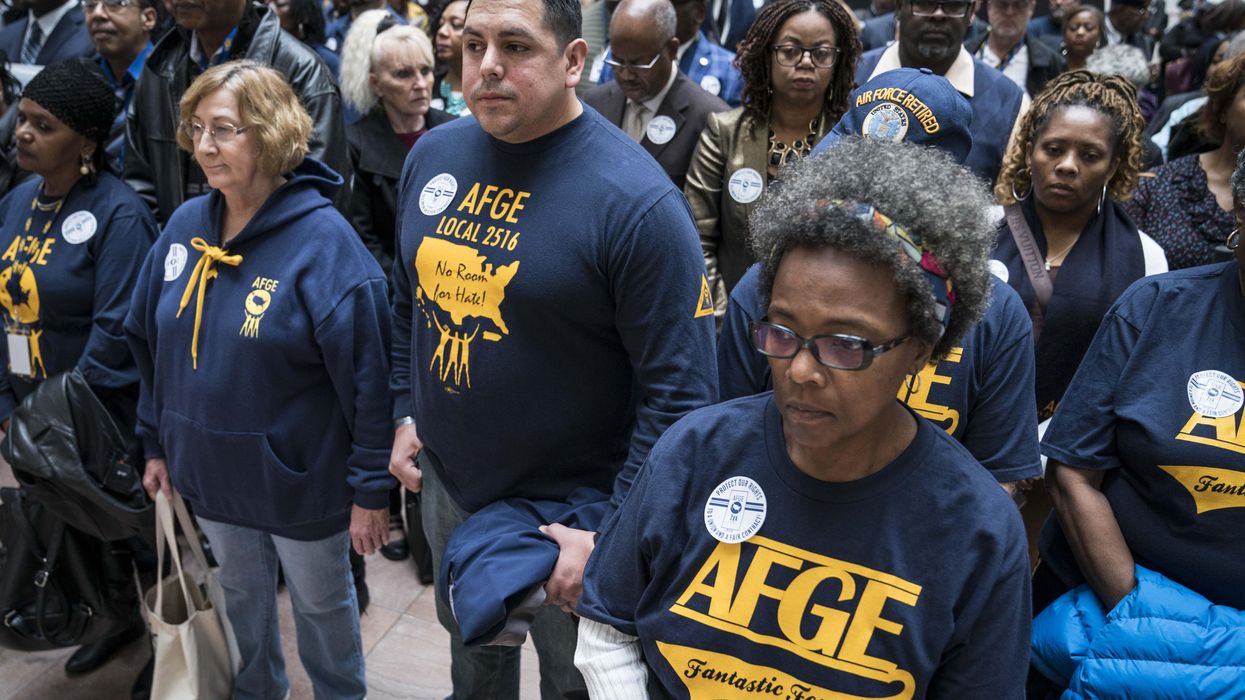 "The debt limit must be cleanly raised to avoid default and ensure the continuation of funding for the government and critical programs," the AFGE president told lawmakers.
The largest union of federal workers in the U.S. urged Congress this week to raise the debt ceiling without mandating reductions in social spending, arguing that President Joe Biden is right to reject the GOP's attempt to use the nation's borrowing limit as leverage to force through devastating cuts.
"The debt limit must be cleanly raised to avoid default and ensure the continuation of funding for the government and critical programs like Social Security, Medicare, veterans' benefits, and the U.S. military," Everett Kelley, president of the American Federation of Government Employees (AFGE), wrote in a letter sent to every member of Congress on Monday. "No negotiation that puts these programs or any aspect of federal employee compensation at risk should be considered."
Several House Republicans are threatening to block the lifting of the country's borrowing cap—an arbitrary and arguably unconstitutional figure set by Congress—unless Democrats agree to slash government spending, including on vital social programs
Notably, Capitol Hill's deficit hawks oppose reducing the Pentagon's ever-growing budget and rescinding former President Donald Trump's tax cuts for the wealthy.
The U.S. government's outstanding debt officially hit the statutory limit of $31.4 trillion last Thursday, at which point the Treasury Department started repurposing federal funds.
Treasury Secretary Janet Yellen recently told congressional leaders that "the use of extraordinary measures enables the government to meet its obligations for only a limited amount of time," possibly through early June. She implored Congress to "act in a timely manner to increase or suspend the debt limit," warning that "failure to meet the government's obligations would cause irreparable harm to the U.S. economy, the livelihoods of all Americans, and global financial stability."
A 2011 debt ceiling standoff enabled the GOP to impose austerity and led to a historic downgrading of the U.S. government's credit rating, but the country has never defaulted on its debt. Economists warn that doing so would likely trigger chaos in financial markets, resulting in millions of job losses and the elimination of $15 trillion in wealth.
Aware that an economic calamity is at stake, many Republican lawmakers "have announced that they will not support an increase in the debt ceiling without concomitant reductions in spending, possibly in the form of reductions to Social Security, Medicare, and Medicaid," Kelley wrote in the letter sent earlier this week.
"The White House says it will not negotiate such an arrangement," he added. "AFGE strongly supports the administration's refusal to negotiate on this matter."
"No negotiation that puts these programs or any aspect of federal employee compensation at risk should be considered."
In a Wednesday speech from the floor of the upper chamber, Senate Majority Leader Chuck Schumer (D-N.Y.) criticized "the House GOP's reckless approach to the debt ceiling" and challenged Speaker Kevin McCarthy (R-Calif.) "to level with the American people" on which popular programs his party wants to cut.
"The debt ceiling is a subject of the highest consequence, and using it as a bargaining chip, using it as brinkmanship, as hostage-taking, as Republicans are trying to do is exceedingly dangerous," said Schumer.
"If the House of Representatives continues on [its] current course and allows the United States to default on its debt obligations, every single American is going to pay a terrible and expensive price," Schumer continued. "The consequences of default are not some theoretical abstraction; if default happens, Americans will see the consequences in their daily lives."
"Interest rates will go soaring on everything from credit cards, and student loans, to cars, mortgages, and more," he added. "That's thousands of dollars for each American going right out the door, and it will happen through no fault of their own."
As many observers pointed out repeatedly in the wake of the midterm elections, Democrats had the power to prevent this high-risk game of brinkmanship altogether by raising the debt ceiling—or abolishing it completely—when they still controlled both chambers of Congress.
Despite ample warnings from Sen. Elizabeth Warren (D-Mass.) and other progressive lawmakers and advocacy groups, conservative Democrats refused to take unilateral action during the lame-duck session.
On Wednesday, Schumer pleaded with GOP lawmakers to simply raise the debt ceiling without demanding policy concessions in exchange.
"I'd remind my Republican colleagues that they did it before when Trump was president three times; no Democratic obstruction or hostage-taking," said Schumer. "We did it once together when Biden was president. And much of this debt comes from spending when Trump was president, voted on by a Republican House and a Republican Senate."
"It's a bit of hypocrisy now to say that they can't do it again, and they are holding it hostage and are playing a dangerous form of brinksmanship," Schumer argued. "It shouldn't matter who is president. It's still bills we already incurred that must be paid for the good of all Americans."
News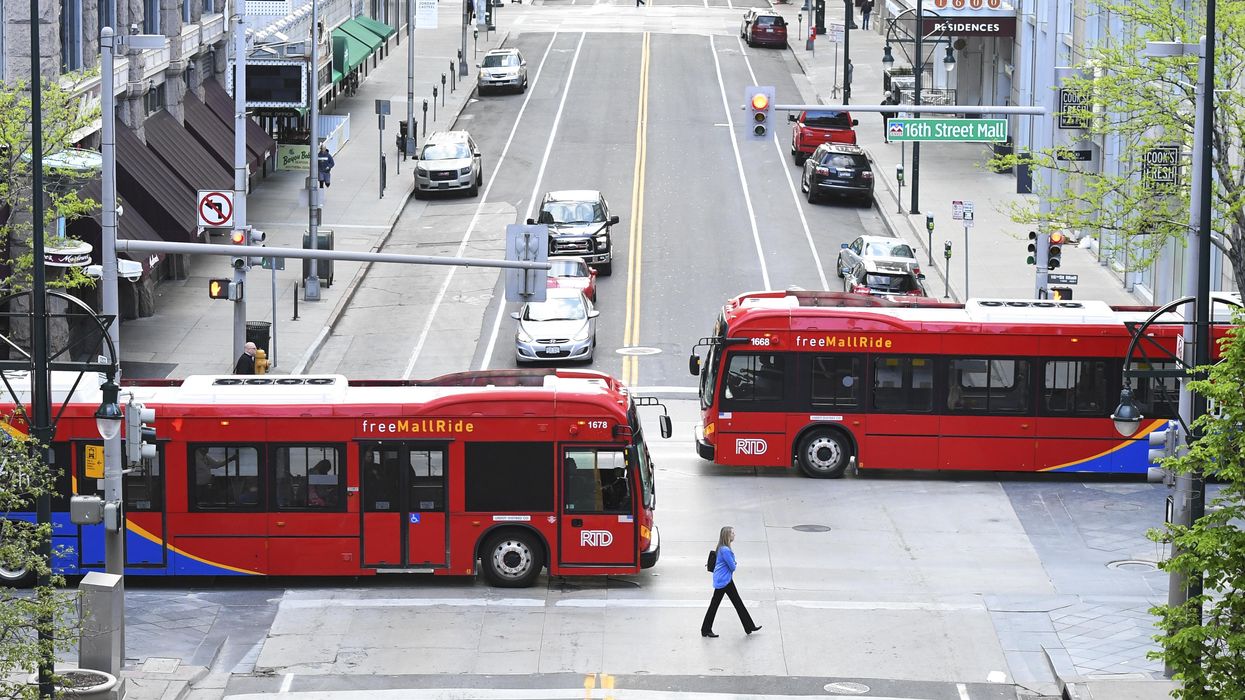 "We can either electrify the status quo to reach zero emissions, or the energy transition can be used as an opportunity to rethink our cities and the transportation sector," says lead author of new report.
Since the passage of the Inflation Reduction Act last year, the Biden administration has been making a broad push for a future centered around electric vehicles—but a first-of-its-kind study released Tuesday warned that the EV transition —but a first-of-its-kind study released Tuesday warned that the transition must go hand-in-hand with major investments in mass transit and other steps to reduce U.S. dependence on cars altogether.
Researchers at the Climate and Community Project and University of California, Davis noted in the study, titled Achieving Zero Emissions with More Mobility and Less Mining, that the transition to electric vehicles (EVs) that the Biden administration is envisioning would require the country to mine three times the amount of lithium domestically than it currently does—all from the single U.S. mine in operation.
Global demand for lithium, which powers electric batteries, is expected to rise over 40 times by 2040, if the International Energy Agency's (IEA) "sustainable development scenario" is met, with the world reaching roughly two billion EVs on the road by 2050 in order to reach net-zero greenhouse gas emissions.
"The report brings into light possibilities for a future without fossil fuels that minimizes mineral extraction and new harms to communities in lithium-rich areas."
"Replacing all of the [internal combustion engine] vehicles on the road with EVs on a 1:1 basis is infeasible, particularly on the urgent timeline needed for climate mitigation," reads the report. "This would require significant increases in extraction of minerals like lithium and cobalt for EV battery packs and would also require an enormous amount of electricity."
The extraction of lithium can have "oftentimes devastating consequences," reads the report, including consumption of massive amounts of water—often in areas already facing climate crisis-fueled drought like Nevada, where 50 new lithium mine projects are being developed—water contamination; violations of Free, Prior, and Informed Consent standards for Indigenous people; and the destruction of landscapes that serve as carbon sinks.

While "preserving the status quo" and maintaining the number of cars on the road may be "politically easier," lead study author Thea Riofrancos toldThe Guardian, "it's not the fastest way to get people out of cars or the fairest way to decarbonize."

"We can either electrify the status quo to reach zero emissions, or the energy transition can be used as an opportunity to rethink our cities and the transportation sector so that it's more environmentally and socially just, both in the U.S. and globally," she added.
\u201cCheck out our latest report covered by the Guardian! \n\nOur groundbreaking research shows that we can massively reduce the need for lithium by:\n \n\ud83d\ude8e investing in buses, subways, and walkable cities\n\ud83d\ude97 limiting car size (no EV hummers, please!)\n\u267b\ufe0f recycling\u201d

— Climate and Community Project (@Climate and Community Project) 1674575193
The researchers created models to determine the amount of lithium the U.S. would need to extract in order to achieve zero emissions for personal vehicles, comparing scenarios with a number of variables including car ownership rates, the size of EVs and the batteries they use, city density, public transit use, and battery recycling rates.

\u201cHow much lithium is needed to electrify the car-dependent status quo vs transforming the transportation system to increase mass transit, walking & cycling? Our new @cpluscp report finds dramatic differences. We can achieve more mobility with less mining 1/ https://t.co/hzgDJ6gm1o\u201d

— Thea Riofrancos (@Thea Riofrancos) 1674572126
In the best-case scenario, the U.S. would have to extract 40,000 tons of lithium to power EVs in 2050—with demand 92% lower than under the car ownership status quo. In this scenario, battery recycling would be widespread, EVs would use small batteries, and the vehicle ownership rate would be sharply reduced.
"But results show that even if Americans can't wean themselves off cars with big lithium batteries, increasing the density of metropolitan areas and investing in mass transit would cut cumulative demand for lithium between 18% and 66%," reported The Guardian. "Limiting the size of EV batteries alone can cut lithium demand by up to 42% by 2050."

Keith Stewart, a climate and energy campaigner with Greenpeace Canada, said the study contained "fascinating and important research on how policies like investing in mass transit, walkable cities, and battery recycling, while reducing size of EVs, can cut the amount of lithium for fossil-free transportation."
"The report brings into light possibilities for a future without fossil fuels that minimizes mineral extraction and new harms to communities in lithium-rich areas," Pía Marchegiani, policy director at the Environment and Natural Resources Foundation in Argentina, told The Guardian.
The report was released a month after U.S. Rep. Cori Bush (D-Mo.) unveiled legislation to invest in bus and light rail transportation to cut down on emissions from transportation.
"The findings of this report," Payal Sampat, mining program director at Earthworks, told The Guardian, "must jumpstart policies to invest in robust, accessible public transit systems that advance equity, reduce pollution, and get people where they need to go."
News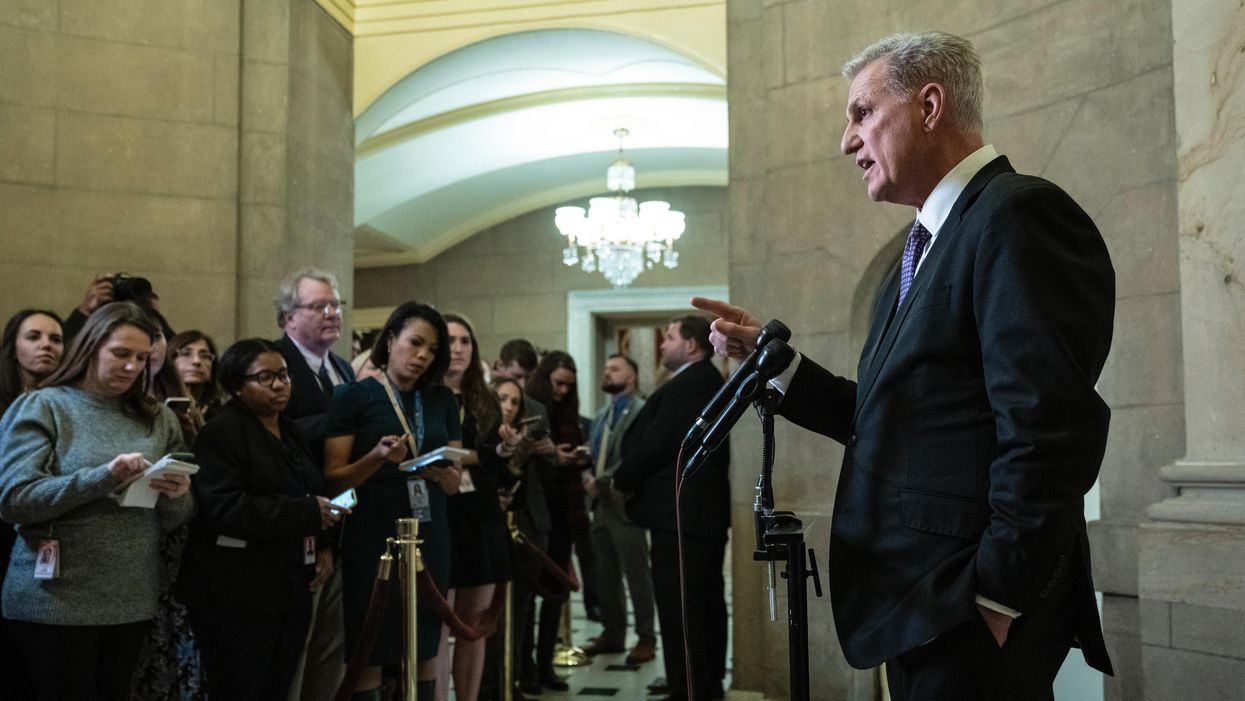 "Once again, McCarthy is putting his personal power ahead of what's best for the American people."
As the spurious saga of U.S. congressman George Santos twisted anew Tuesday with an apparent admission from the New York Republican regarding the origins of hundreds of thousands of dollars in campaign cash, critics took aim at GOP House Speaker Kevin McCarthy for refusing to take any action against the serial liar.
According to the Daily Beast, on Tuesday, "Santos' political operation filed a flurry of amended campaign finance reports, telling the feds, among other things, that a $500,000 loan he gave to his campaign didn't, in fact, come from his personal funds as he'd previously claimed."
After reviewing the documents, Jordan Libowitz, a spokesman for the nonprofit watchdog Citizens for Responsibility and Ethics in Washington, toldThe New York Times that "I have never been this confused looking at an FEC filing," a reference to the Federal Election Commission.
"Santos has proven he is wholly unfit for office, and his violations of our laws and public trust cannot go unanswered. Congress should investigate his unethical and likely illegal actions and expel Santos from the House."
From the mystery of how his net worth skyrocketed from near zero to $11 million in less than two years; to demonstrable lies about his education, employment history, residence, and purported Jewish heritage; to allegations of fraud perpetrated in Brazil and against a U.S. combat veteran and his dying dog, few figures in U.S. history have had so much of their personal and political life called into question as Santos.

"Does it surprise me if you told me that a person who had to file this many amendments has now also had to amend his own life story?" asked Libowitz. "Not really."
\u201c. @RepSantosNY03 admitted in amended campaign finance forms that the $500,000 loan to his campaign was not a personal loan. His admission confirms our complaint that his finances did not add up.\n\nHe used an illegal loan and must be held accountable.\nhttps://t.co/53wJWaMBIs\u201d

— End Citizens United (@End Citizens United) 1674666419
Sean Eldridge, founder and president of the political advocacy group Stand Up America, said in a statement that "George Santos has lied about nearly every aspect of his life, and as more evidence comes to light, it's become increasingly clear that he violated campaign finance laws."

"Yet, Speaker McCarthy has refused to hold him accountable for his lies and misdeeds," he continued. "Even as McCarthy has blocked trusted public servants from returning to their roles on the [House] Intelligence Committee, McCarthy has empowered Santos by seating him on two committees and gutting the Office of Congressional Ethics that should be tasked with investigating Santos."
Eldridge was referring to McCarthy's removal of Reps. Adam Schiff and Eric Swalwell, both California Democrats, from the intelligence committee. Santos, meanwhile, will serve on the small business and science, space, and technology committees.
\u201cIt says a lot about Kevin McCarthy when he thinks Adam Schiff & Eric Swalwell don\u2019t deserve committee assignments when he gives liar George Santos and conspiracy theorist Marjorie Taylor Greene & Lauren Boebert committee assignments. Truly outrageous on every level.\u201d

— Victor Shi (@Victor Shi) 1674664117
When pressed on what it would take for GOP leadership to take action against Santos, McCarthy told reporters Tuesday that "if... when we go through Ethics and he has broken the law, then we will remove him" from office.

"Once again, McCarthy is putting his personal power ahead of what's best for the American people," Eldridge said.

One of the biggest mysteries currently surrounding Santos involves the statistically improbable number of $199.99 expenses reported by his campaign—a penny below the legal requirement for keeping invoices or receipts.
\u201cThe criminal prosecution of George Santos is not a question of if. It is a question of when. \n\nYet Speaker McCarthy and House Republican Leadership still refuse to call on Santos to resign, despite promising to \u201cdrain the swamp.\u201d\u201d

— Ritchie Torres (@Ritchie Torres) 1674671518
As Politiconotes:
Santos, who admitted in December that he faked parts of his biography, already faces a complaint filed with the Federal Election Commission alleging his campaign repeatedly reported suspicious expenses. Those included eight charges of exactly $199.99 at an Italian restaurant in Queens and another $199.99 charge at a Miami-area hotel where rooms do not usually go for less than $600 per night. The specific amount matters because campaigns are required by law to keep receipts or invoices for expenses greater than $200.

Campaigns rack up millions of dollars in expenses and thousands of line items per campaign, but it is rare for them to notch even one $199 expense, according to a Politico review of campaign finance records. FEC data shows more than 90% of House and Senate campaign committees around the country did not report a single transaction valued between $199 and $199.99 during the 2022 election cycle.

Santos reported 40 of them.
Adav Noti, a former FEC attorney and senior vice president at the Campaign Legal Center, another nonprofit watchdog group, told Politico that "we don't know where the money came from, we don't know where the money went to."
Santos' attorney won't comment on the matter, citing ongoing investigations.

"Santos has proven he is wholly unfit for office, and his violations of our laws and public trust cannot go unanswered," said Eldridge. "Congress should investigate his unethical and likely illegal actions and expel Santos from the House."

News
SUPPORT OUR WORK.
We are independent, non-profit, advertising-free and 100%
reader supported.