Our work is licensed under Creative Commons (CC BY-NC-ND 3.0). Feel free to republish and share widely.
Jon Queally
Jon Queally is managing editor of Common Dreams.
First things first.
Continuing his multi-day public relations blitz to insulate the Kingdom of Saudi Arabia from accountability over its brutal murder of journalist Jamal Khashoggi, President Donald Trump issued a pair of tweets early Thursday--the Thanksgiving holiday in the United States--that began by quoting Secretary of Defense Mike Pompeo's line that " it's a mean & nasty world out there " in order to qualify the brutal assassination.
Less than four minutes later, Trump followed it up with this all-caps declaration : "HAPPY THANKSGIVING TO ALL!"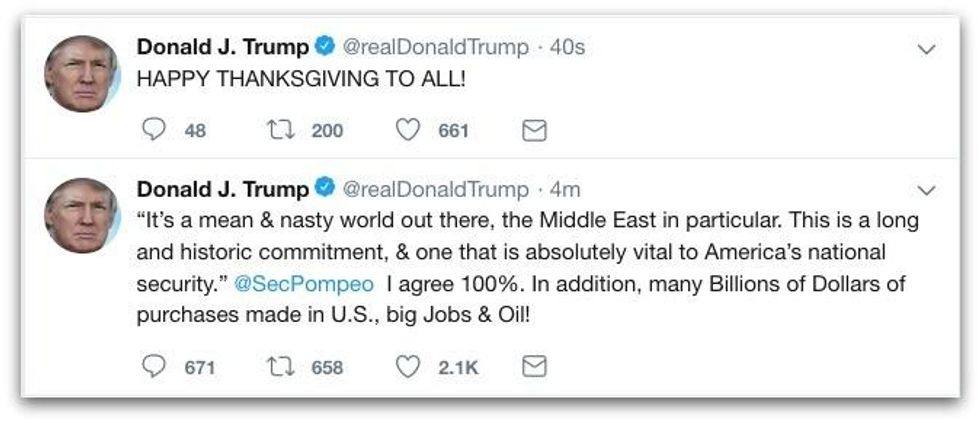 As former Italian diplomat Marco Carnelos wrote in the Middle East Eye on Wednesday, Trump's continued defense of the Saudis in the name of U.S. economic and strategic interests is an explicit admission that Trump has placed a price tag on the worth of Khashoggi's life.
The U.S. president's defense of the Saudis, writes Carnelos, has been "an extraordinary demonstration of realpolitik. Because the world is a very dangerous place, the United States will continue to support Saudi Arabia, no matter what. But the real purpose of Trump's statement on Saudi [on Tuesday] is actually to fix a price for this support.
"The hidden message that the statement was sending to the Saudi royal court is that to save himself the Saudi crown prince will be expected to disburse $450bn in investments."
It was not an isolated interpretation:
\u201cAfter Khashoggi's killing, Trump sent a clear signal: With enough money, you can get away with murder, The Post's publisher writes https://t.co/69m2jTgOs3\u201d

— The Washington Post (@The Washington Post) 1542840522
Not that the U.S. government standing with murderous regimes and shielding others and itself from mass human rights violations is anything new.
\u201cIf even one more US foreign policy elite pops up to pretend that sanctioning barbarism by Saudi Arabia (& other despots) in exchange for monetary and security benefits is something that Trump invented, I think I may literally vomit. https://t.co/mjgY0keBBT\u201d

— Glenn Greenwald (@Glenn Greenwald) 1542891491
We've had enough. The 1% own and operate the corporate media. They are doing everything they can to defend the status quo, squash dissent and protect the wealthy and the powerful. The Common Dreams media model is different. We cover the news that matters to the 99%. Our mission? To inform. To inspire. To ignite change for the common good. How? Nonprofit. Independent. Reader-supported. Free to read. Free to republish. Free to share. With no advertising. No paywalls. No selling of your data. Thousands of small donations fund our newsroom and allow us to continue publishing. Can you chip in? We can't do it without you. Thank you.