Our work is licensed under Creative Commons (CC BY-NC-ND 3.0). Feel free to republish and share widely.
Sarah Lazare
Sarah Lazare was a staff writer for Common Dreams from 2013-2016. She is currently web editor and reporter for In These Times.
Continuing a week of mass demonstrations at 18 campuses across the country , thousands of students and workers on Thursday marched on South Africa's Parliament in Cape Town and the ruling party's headquarters in Johannesburg to protest a dramatic rise in the cost of higher education--and the racial and economic injustice that continues to plague their society.
The demonstrations were sparked by a tuition hike of up to 11.5 percent at numerous universities. On Wednesday police fired stun grenades and teargas at the the Cape Town crowd, which marched with hands up before staging a sit-in inside the parliament building. The violent police crackdown was captured on video by journalist Shaun Swingler (warning: footage may be disturbing). Protesters have faced mass arrests and steep charges, including " public violence ."
The uprisings have garnered considerable support, including from Winnie Madikizela-Mandela, who is an activist, politician, and the wife of the late Nelson Mandela.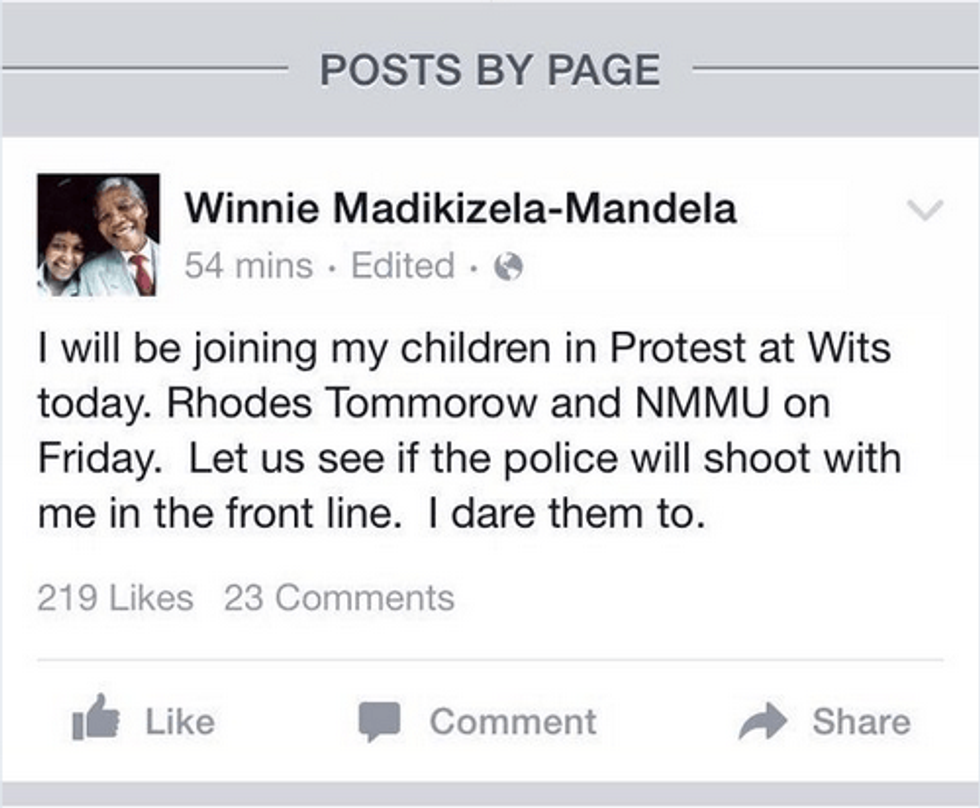 "The reality of the matter is that in the country post-independence the black students have still been oppressed, we're still marginalized, we struggle to get into universities," Mcebo Dlamini, a student leader at the University of the Witwatersrand (Wits) in Johannesburg, told the Guardian on Wednesday.
Demonstrators are also angry at the outsourcing of university employees, which forces workers--including sanitation staff--into low-pay and unstable positions.
However, as anthropologist Vito Laterza explained at the blog Africa is a Country , the protests go back further: "Protesters draw on sustained efforts in recent months to build a national movement committed to transformation of university staff and students, and widening access to higher education. The current system continues to exclude most black South Africans and other historically disadvantaged groups ."
"[T]hese students are protesting the institutional violence inflicted by the University of the Witwatersrand (Wits). This violence destroys lives in a more systematic, brutal way than physical violence," wrote poet, activist, and Wits graduate Sarah Godsell in a recent op-ed . "It excludes the majority of the population from tertiary education programs that we are told make one 'successful' or 'marketable' or 'employable.'"
"We are protesting against this fee increase, but also against the structural, everyday violence against black bodies on campus," Godsell continued. "Workers have supported students in this protest, under threat of unpaid days and being fired."
A group calling itself the National Shutdown Collective released a statement Tuesday which declares: "We, the students of 2015, stand in solidarity with one another to proclaim that we will not be complicit in an endorsement of the capitalist agenda of commodification of education and any oppressions which seek to denigrate our being."
"We demand, among other things, that the exorbitant fees charged at institutions of higher learning be lowered in line with a progression toward opening the gates of higher learning for all," the statement continues.
Updates and reports are being posted to Twitter under the hashtags #FeesMustFall and #NationalShutDown.
We've had enough. The 1% own and operate the corporate media. They are doing everything they can to defend the status quo, squash dissent and protect the wealthy and the powerful. The Common Dreams media model is different. We cover the news that matters to the 99%. Our mission? To inform. To inspire. To ignite change for the common good. How? Nonprofit. Independent. Reader-supported. Free to read. Free to republish. Free to share. With no advertising. No paywalls. No selling of your data. Thousands of small donations fund our newsroom and allow us to continue publishing. Can you chip in? We can't do it without you. Thank you.