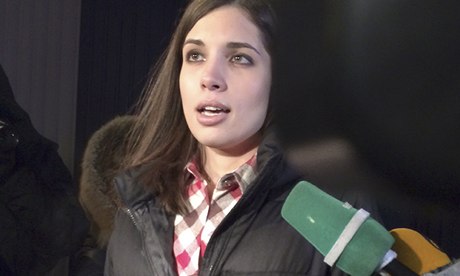 Nadezhda Tolokonnikova and Maria Alyokhina, two members of the Russian protest group Pussy Riot, were released from prison Monday following the passage of an amnesty law in the country that was signed by President Vladimir Putin last week.
But the taste of freedom didn't strip either woman of their harsh critique of Putin or the repressive Russian establishment he represents.
Upon her release, Alyokhina immediately slammed the president and called the amnesty bill nothing but a public relations ploy by the Putin government.
"I do not think it is a humanitarian act, I think it is a PR stunt," the twenty-five year-old artist and political activists said by telephone to the Russian Internet and TV channel Dozhd. "My attitude to the president has not changed."
Going further, Alyokhina told reporters that if she could have resisted the order, she would have. "If I had a chance to turn it down, I would have done it, no doubt about that," she told Dozhd. "This is not an amnesty. This is a hoax and a PR move."
Released separately later in the day, Tolokonnikova was also defiant, shouting "Russia without Putin" as she emerged from a detention facility in Siberia.
Never Miss a Beat.
Get our best delivered to your inbox.
The Guardian adds:
Three band members were jailed after being found guilty of hooliganism motivated by religious hatred and sentenced to two years in prison for a performance at Moscow's main cathedral in March 2012.

One, Yekaterina Samutsevich, was released on a suspended sentence in October 2012.

Alyokhina was released early on Monday morning by prison officials who drove her from the prison colony outside Nizhny Novgorod, and left her outside the city's railway station, still dressed in a prison overcoat with her name written on her chest.

She told the Guardian she was not allowed to pack her belongings or even say goodbye to fellow inmates.

"This is typical behaviour in our penitentiary system, which is as closed and conservative as jail itself – [prison officials'] methods are all about secrecy, no information and zero transparency," she said.
__________________________________