Our work is licensed under Creative Commons (CC BY-NC-ND 3.0). Feel free to republish and share widely.
Andrea Germanos
Andrea Germanos is a senior editor and staff writer at Common Dreams.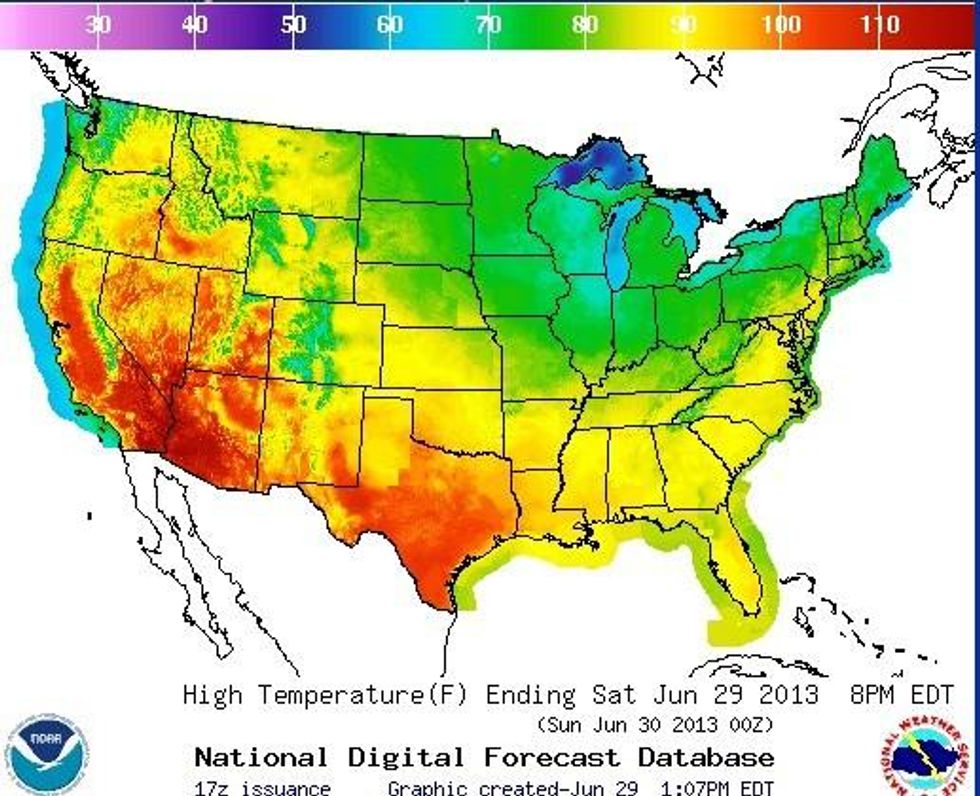 Sweltering heat is baking areas of the western and southwestern United States this weekend.
The planet's record-high temperature--134 degrees Fahrenheit recorded in Death Valley in California a century ago--is close to being met this weekend as the area is forecast to reach 129 degrees.
The National Weather Service reports on Saturday:
Scorching heat will continue underneath an expansive upper ridge parked over the Western U.S. this weekend. Temperatures will yet again approach or exceed records on Saturday and Sunday across much of the Southwest and Great Basin. Staring late this weekend and into early next week...the upper ridge will begin building northward and triple digit temperatures will spread north all the way to the Canadian border. Heat advisories have already been posted for portions of Washington...Idaho...and western Montana.
National Weather Service specialist Stuart Seto said warned that the current heatwave was "a huge one."
"We haven't seen one like this for several years, probably the mid- to late 2000s," said Seto.
"It's going to be baking hot across much of the entire West," adds National Weather Service meteorologist Mark O'Malley.
USA Today reports that
In some cities, record highs for any date throughout the year could be equaled or surpassed, AccuWeather meteorologist Alex Sosnowski said. Cities that could set all-time high temperature marks include Flagstaff, Ariz., Las Vegas and Reno, he added.
Las Vegas, currently under an excessive heat warning, could see temperatures reach 118 degrees this weekend, and on Friday at an outdoor concert in the city, 115 degree temperatures caused 170 people to be treated for heat-related injuries, with 34 more sent to local hospitals, Reuters reports.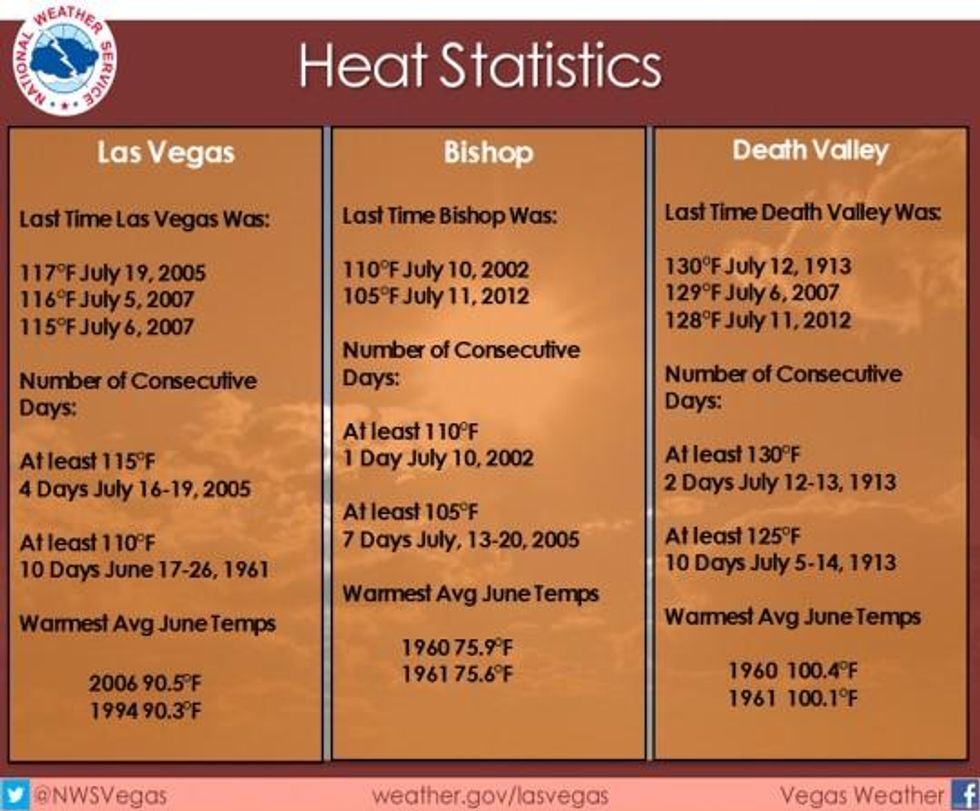 Pittsburgh resident Dan Kail, who was vacationing in Las Vegas, headed out to Death Valley to experience the possible record heat first hand, and
said
, "The wind out here is like being in front of a blast furnace."
Phoenix's ABC15 reports on areas in Arizona that already broke heat records on Friday:
Flagstaff: 96 (Previously 94)

Winslow: 107 (Previously 104)

Prescott: 104 (Previously 100)

Page: 109 (Previously 103)

Cottonwood: 114 (Previously 114)

Grand Canyon: 89 (Previously 88)

Yuma: 118 (Previously 116)
And as runaway climate change continues to heat up the planet, the Centers for Disease Control and Prevention warned earlier this month, be prepared for more heatwaves:
Think last summer was bad? You better get used to it, federal health officials warned Thursday. Climate change means hotter summers and more intense storms that could knock power out for days -- and kill people.

New data on heat-related deaths suggest that public health officials have been underestimating them, the Centers for Disease Control and Prevention says. It's an especially important message as summers get longer and hotter due to climate change, and as storms that can cause widespread blackouts become more common and more intense.
NBC has video:
Visit NBCNews.com for breaking news, world news, and news about the economy
________________________
We've had enough. The 1% own and operate the corporate media. They are doing everything they can to defend the status quo, squash dissent and protect the wealthy and the powerful. The Common Dreams media model is different. We cover the news that matters to the 99%. Our mission? To inform. To inspire. To ignite change for the common good. How? Nonprofit. Independent. Reader-supported. Free to read. Free to republish. Free to share. With no advertising. No paywalls. No selling of your data. Thousands of small donations fund our newsroom and allow us to continue publishing. Can you chip in? We can't do it without you. Thank you.