Our work is licensed under Creative Commons (CC BY-NC-ND 3.0). Feel free to republish and share widely.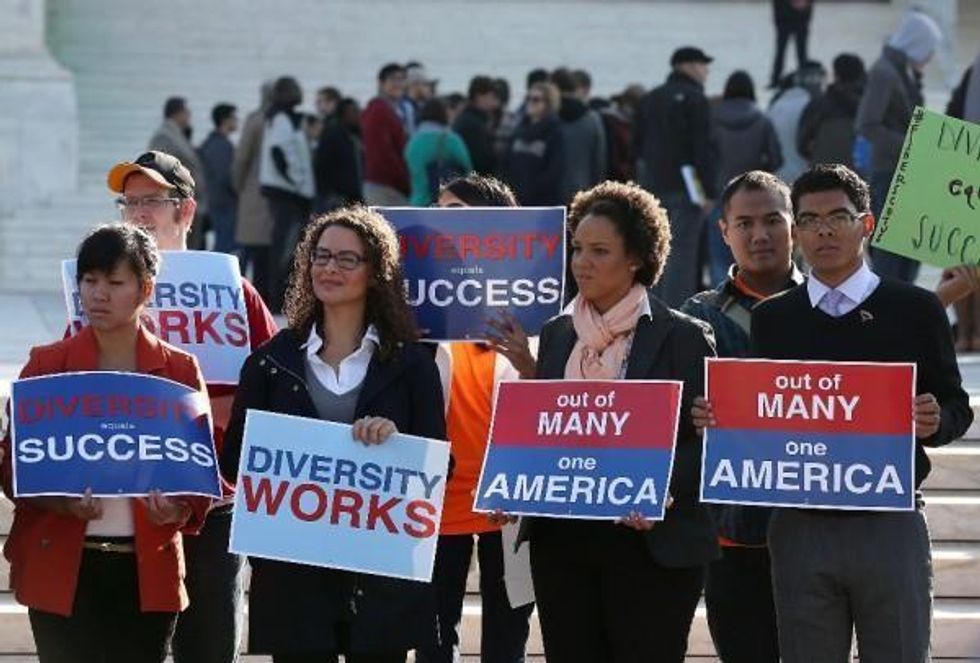 The Supreme Court voted 7-1 on Monday to send the highly anticipated decision in
Fisher v. University of Texas
--which could determine key aspects of the nation's affirmative action policies--back to a federal appeals court for review.
Their decision means that affirmative action will remain in place, with the added stipulation that institutions must demonstrate that there are "no workable race-neutral alternatives" to affirmative action when constructing diversity in higher ed classrooms. Writing for the majority, Justice Kennedy explained, "the University must prove that the means chosen by the University to attain diversity are narrowly tailored to that goal."
Associate Justice Ruth Bader Ginsburg dissented from the majority opinion, explaining that the Court should have upheld the decision. She explained, "I have several times explained why government actors, including state universities, need not be blind to the lingering effects of 'an overtly discriminatory past,' the legacy of 'centuries of law-sanctioned inequality.'"
Many civil liberties groups were happy with the decision, including the ACLU who tweeted the following statement:
\u201cGlad #SCOTUS decision in Fisher acknowledges importance of diversity on college campuses. We are confident UT admissions plan will be upheld\u201d

— ACLU (@ACLU) 1372089310
"Today's near-unanimous decision leaves intact the important principle that universities have a compelling interest in a diverse student body, and that race can be one factor among many that universities consider in a carefully crafted admissions program," said Dennis Parker, director of the ACLU's Racial Justice Program, in a statement. "We believe that the University of Texas has made a strong showing that its admissions plan was necessary to achieve meaningful diversity, and that it can and should be upheld under the standard that the Supreme Court announced today."
National Organization for Women President Terry O'Neil highlighted the importance of this decision in a press release, but was cautious, noting that "some justices are more resistant than supportive of achieving diversity in higher education."
In an opinion piece published earlier this month, leader for Racial Equity programing for the Kellogg Foundation Dr. Gail Christopher commented on the significance of this case, noting that it "represents a much-needed incentive to give some serious thought to this nation's unique legacy of racism and its continuing effects -- yes, even in the 21st century."
Fisher v. University of Texas was brought in 2008 by college-applicant Abigail Fisher who alleged she was denied admission to the University of Texas at Austin because she was white, and that applications of student's of color with lesser credentials were privileged over hers.
This is not the Supreme Court's last word on affirmative action. The court will review a case next term about whether voters can decide at the polls to ban the policy in their respective states.
Lucia Brown is a summer editorial intern at Common Dreams.
_____________________
We've had enough. The 1% own and operate the corporate media. They are doing everything they can to defend the status quo, squash dissent and protect the wealthy and the powerful. The Common Dreams media model is different. We cover the news that matters to the 99%. Our mission? To inform. To inspire. To ignite change for the common good. How? Nonprofit. Independent. Reader-supported. Free to read. Free to republish. Free to share. With no advertising. No paywalls. No selling of your data. Thousands of small donations fund our newsroom and allow us to continue publishing. Can you chip in? We can't do it without you. Thank you.