Our work is licensed under Creative Commons (CC BY-NC-ND 3.0). Feel free to republish and share widely.
A magnetic bomb placed on a truck exploded and destroyed 21 other trucks transporting supplies and fuel for NATO's U.S.-led occupation of Afghanistan early Wednesday morning, local officials report. Taliban insurgents attacked the convoy in a previously secure northern region, authorities said.
The truck convoy had been parked overnight in the northern Afghan province of Samangan after crossing from Uzbekistan.
The Washington Postreports that Samangan straddles a highway that has been used in recent months as the key overland supply line for foreign forces after Pakistan barred NATO supply convoys from its territory as a protest over the killing of 24 Pakistani troops in a U.S. air attack on two border outposts in November. Although Islamabad has lifted the blockade in recent weeks, foreign troops still rely on the northern Afghan region as a route for supplies from Central Asia.
NATO's International Security Assistance Force (ISAF) spokesman Brigadier General Gunter Katz said insurgent attacks have been increasing.
"Generally, in the past 12 weeks, we have a slight increase, 10 per cent, of insurgent attacks on Afghan security forces and international troops," Katz told a news conference.
* * *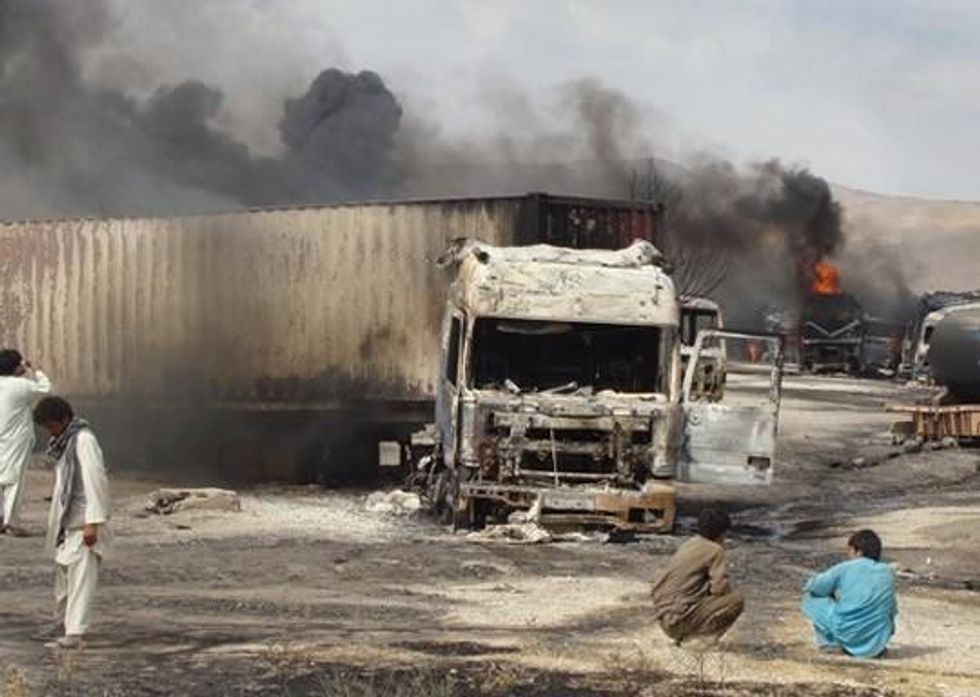 # # #
We've had enough. The 1% own and operate the corporate media. They are doing everything they can to defend the status quo, squash dissent and protect the wealthy and the powerful. The Common Dreams media model is different. We cover the news that matters to the 99%. Our mission? To inform. To inspire. To ignite change for the common good. How? Nonprofit. Independent. Reader-supported. Free to read. Free to republish. Free to share. With no advertising. No paywalls. No selling of your data. Thousands of small donations fund our newsroom and allow us to continue publishing. Can you chip in? We can't do it without you. Thank you.