Our work is licensed under Creative Commons (CC BY-NC-ND 3.0). Feel free to republish and share widely.
Prime minister Mariano Rajoy announced the latest round in massive austerity cuts to Spain's public spending on Wednesday as police fired rubber bullets at protesters during growing demonstrations in Madrid.
The $79.85 billion austerity package is designed to meet conditions imposed by the European Union in exchange for the $122.9 billion bailout package for Spain's failing banks, and will include cuts to unemployment benefits and civil service pay.
The plan also includes calls for privatization of public assets, budget cuts, tax increases, and a raise in retirement age by two years.
In response to the announcement, Spain's main civil service trade union announced work stoppages in July and is proposing a large strike in September. Groups of public workers protested outside of parliament and the Popular Party's headquarters during the announcement. The workers chanted "This is not a crisis, it's a rip-off."
Meanwhile, coal miners from several regions in northern Spain, who have been protesting cuts to the mining sector since May, converged on Madrid Tuesday night after marching 250 miles for over the last three weeks. The marchers were meet by tens of thousands of supporters in the city center where the demonstration continues Wednesday night.
Police began to clash with the protesters as they gathered outside of Spain's Industry Ministry, firing rubber bullets into the crowd.
"We were walking peacefully to get to where the union leaders were speaking and they started to fire indiscriminately. There was no warning," Olvidio Gonzalez, 67, a retired miner from the northern Asturias region, said.
The Guardian provides a live blog of events here.
As of now, seven demonstrators have been arrested, 22 have treated for injuries at the scene, and six have been taken to the hospital.
* * *
* * *
Clashes in Madrid: Police Fire Rubber Bullets at Protesters (RT)
* * *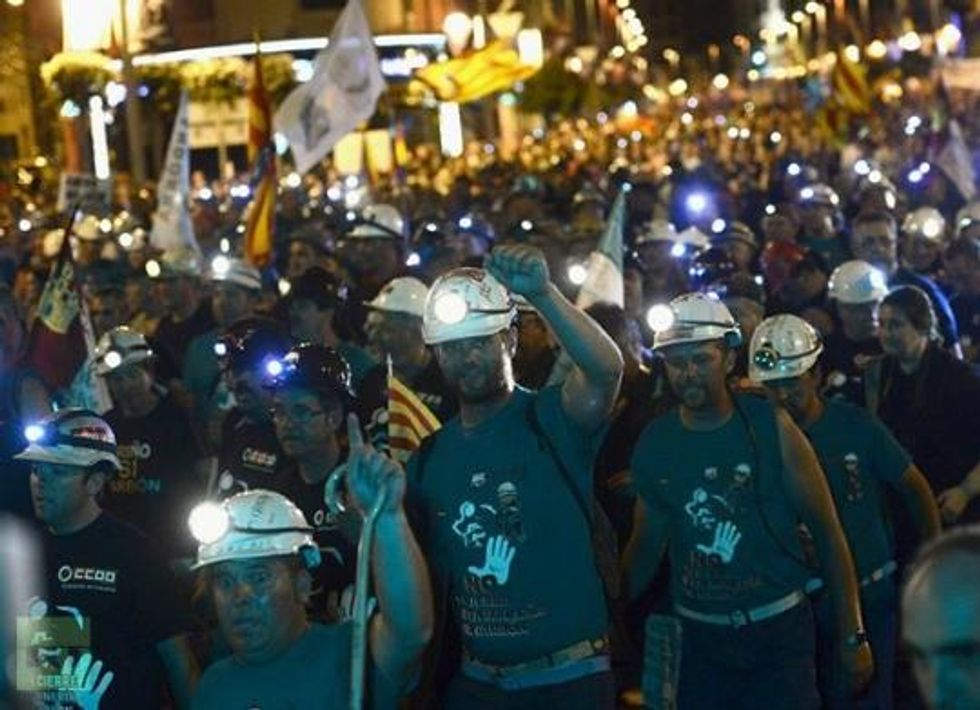 Spanish coal miners arrive in Madrid on July 10, 2012 (AFP Photo/Dani Pozo)
* * *
A woman is arrested by riot police during today's demonstrations in Madrid (Guardian/UK)
# # #
We've had enough. The 1% own and operate the corporate media. They are doing everything they can to defend the status quo, squash dissent and protect the wealthy and the powerful. The Common Dreams media model is different. We cover the news that matters to the 99%. Our mission? To inform. To inspire. To ignite change for the common good. How? Nonprofit. Independent. Reader-supported. Free to read. Free to republish. Free to share. With no advertising. No paywalls. No selling of your data. Thousands of small donations fund our newsroom and allow us to continue publishing. Can you chip in? We can't do it without you. Thank you.