Our work is licensed under Creative Commons (CC BY-NC-ND 3.0). Feel free to republish and share widely.
Today, Mitt Romney was asked a question about the 99% ouside of his Charleston headquarters. He did not take kindly to the question.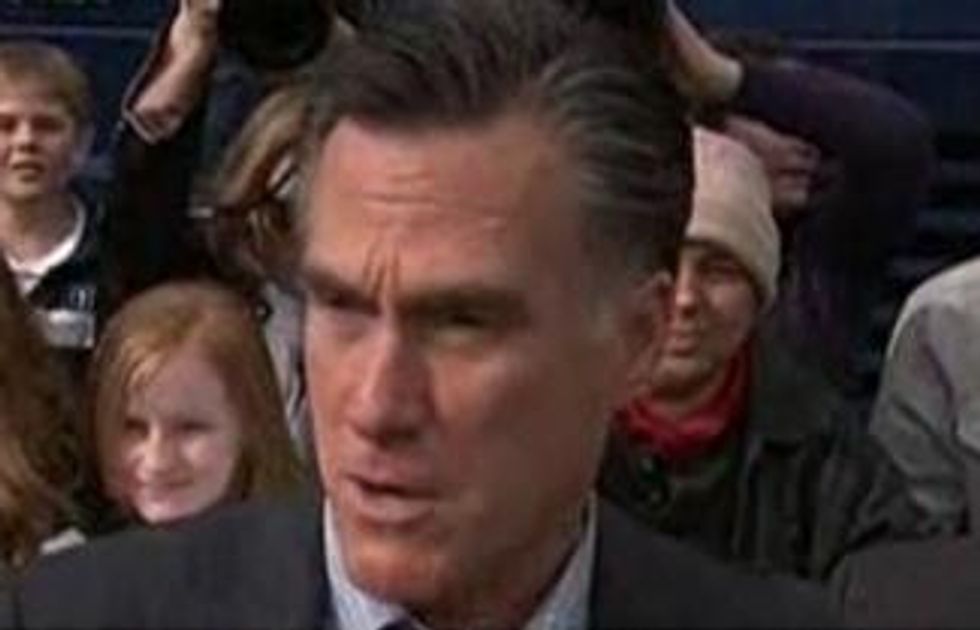 The National Journal reports:
Mitt Romney on Thursday afternoon snipped at a questioner, who seemed to be a supporter of the Occupy Wall Street movement, for waging class warfare, MSNBC reports.
Romney was walking the rope line outside of his headquarters in Charleston, S.C., on Thursday when a person off camera asked, "What would you do to support the 99 percent, seeing as how you're part of the 1 percent?"
Romney responded in anger saying, "If you've got a better model, if you think China's better, or Russia's better, or Cuba's better, or North Korea's better, I'm glad to hear all about it, but you know what, America's right, and you are wrong."
Consequently, the bystander's question was never answered.
Here is a video of the altercation:
Romney has also come under scrutiny today as an ABC report revealed that Romney holds investment funds in the Cayman Islands; the islands are known as a tax haven. Romney, a one-percenter, pays far less in taxes than the average American due to such tactics.
ABC reports:
Although it is not apparent on his financial disclosure form, Mitt Romney has millions of dollars of his personal wealth in investment funds set up in the Cayman Islands, a notorious Caribbean tax haven.
...Mitt Romney is finding it increasingly difficult to maintain a shroud of secrecy around the details about his vast personal wealth, including, as ABC News has discovered, his investment in funds located offshore and his ability to pay a lower tax rate.
"His personal finances are a poster child of what's wrong with the American tax system," said Jack Blum, a Washington lawyer who is an authority on tax enforcement and offshore banking.
On Tuesday, Romney disclosed that he has been paying a far lower percentage in taxes than most Americans, around 15 percent of his annual earnings.
We've had enough. The 1% own and operate the corporate media. They are doing everything they can to defend the status quo, squash dissent and protect the wealthy and the powerful. The Common Dreams media model is different. We cover the news that matters to the 99%. Our mission? To inform. To inspire. To ignite change for the common good. How? Nonprofit. Independent. Reader-supported. Free to read. Free to republish. Free to share. With no advertising. No paywalls. No selling of your data. Thousands of small donations fund our newsroom and allow us to continue publishing. Can you chip in? We can't do it without you. Thank you.