© 2023 Oil Change International
Lorne Stockman
Lorne Stockman is the Research Director at Oil Change International, where he researches and analyzes developments in the North American oil industry.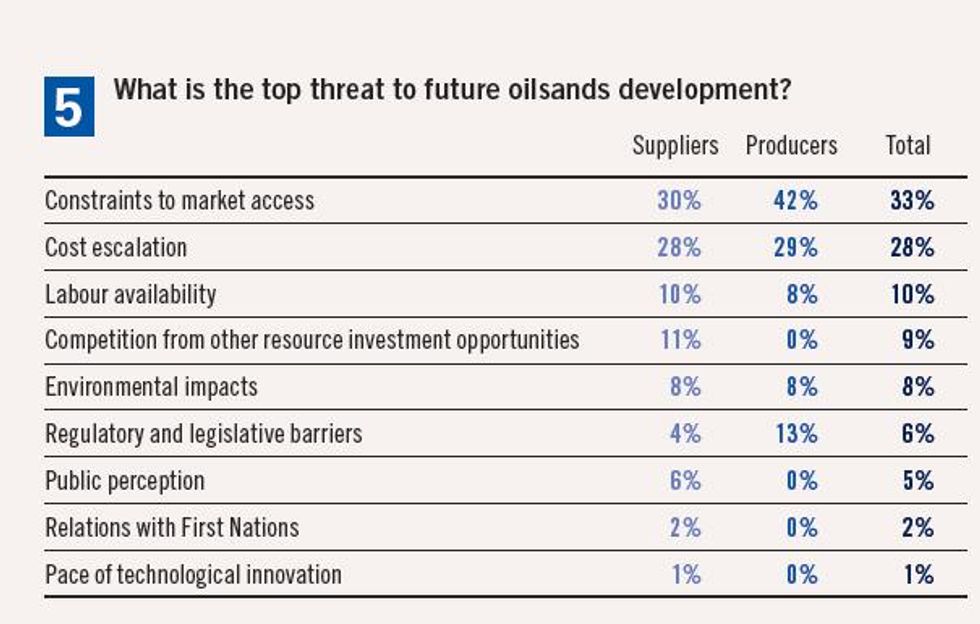 While certain mainstream media outlets speculate on the 'symbolic' nature of the protracted battle over the Keystone XL tar sands pipeline, the tar sands industry itself is clear that pipeline access, or rather the lack of it, is the number one threat to its future.
A survey (above) carried out for the trade publication Oilsands Review sought input from tar sands producers and their suppliers on the sector's prospects for 2015. The survey was carried out in the late fall of 2014 and published in the January edition of the magazine.
Respondents were asked: "What is the top threat to future oilsands development?" At the top of the list of responses was "constraints to market access" which beat "cost escalation" and "labor availability" among other issues. See graphic.
The survey was conducted just as the current crude oil price drop was just beginning to gather steam and low oil prices does not appear to have made it onto the list of threats. However, the lack of pipeline access can only be felt even more sharply in the current low price environment as the alternative to pipelines, rail, can double transportation costs eating into already drastically diminished profit margins for the world's most costly and dirty form of crude oil production.
The survey is just another confirmation of what we have known and argued for a long time in this debate. The tar sands industry needs pipelines to survive. Without them production must be curtailed. We have repeatedly used the industry's own numbers, such as those shown in the chart below, to demonstrate that in order to achieve production growth all currently proposed pipelines must be built. It is not a matter of one or the other, but all.
We know this. The tar sands industry knows this. It is perplexing that commentators in the media and, more crucially, bureaucrats at the State Department struggle to get it.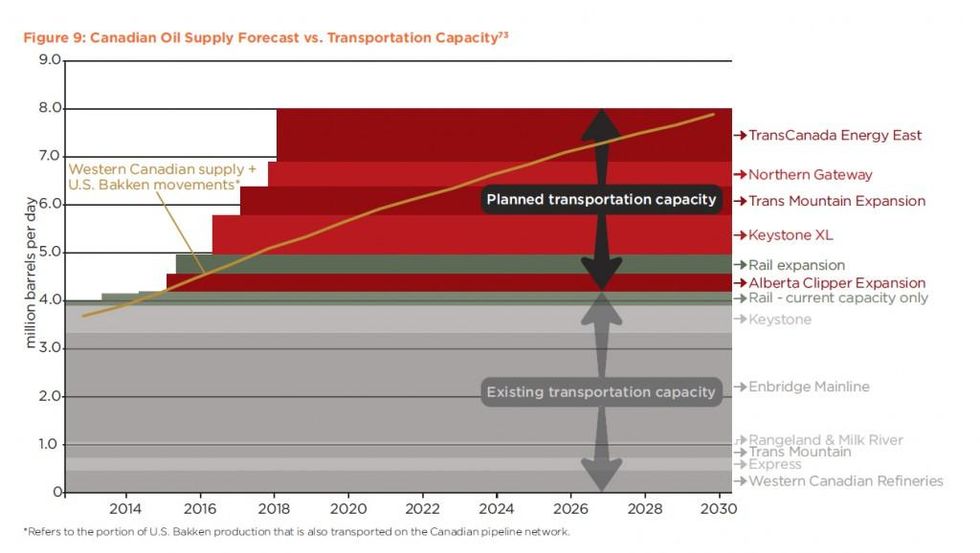 We've had enough. The 1% own and operate the corporate media. They are doing everything they can to defend the status quo, squash dissent and protect the wealthy and the powerful. The Common Dreams media model is different. We cover the news that matters to the 99%. Our mission? To inform. To inspire. To ignite change for the common good. How? Nonprofit. Independent. Reader-supported. Free to read. Free to republish. Free to share. With no advertising. No paywalls. No selling of your data. Thousands of small donations fund our newsroom and allow us to continue publishing. Can you chip in? We can't do it without you. Thank you.