Aura Bogado
Aura Bogado is the community journalism coordinator and blogger for Colorlines' Voting Rights Watch 2012.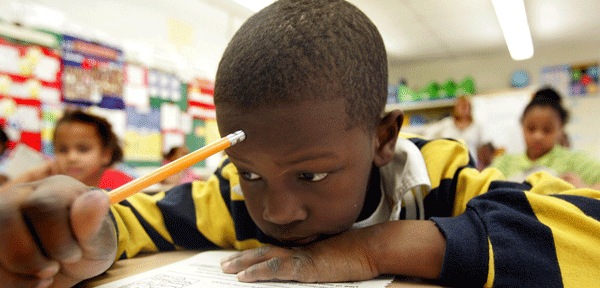 Los Angeles is already a so-called minority majority city, where people of color outnumber whites. It's located in California, which is one of four states that, along with the District of Columbia, already also boasts a majority of people of color. In a matter of decades, people of color will be the majority in the country as a whole. Places like Los Angeles are crucial to watch and to understand, because they give us a good glimpse into the nation's future, and into how people of color will soon fare in the United States.
There's a pervasive myth that because white folks have been the overwhelming majority since the founding of the United States, it makes sense that wealth and power is concentrated in that majority. By this flawed logic, poverty and disempowerment is naturally concentrated in communities of color. That myth is convenient because it assumes that inequality is a natural consequence of percentages--and not a system that's based on skin color.
But if Los Angeles is any indication, people of color--and black and brown people in particular--will continue to be criminalized. More alarming is the fact that that targeting of people of color starts at a young age, specifically against minors. The Los Angeles Unified School District, which is the second largest school district in the United States, teams up with what's called the Los Angeles School Police Department, or LASPD. The LASPD is the largest public school police department in the nation, and employs nearly 500 officers that exclusively police children, some as young as 6 years of age. The vast majority, 74 percent, are Latino. 10 percent are black, 10 percent are white, and 6 percent are Asian.
The LASPD issues tickets for alleged fighting or marijuana possession--but its truancy enforcement drew condemnation, because officers often ticketed minors who were simply late to school, instead of actually skipping school. Up until recently, an LASPD truancy ticket was a $250 fine, but that cost could easily have gone up, especially when children weren't that keen to tell their parents they were caught late for class. Arriving to school just fifteen minutes late could have cost families up to $1,000.
The good news is that, in an effort led by the Labor/Community Strategy Center, officers no longer issue citations against children who are late. During the 2012-13 school year, truancy tickets were down 80 percent. In fact, all LASPD tickets are down. And, for the moment, the LASPD doesn't issue fines--although it does place students into the Los Angeles County Probation Department. Still, citations have decreased, and there are currently no fines attached to them.
But, according to a new report titled "Black, Brown and Over-Policed," and issued by the group that pushed to amend the truancy tickets, all is not well for Los Angeles public school children. In fact, it's clear that a civil rights crisis has gripped LA's schools. According to the report, Latino students were twice as likely to be ticketed than were white students. Since Latino students make up 75 percent of the district, to 10 percent white students, one might think to pass on the statistic. But black students also make up 10 percent of the district--yet black students are six times as likely as white students to be ticketed. At a time in Los Angeles when white students and black students are on perfectly equal footing in terms of numbers, they're on extraordinarily unequal footing when it comes to criminalization.
The Los Angeles school district illustrates that a changing demographic doesn't automatically mean equality. In fact, a changing demographic may instead illustrate how insidious inequality truly is across racial lines. It's an important example to keep in mind as we head towards becoming that so-called minority majority nation. Los Angeles issues nearly half of all of its student tickets to minors under the age of 14--meaning that, for some of that district's youngest residents, school becomes more of a trap than an educational opportunity.
Hope is not lost for LA's students. As the Labor/Community Strategy Center points out, officers police youth, issue tickets and implicate students for occurrences that were always solved by educators without criminalization. Ditching class, getting in a fight, or carrying a pack of cigarettes can all be solved creatively and lovingly--and without the use police officers and tickets.
We've had enough. The 1% own and operate the corporate media. They are doing everything they can to defend the status quo, squash dissent and protect the wealthy and the powerful. The Common Dreams media model is different. We cover the news that matters to the 99%. Our mission? To inform. To inspire. To ignite change for the common good. How? Nonprofit. Independent. Reader-supported. Free to read. Free to republish. Free to share. With no advertising. No paywalls. No selling of your data. Thousands of small donations fund our newsroom and allow us to continue publishing. Can you chip in? We can't do it without you. Thank you.