Michelle Chen
Michelle Chen is a contributing editor at In These Times. She is a regular contributor to the labor rights blog Working In These Times, Colorlines.com, and Pacifica's WBAI. Her work has also appeared in Common Dreams, Alternet, Ms. Magazine, Newsday, and her old zine, cain.
The Occupy movements around the country have touched different communities in different ways, resonating with local issues as well as bringing local folks to the front lines of a national struggle for economic justice. For many immigrant communities, everyday struggles with the legal system and the economic crisis encapsulate some of the core issues driving the Occupy ethos. Yet those same issues can be a hindrance to organizing.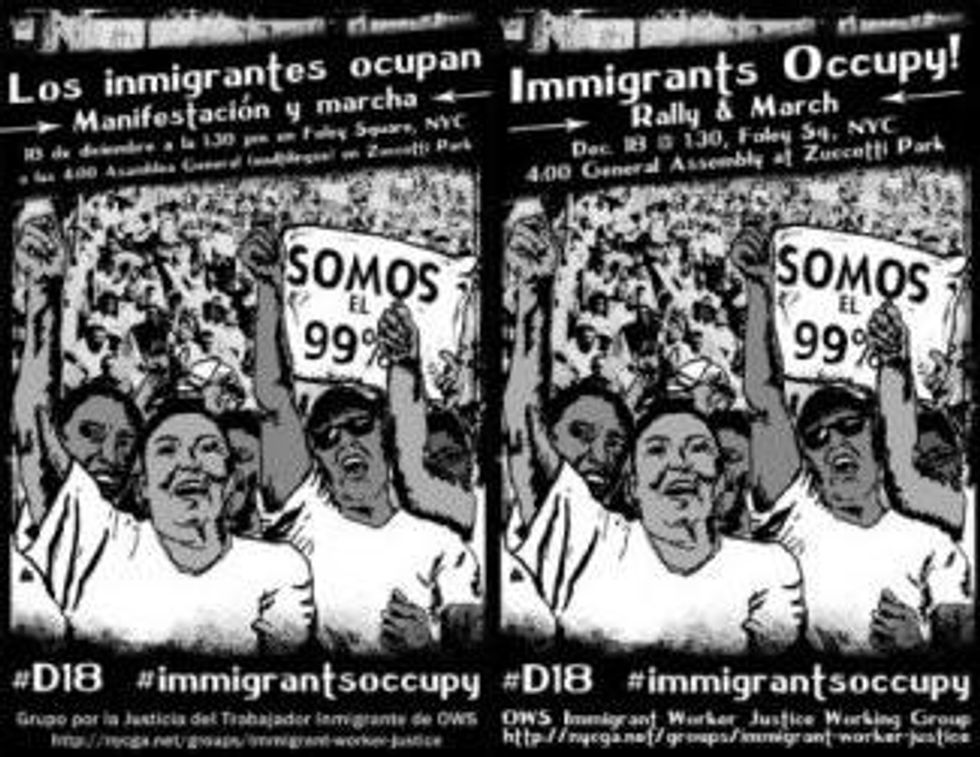 As the protests picked up momentum back in October, John Michael Torres, an activist from McAllen, Texas, a low-income largely Latino community, told NPR's Latino USA:
[L]ittle by little people are starting to understand that this is a big deal... But at the same time you have people who maybe don't have a TV in their house. Who don't have the Internet... So in a very poor area of the country, you have that disconnect from what's going on in the rest of the country. Which is why it's so important that we're out there in public spaces, that we're not relying on the mass media to tell our own stories, but we're inviting people to come and sit down with us, to participate, to share their own stories as well.
Back at Ground Zero of OWS, Fox News Latino reported:
Occupy groups, who have said they need Hispanics and other immigrants to rally to their cause, have realized that the growing number of arrests could frighten undocumented immigrants - and they've taken steps to make sure they aren't a neglected group.

Mariano Munoz, who is part of the Spanish assembly for Occupy Wall Street in New York, said it is an issue they are aware of and trying to address.

He said immigration training classes are offered to undocumented who want to join, where legal experts and lawyers address any questions they may have, any issues they could face and how to deal with worst-case-scenario cases. The classes offer police procedure and immigration rights instruction.

"Once they know the issues and are aware of the risks, it is up to the people to make up their mind," Munoz said. "Sometimes, the issues and the cause are more important than deportation."
Teresa Puente recently wrote in In These Times that the convergence between the immigrant rights struggle and Occupy is growing increasingly profound, even as rifts within the movement-across culture, ethnicity and class-grow more apparent:
In New York, protests have attracted individuals who are passionate about immigration reform. Natalia Fajardo, 27, traveled to the city from Burlington, Vt., to spend a Sunday afternoon at Zuccotti Park with her sister, Laura, who came up from Florida. Fajardo works for an organization called Justicia Migrante, a group that advocates for lettuce workers in Vermont.

"The [Occupy] movement was started by mostly middle-class and white people who are impacted by the high cost of education, cuts in public services. These are things that people in the immigrant community have dealt with for a long time," says Fajardo, a native of Colombia. "We all know these themes impact us equally."

Tania Unzueta, a leader of the Immigrant Youth Justice League in Chicago, is among the DREAM Act activists protesting immigration policy locally and nationally. She says her family-her father and sister are also activists-and many immigrant youth are not joining the Occupy movement because there is so much work to do in the immigrant rights movement. "All of a sudden people are saying 'We are part of the 99%,'" Unzueta says. "But we have been saying that for a long time, and nobody has been listening to us."
But is Occupy speaking to them? New America Media's round-up of coverage in ethnic community news outlets shows ambivalence, but also growing consciousness, among California's Asian American community:
Oakland Chinatown Neighborhood Crime Prevention Council president Carl Chan said the shutdown of the Oakland Port has diverted cargo ships to ports in Los Angeles and other cities. That's forcing many businesses to have to pay for transferring the cargo to the Bay Area. Small business owners belonging to the 99 percent are financially hurt.

Still, some ethnic media say the Occupy movement has captured the imagination of readers, and brought the issues of class, the wealth gap and poverty to the forefront of public debate.

Giao Pham, managing editor of Nguoi Viet based in Westminster, Calif., said his Vietnamese daily continues to track the Occupy movement, because there's interest in the community.

"People recognize that the movement is getting bigger and they discuss the meaning of the movement," he said. "The Vietnamese community here in the U.S., we're new and not rich. People discuss the one percent and the 99 percent, which they belong to."
The obstacles to organizing stem from social barriers ranging from race to geography, but they also reflect the shortcomings of a movement culture that fails to be as inclusive as it claims. Fortunately this is turning around on the new cultural front that the Occupy protests have generated. Participants are by necessity constantly inventing new modes of communication, dialogue, and creative protest. On December 18, International Migrants Day, Occupy activists will march in the Immigrants Occupy! Rally, led by the Immigrant Workers Justice Working Group of Occupy Wall Street. The poster for the event says it all, and in more than one language.
We've had enough. The 1% own and operate the corporate media. They are doing everything they can to defend the status quo, squash dissent and protect the wealthy and the powerful. The Common Dreams media model is different. We cover the news that matters to the 99%. Our mission? To inform. To inspire. To ignite change for the common good. How? Nonprofit. Independent. Reader-supported. Free to read. Free to republish. Free to share. With no advertising. No paywalls. No selling of your data. Thousands of small donations fund our newsroom and allow us to continue publishing. Can you chip in? We can't do it without you. Thank you.