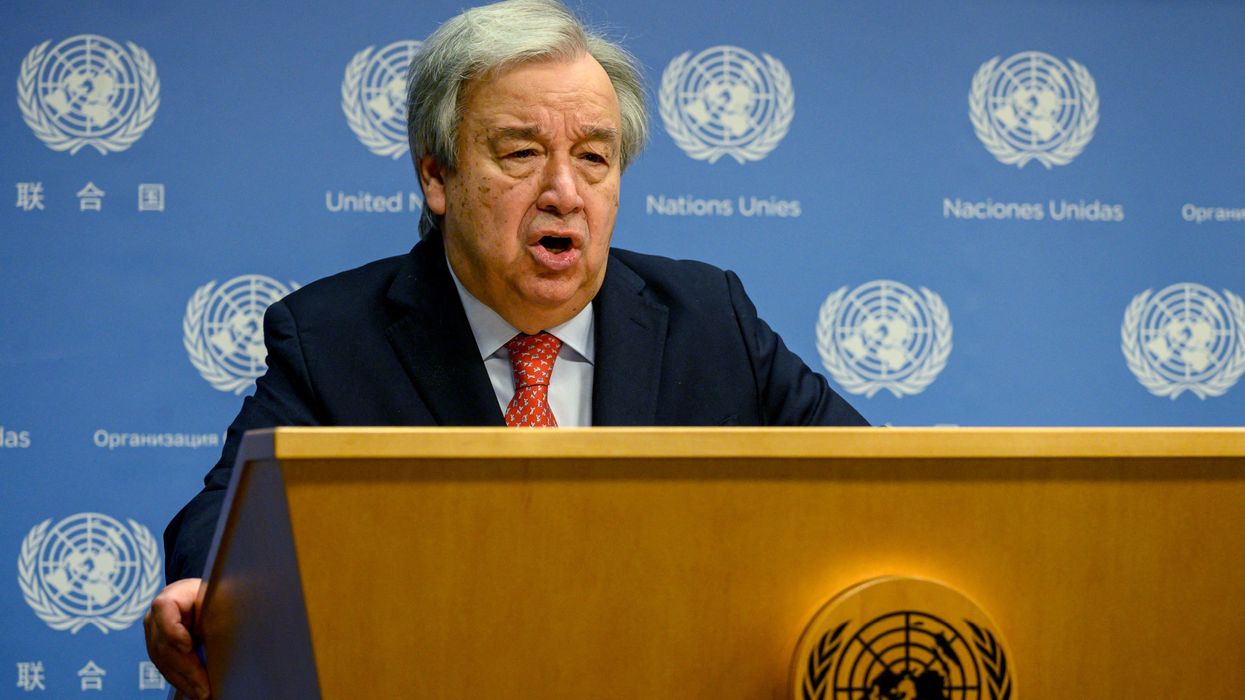 "We can still stop the worst," U.N. Secretary-General António Guterres insisted. "But to do so we must turn a year of burning heat into a year of burning ambition."
As new data released Thursday showed that July is all but certain to be the hottest month ever recorded on Earth, the heads of the United Nations and its meteorological agency joined scientists and activists in underscoring calls for "climate action and climate justice."
The United Nations' World Meteorological Organization (WMO) and the European Union-funded Copernicus Climate Change Service (C3S) said Thursday that based on globally averaged surface air temperatures, "the first three weeks of July have been the warmest three-week period on record and the month is on track to be the hottest July and the hottest month on record."
"These temperatures have been related to heatwaves in large parts of North America, Asia, and Europe, which along with wildfires in countries including Canada and Greece, have had major impacts on people's health, the environment, and economies," the agencies added.
Speaking at United Nations headquarters in New York Thursday morning, U.N. Secretary-General António Guterres said: "We don't have to wait for the end of the month to know this. Short of a mini-Ice Age over the next days, July 2023 will shatter records across the board."
"All this is entirely consistent with predictions and repeated warnings," he continued. "The only surprise is the speed of the change. Climate change is here, it is terrifying, and it is just the beginning."
"The era of global warming has ended and the era of global boiling has arrived," Guterres asserted. "Humanity is in the hot seat."
"For vast parts of North America, Asia, Africa, and Europe, it is a cruel summer. For the entire planet, it is a disaster," he added. "And for scientists, it is unequivocal—humans are to blame."
Petteri Taalas, who heads the U.N.'s World Meteorological Organization (WMO), said that "the extreme weather which has affected many millions of people in July is unfortunately the harsh reality of climate change and a foretaste of the future."
"The need to reduce greenhouse gas emissions is more urgent than ever before," Taalas added. "Climate action is not a luxury but a must."
Exacerbating the crisis, the WMO and C3S said that "contributing to the exceptionally warm July for the globe as a whole is a long period of unusually high sea surface temperatures" dating back to April.
Underscoring the severity of the situation, scientists were stunned this week by what may be the highest ocean temperature ever recorded on Earth as a thermometer buoy in Florida's Manatee Bay near Key Largo registered a surface reading of 101.1°F, or 38.4°C.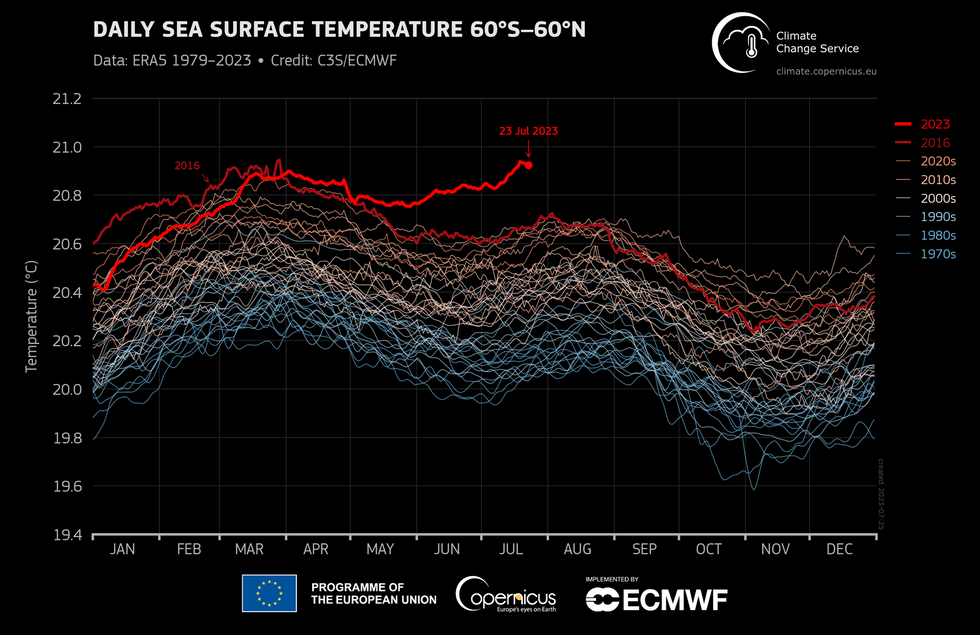 Climate scientists around the world expressed alarm over the temperature records.
"Barring a major asteroid impact today, it is virtually certain that July 2023 will be the warmest month on record by a large margin," Zeke Hausfeather of the California-based nonprofit Berkeley Earth toldThe Guardian. "I personally find the magnitude of this record a bit stunning. We don't see anything analogous in the historical record for the month of July."
University of Arizona climate scientist Katharine Jacobs toldThe Associated Press that "events like this are signposts along a highway we don't want to travel."
"It is time to stop playing political games and get serious in order to protect ourselves and future generations," she added.
Guterres reiterated a call for world leaders—especially those from the rich nations most responsible for creating the planetary emergency—to "step up for climate action and climate justice."
"No more greenwashing," he said. "No more deception. We can still stop the worst. But to do so we must turn a year of burning heat into a year of burning ambition."
Referring to the Paris climate agreement's more ambitious goal, Guterres insisted that "it is still possible to limit global temperature rise to 1.5°C and avoid the very worst of climate change but only with dramatic, immediate climate action."
"We have seen some progress—a robust rollout of renewables and some positive steps from sectors such as shipping—but none of this is going far enough or fast enough," he added. "Accelerating temperatures demand accelerated action."
News