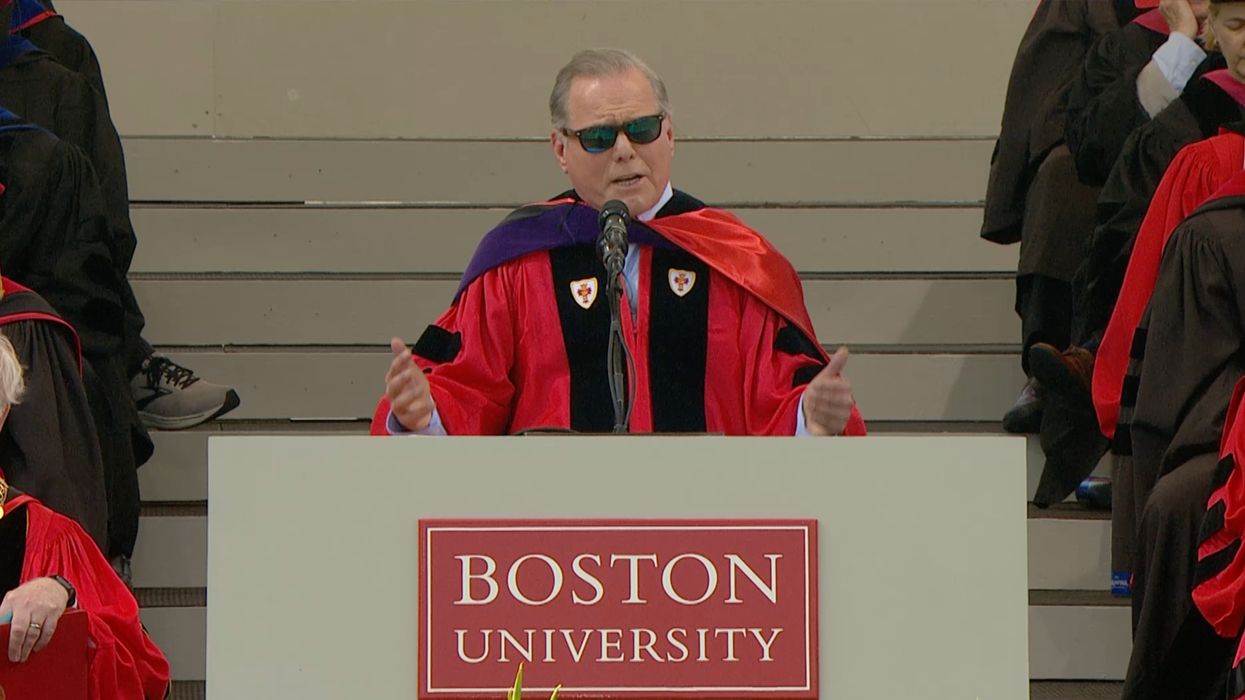 Writers Guild of America members and local allies picketed outside while the crowd in the stadium booed David Zaslav and made clear to the industry executive that "we don't want you here."

As unionized film and television writers across the United States continue to strike, Warner Bros. Discovery president and CEO David Zaslav was met with critical chants both inside and outside of Boston University's Sunday commencement ceremony, during which he spoke and received an honorary degree.
After weeks of negotiating with Zaslav's company as well as Amazon, Apple, Disney, NBCUniversal, Netflix, Paramount, and Sony under the the Alliance of Motion Picture and Television Producers (AMPTP), the Writers Guild of America (WGA) launched the strike in early May, saying that "the studios' responses to our proposals have been wholly insufficient, given the existential crisis writers are facing."
That same week, BU announced Zaslav as a commencement speaker, sparking backlash from students, alumni, community members, and the WGA, East director of communications, Jason Gordon, who expressed "deep disappointment with the university over its poor decision" to provide the industry CEO with a platform.
"Boston University should not give voice to someone who wants to destroy their students' ability to build a career in the film and television industry," Gordon told The Boston Globe. "The university should expect students, Writers Guild members, as well as other unions and community groups to picket Zaslav's commencement address."

WGA members delivered the promised picket with support from local allies, including members of BU Young Democratic Socialists of America (YDSA) and Boston DSA, who made signs that said: "F*!# Zaslav! Solidarity With the Writers."
Within Nickerson Field, "boos and expletives rained down" on Zaslav, who graduated from the BU School of Law in 1985.
During his speech, the CEO did not address the ongoing strike, "or the several dozen students who turned their backs to him, and instead shared the strategies that helped him become one of Hollywood's most powerful figures," reportedBU Today.
As The A.V. Club's Sam Barasanti wrote Sunday:

It seems like, for those of us who weren't there, that Zaslav's speech was as stunningly out-of-touch with reality as the decision to host him was in the first place, which speaks to a general contempt he seems to have for... oh, let's say everyone.

This is a man who was put in charge of a massive media empire, and the most notable things he has done with that power are burn money, dismantle one of the most prestigious brands in entertainment, double-dip on promoting J.K. Rowling, kick off the now-common trend of studios deleting content from their streaming services and making it completely inaccessible in some cases, and—how can we forget?—driving the writers who make his shows and movies to go on a strike that may soon lead to similar strikes from the DGA and SAG-AFTRA that would render Hollywood completely motionless.
According toThe Hollywood Reporter, "'We don't want you here,' 'Pay your writers,' and 'Shut up, Zaslav' could be heard emanating from the crowd, messages similar to the prepared chants for the picket, including some created by the school's YDSA chapter members and school students who were inspired by BU hockey chants."
As The Hollywood Reporter detailed:

Students from BU's College of Communications, which houses its film and TV program, as well as the College of Fine Arts and some enrolled in the College of Arts and Sciences, were among those who had expressed interest or were expected to take part in the ceremony protest, according to Vanessa Barlett, a graduating senior who helped lead the student-led writers strike solidarity event inside Nickerson Field.

"I'm in the same college as a bunch of film and TV kids," Barlett, who studied political science and journalism and was among those who created the day's official chants, told The Hollywood Reporter ahead of the event. "I'm friends with a lot of people in the College of Fine Arts, people who are in the theater arts program, so having a sense of solidarity is very important to me."
Some progressive lawmakers also weighed in—including Sen. Bernie Sanders (I-Vt.), who tweeted that "if Warner Bros Discovery can afford to pay its CEO David Zaslav $286 million in compensation over the past two years, it can afford to pay its writers much better wages and benefits. Mr. Zaslav: Listen to the Boston University students and the Writers Guild. Pay your writers."
Striking workers' demands from studios, which include pay increases and limits on artificial intelligence, "would gain writers approximately $429 million per year," according to WGA. "AMPTP's offer is approximately $86 million per year, 48% of which is from the minimums increase."
This article has been updated with tweets from Worcester DSA, Sen. Bernie Sanders, and Rep. Alexandria Ocasio-Cortez.

News