In a sign of a major shift in U.S. public perception that's largely generational, U.S. Democrats favor Palestinians by an 11-point margin. A decade ago, the gap was 36% in favor of Israelis.

Gallup poll results revealed Thursday that while, for the first time, more U.S. Democratic voters now sympathize with Palestinians than with Israelis, left-leaning respondents also "want solutions that respect Israel's needs as well."
According to the survey of 1,008 U.S. adults, 49% of Democrats said they sympathize more with Palestinians, while 38% favored Israelis and 13% chose neither side or said they sympathize equally with both. A decade ago, 55% of Democrats sympathized more with Israelis, while only 19% said they had more sympathy for Palestinians.
Republican respondents overwhelmingly continue to favor Israelis, with 78% saying they sympathize with them, compared with just 11% for Palestinians. Independents backed Israelis by 17 percentage points, 49%-32%.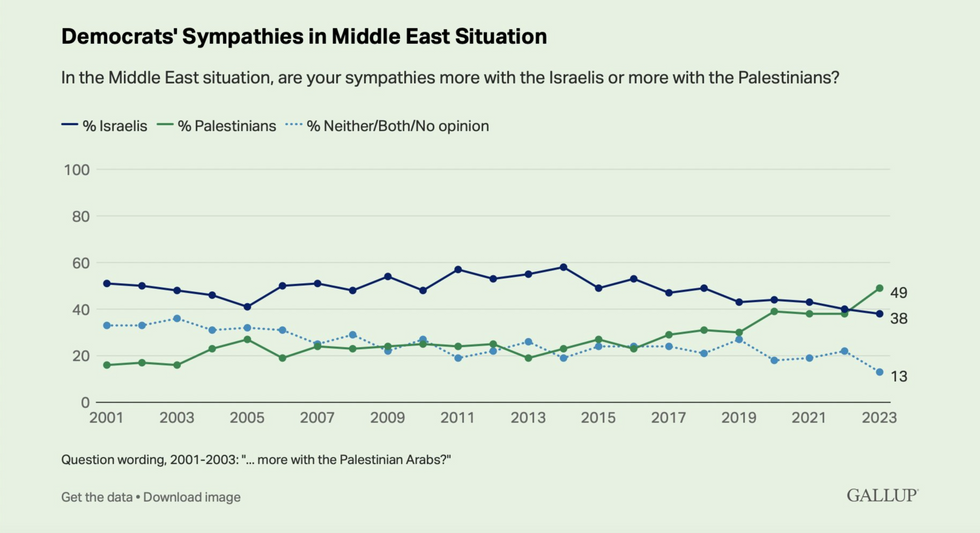 Gallup noted:

Aside from partisan differences, Gallup continues to see generational distinctions in how U.S. adults view the Palestinian-Israeli conflict. Net sympathy toward Israel—the percentage sympathizing more with the Israelis than the Palestinians—is solidly positive among older generations, including baby boomers (+46 points), Generation X (+32), and the silent generation (+31). By contrast, millennials are now evenly divided, with 42% sympathizing more with the Palestinians and 40% with the Israelis, yielding a -2 net-Israel sympathy score.

There are too few adult members of Generation Z (aged 18 to 22) in the recent poll to report, but the limited available data suggest their views on this question are similar to millennials'.
"Today's attitudes reflect an 11-percentage-point increase over the past year in Democrats' sympathy with the Palestinians," Gallup said. "At the same time, the percentages sympathizing more with the Israelis (38%) and those not favoring a side (13%) have dipped to new lows."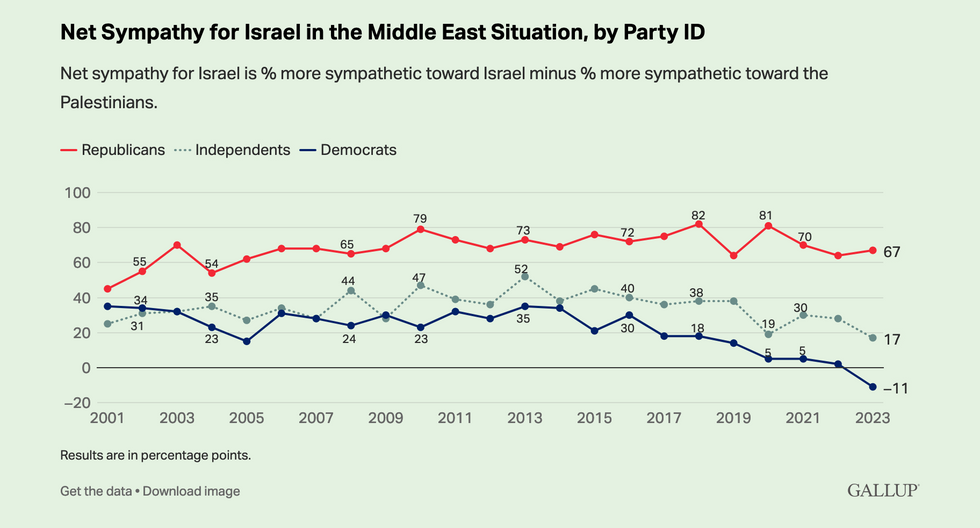 Gallup said "the high number of Palestinians killed" by Israeli forces last year—the deadliest year for West Bank residents since the end of the second intifada a generation ago—"could partly explain the most recent shift in Democrats' perspective."
The rise to power of far-right Israeli politicians and parties—who are escalating policies of apartheid and Jewish supremacy at the expense of Palestinian lives, land, and liberty—and the increasingly vocal opposition by congressional Democrats to Israeli crimes including apartheid, illegal occupation, ethnic cleansing, and settler colonization have played a role in the shift as well.
"Just a few years ago, it would have been unthinkable to have 12 members of Congress refer to Israeli occupation as colonialism, so I have no doubt that the needle on Palestinian human rights is moving," Rep. Rashida Tlaib (D-Mich.), the first Palestinian-American woman elected to Congress, said in 2021.
Gallup also said "Democrats' waning religiosity" could be a factor in declining support for Israel, as "sympathy for Israel has historically been highly correlated with religion."
The poll was published on the 20th anniversary of the killing of Rachel Corrie, an American volunteer with the International Solidarity Movement who was crushed to death by a Caterpillar bulldozer supplied by the U.S. to the Israeli military while trying to shield Palestinian homes from demolition.

News