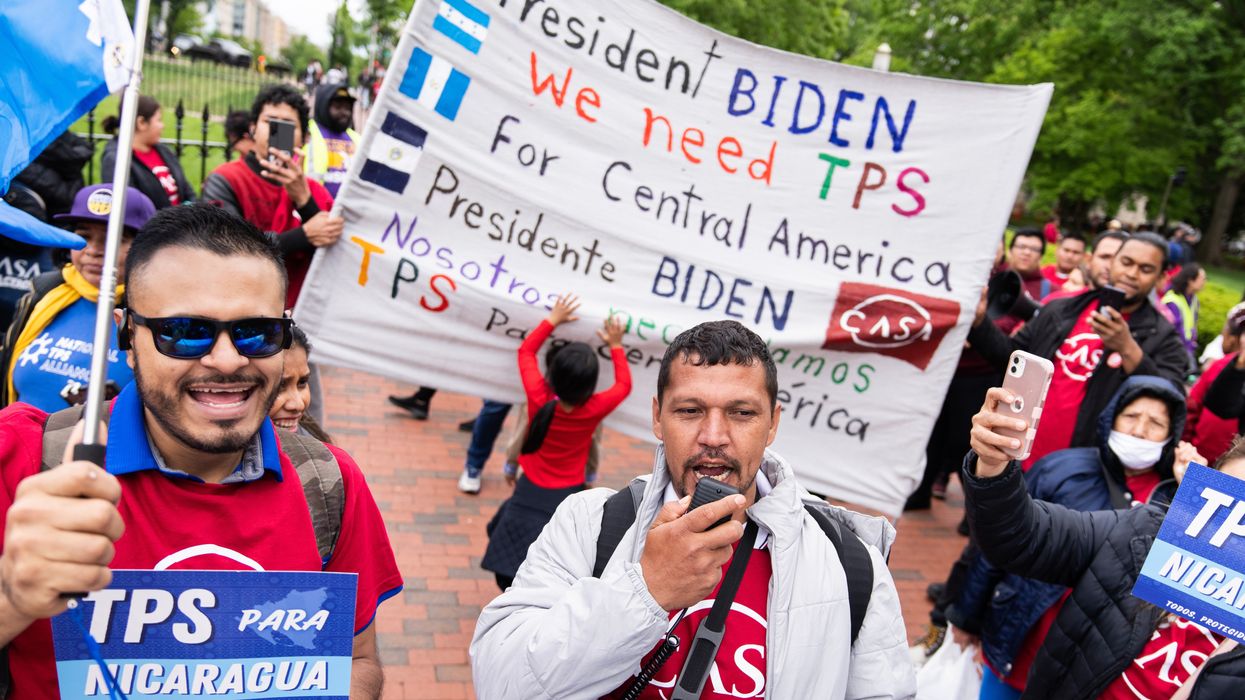 While "the North Star is always citizenship" for immigrant rights groups, "this program is now the relief that the president can offer," said one advocate.
More than 400 immigrant rights and civil society groups on Monday wrote to U.S. Secretary of Homeland Security Alejandro Mayorkas to call on the Biden administration to redesignate people from six countries for Temporary Protected Status, warning that the safety of as many as 2 million people hang in the balance as the White House has said it is up to Congress to pass comprehensive reform to protect asylum-seekers and undocumented immigrants.
Organizations including the ACLU, CASA, and the National Immigration Law Center noted that the Department of Homeland Security (DHS) in June extended the TPS designations of El Salvador, Nicaragua, Honduras, and Nepal as it rescinded the Trump administration's termination of protections for people from those countries.
On Friday, under pressure from lawmakers including Reps. Delia Ramirez (D-Ill.), Jesús "Chuy" Garcia (D-Ill.), and Joaquin Castro (D-Texas), the administration extended the TPS registration period for people from the four countries—known collectively as the Ramos countries—from 60 days to 18 months, allowing people to have until at least March 2025 to re-register for protected status, which enables them to temporarily live and work in the U.S. and protects them from deportation.
That victory was celebrated, but advocates on Monday said DHS's formal finding that the conditions in the four countries continued to meet the requirements for TPS—which is extended to people from countries facing ongoing conflict, environmental disasters, or other violence—also allows the agency, "in its discretion, to redesignate TPS for those countries."
"Doing so would provide TPS protections to individuals who have come to the U.S. and established lives here in the many intervening years since the original designations," wrote the groups. "Such a decision to redesignate will remain open to you, as DHS secretary, in your unreviewable discretion, until and unless those conditions are no longer in place. Failure to exercise that discretion would leave one to two million people from these same nations unprotected, even though they face the exact same dangers as current TPS holders if forcefully returned to their countries of origin."
The groups also urged DHS to redesignate Venezuela as a TPS country and to designate people from Guatemala as protected under the program for the first time.
Last week, members of the Congressional Hispanic Caucus also called on the administration to redesignate the Ramos countries as qualifying for TPS.
The Biden administration has pushed Congress to pass immigration reform—while expanding the Trump-era Title 42 program by imposing requirements on certain people fleeing their home countries for the U.S. and continuing to detain families—but advocates on Monday told The Hill that redesignating TPS for people at risk of deportation is "the most powerful tool in the president's executive arsenal" regarding immigration policy, while they continue pushing for legislation that would include a path to citizenship.
"We cannot wait," Jossie Flor Sapunar, national communications director for advocacy group CASA, toldThe Hill. "The only relief that can be offered to the immigrant community now is through the administration."
While "the North Star is always citizenship," Sapunar added, "this program is now the relief that the president can offer."
Redesignating TPS "would provide enormous benefits to our nation and also fulfill the spirit of the president's campaign promise not to return TPS holders to unsafe countries," wrote the groups on Monday, in addition to being "life-changing for those who have made their lives here."
"A wealth of research demonstrates the benefits to all workers and the economy of granting legal status to persons who already live and work in the U.S. and specifically documents the huge economic contributions of persons who have or would be eligible for TPS," they said. "Redesignating TPS for these countries would grant work authorization to a meaningful proportion of all currently undocumented workers, helping to alleviate tight labor markets and reducing the need for local safety net programs. It would also increase remittances back to these countries, putting resources directly into the hands of the people who need it most, helping to bring stability to those countries, and thereby reducing migration."

The letter was sent less than a week after more than 30 mayors and county executives from across the U.S. wrote to Mayorkas and Secretary of State Antony Blinken, calling on them to redesignate TPS for Venezuela, Honduras, El Salvador, Nicaragua, Cameroon, and Nepal and to give initial designation to Guatemala, Mali, Congo, Mauritania, and Nigeria.
"As city and county leaders, the safety and well-being of our residents is of utmost importance," wrote the local leaders, including Chicago Mayor Brandon Johnson, Boston Mayor Michelle Wu, and Los Angeles Mayor Karen Bass. "We recognize that TPS is one way the Biden-Harris administration can protect many well-established residents with deep ties to our communities through their families, jobs, and homes as well as help newer arrivals establish themselves and find economic independence."
News