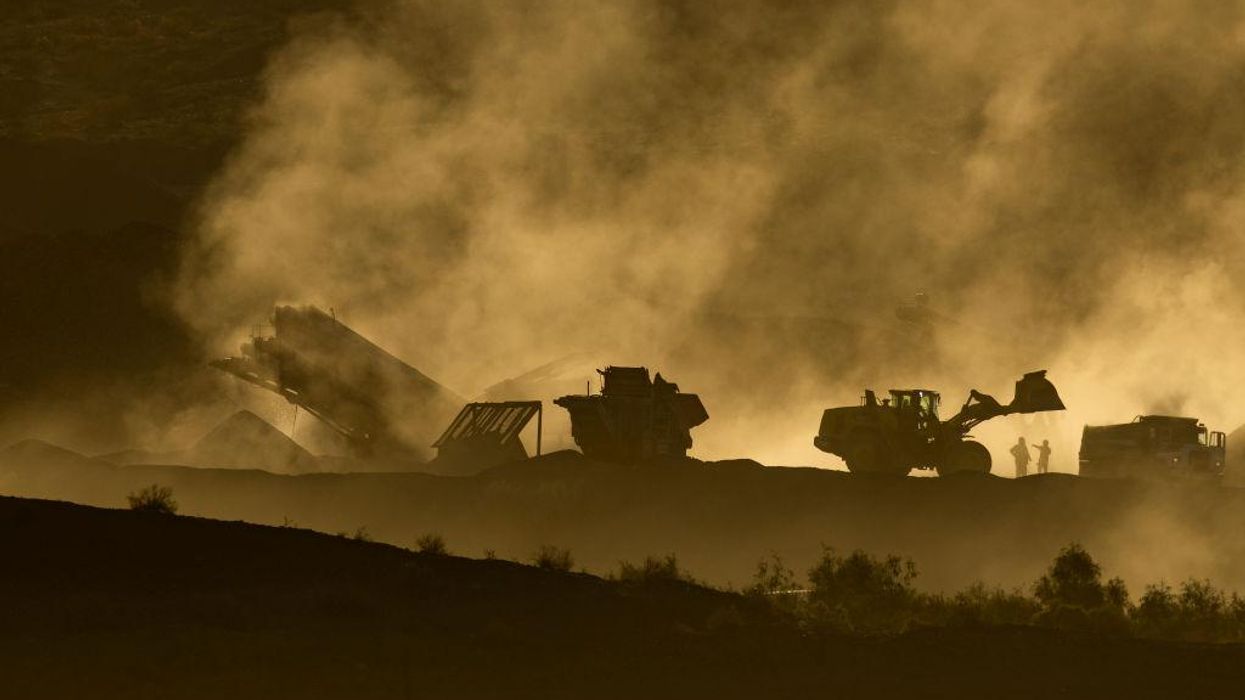 "The EPA and the Biden administration have missed a vital opportunity to enact transformational change, to advance environmental justice, and to protect the most vulnerable Americans," said one critic.
While welcoming efforts to update U.S. air quality standards for soot, environmental and public health advocates on Friday warned that the Biden administration's new proposal falls woefully short of what's needed to protect vulnerable communities from deadly pollution.
Because the Environmental Protection Agency (EPA) declined to make any changes during the industry-friendly Trump administration, the United States currently relies on 2012 standards for soot, or fine particulate matter (PM2.5) from sources such as construction sites, fires, power plants, and vehicles.
"EPA is not living up to the ambitions of this administration to follow the science, protect public health, and advance environmental justice."
The EPA is now proposing to strengthen the primary annual PM2.5 standard—which is about public health—from 12 micrograms per cubic meter to 9-10 micrograms per cubic meter, but over a two-month period the agency will take public comment on a range of 8-11 micrograms per cubic meter.
The rule would not alter the secondary annual PM2.5 standard, which is meant to protect public welfare, including animals, crops, and nature. It also would retain existing primary and secondary standards for both PM2.5 over a 24-hour period and larger inhalable particles known as PM10.
The agency estimates the new standard would prevent up to 4,200 premature deaths and 270,000 lost workdays each year while resulting in as much as $43 billion in net health benefits in 2032. EPA Administrator Michael Regan claimed that "our work to deliver clean, breathable air for everyone is a top priority" and framed the proposal as "grounded in the best available science."
However, campaigners and representatives from overburdened communities argued Friday that the EPA should listen to pleas for cleaner air from people at risk—rather than business groups fearmongering about potential economic impacts—and impose even stricter standards, which could reduce health issues like asthma and heart attacks and save thousands more lives annually.

"This delayed proposed rule on soot is a disappointment and missed opportunity overall. Though aspects of EPA's proposal would somewhat strengthen important public health protections, EPA is not living up to the ambitions of this administration to follow the science, protect public health, and advance environmental justice," said Earthjustice attorney Seth Johnson.
\u201cBad air quality is the world\u2019s leading environmental killer. In the United States, air pollution is associated with 100,000 to 200,000 deaths each year. We can make big improvements on this problem with tighter government standards, but today, @EPA failed to meet the mark.\u201d

— Earthjustice (@Earthjustice) 1673030073
Sierra Club senior director of energy campaigns Holly Bender agreed that the rule "does not fully reflect the serious danger of this pollutant, the scientific record, or the positive impact stronger standards would have on communities across the country."
"The health burdens of air pollution are disproportionately borne by communities of color near heavily polluting facilities and infrastructure, like power plants, factories, and roads, and this standard is a long-overdue step toward correcting enduring environmental and health injustices faced by fenceline communities," she stressed. "Anything short of the most protective standards gives a pass to the biggest polluters."
Northeast Ohio Black Health Coalition executive director Yvonka Hall also lamented that "with the new soot rule proposal, the EPA and the Biden administration have missed a vital opportunity to enact transformational change, to advance environmental justice, and to protect the most vulnerable Americans."
"Thanks to redlining, Black people are more likely to live, work, play, and pray in communities that are toxic," Hall pointed out. "With this proposal, we have missed the chance to right some of those historical wrongs."
Noting that "Black children go to the emergency room for asthma 10 times more often than their white counterparts in the city of St. Louis" and "it's eight times more often for Black adults," Jenn DeRose, a Missouri-based Sierra Club campaigner, emphasized that "we need strong reductions in particulate matter pollution in my city and across the country to address problems created by generations of environmental racism targeted at Black communities."
Latinos are also "far more likely to live and work in areas where air quality is the poorest, and regularly breathe soot and smog, which can cause and exacerbate respiratory illness," said Laura Esquivel, the Hispanic Federation's vice president of federal policy and advocacy. "This rule falls short of taking steps to mitigate the decades of neglect and harm done to the health of our communities and to the health of Latino children in particular."
\u201c"In #Appalachia, our people are breathing fugitive mine dust and toxic emissions from numerous industries. Time and again, state regulatory practices have fallen short in curbing the impacts of these industries."\u201d

— Appalachian Voices (@Appalachian Voices) 1673029176
Echoing the campaigners, Anita Desikan, a senior analyst for the Center for Science and Democracy at the Union on Concerned Scientists, said that "the science is clear—PM pollution causes serious health problems, and the biggest impacts are hitting Black, Latinx, and low-income people, many of whom are already overburdened with exposure to multiple pollutants."
"Over the past decade, study after study has shown how breathing PM pollution causes real, meaningful damage," Desikan continued. "Today's proposal gets us closer to where we need to be—but the problem is urgent and the solution is long overdue. EPA needs to act quickly, follow the science, and finalize the strongest possible rule."
While Dr. Doris Browne, former president of the National Medical Association, the largest U.S. organization representing Black physicians, expressed gratitude for the Biden administration's efforts in the official EPA statement announcing the proposal, other public health leaders were far more critical.
American Lung Association president and CEO Harold Wimmer said that the proposed rule "misses the mark and is inadequate to protect public health from this deadly pollutant," citing scientific research to advocate for an annual standard of 8 micrograms per cubic meter and a 24-hour standard of 25 micrograms per cubic meter.
Declaring that "health organizations and experts are united in their ask of EPA to finalize the national standards for particle pollution" at those levels, Wimmer pledged that his group "will file detailed technical comments and provide testimony at the public hearing to urge EPA to strengthen the final standards," and encouraged the public to do the same.
Air Alliance Houston executive director Jennifer Hadayia highlighted that "during the recent cold snap, we were exposed to 24-hour industrial flares that spewed particulate matter across the region. And, our state regulatory agency—the Texas Commission on Environmental Quality—does nothing to stop it."
"We applaud the EPA for stepping in where our state will not, but we wish they had gone further," said Hadayia. "A stronger 24-hour standard would protect more Houstonians from the recent flares."
\u201cToday's proposed EPA soot rule is both late and disappointing. Why?\n\n1) It's too high and will lead to 20,000 more people dying annually.\n2) It only proposes to strengthen the annual, not the daily or 24 hour standard.\n\nWe need the Biden EPA to do BETTER.\nhttps://t.co/woZhKfq306\u201d

— Dr. Leah Stokes (@Dr. Leah Stokes) 1673024008
Critics of the proposal also want the EPA to reconsider not just the primary, or health-based, standards, but also the secondary, or welfare-based, ones.
"Because countless people and organizations like the National Parks Conservation Association spoke out and demanded the Biden administration take action, they've taken this modest step toward cleaner air, but it doesn't go far enough," said Ulla Reeves, campaigns director for the organization's Clean Air Program.
"Beyond the harm it causes people, soot wreaks havoc on our national parks' plants, wildlife, waters, and our views," Reeves said. "People deserve to visit national parks and not only breathe clean air but also experience the natural world free from this haze and soot pollution."
News