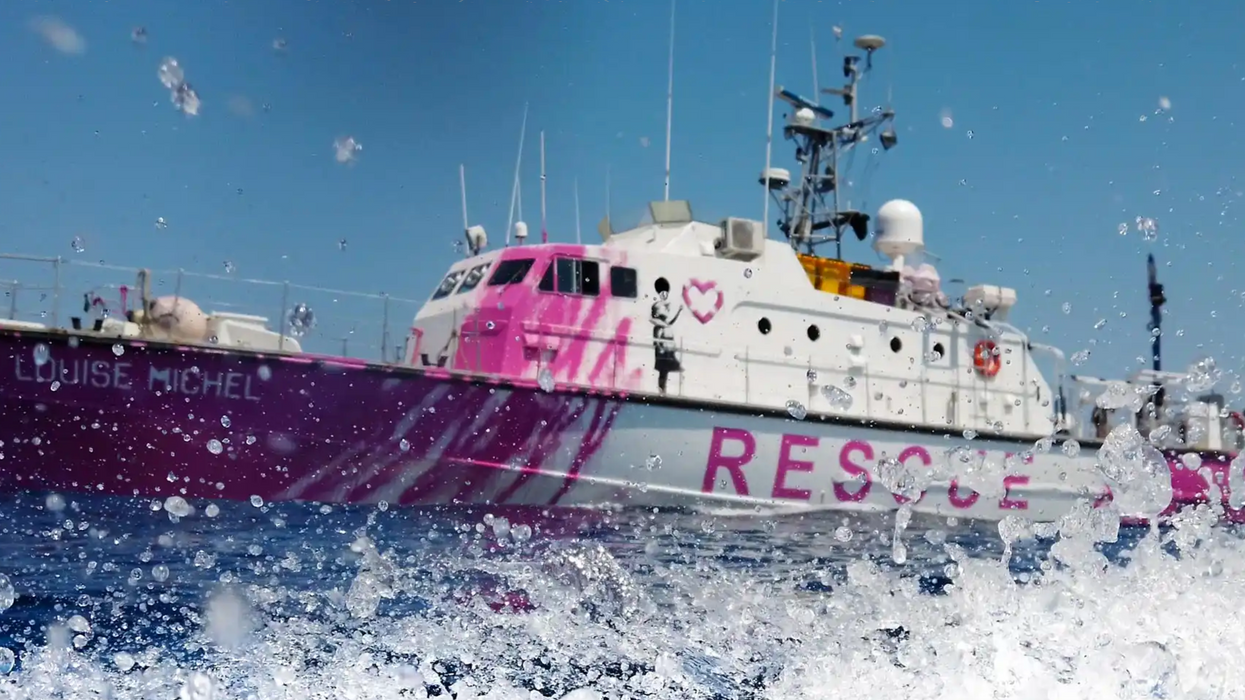 "These deaths are not an accident nor a tragedy," said the ship's crew. "They are wanted."
Italian authorities on Sunday seized a migrant aid ship financed by renowned British street artist Banksy after the vessel allegedly violated a decree by Italy's far-right cabinet by refusing to head to port following a rescue operation.
Reutersreports the Italian coast guard instructed the MV Louise Michel—named after the French "grande dame of anarchy"—to dock at Trapani in Sicily after rescuing migrants in the Libyan search and rescue zone. Instead, the ship went to aid distressed migrants in Malta's search and rescue area. The 30-meter vessel, painted bright pink and white, ultimately docked in Lampedusa Saturday with 178 rescued migrants aboard.
Louise Michel's Twitter account said Monday that the ship's crew "received official notification that the ship is detained for 20 days due to violation of the new Italian decree law" and that "we will take all necessary steps to fight this detention."
Last month, Italy's parliament codified a December 2022 decree by Italian Prime Minister Giorgia Meloni and her neo-fascist Brothers of Italy cabinet requiring ships to proceed immediately to an assigned port after a rescue instead of providing aid to other distressed vessels, as is commonly done. Critics say humanitarian vessels are being assigned to distant ports in order to keep them from rescue zones for as long as possible.
Under the new law, migrants must also declare while aboard a rescue ship whether they wish to apply for asylum, and if so, in which European Union country. Captains of civilian vessels found in violation of the law face fines of up to €50,000 ($53,900) and confiscation and impoundment of their ships. Migrant rights advocates have slammed the new legislation as "a call to let people drown."

Following the drowning of more than 60 migrants whose boat broke apart just off the Calabrian coast last month, Meloni's cabinet approved another decree establishing a new crime—death resulting from people smuggling—punishable by up to 30 years in prison.
On Sunday, Tunisia's coast guard said it recovered the bodies of at least 29 migrants from Sub-Saharan Africa who were attempting to cross the Mediterranean Sea to Italy when three boats capsized. There has been an increase in violence against Black people and spike in migrant departures from the North African nation since its president, Kais Saied, delivered an inflammatory speech earlier this month blasting what he called "hordes of illegal immigrants from sub-Saharan Africa" who bring "violence, crime, and unacceptable practices" to Tunisia and threaten its "Arab and Islamic" character.
News