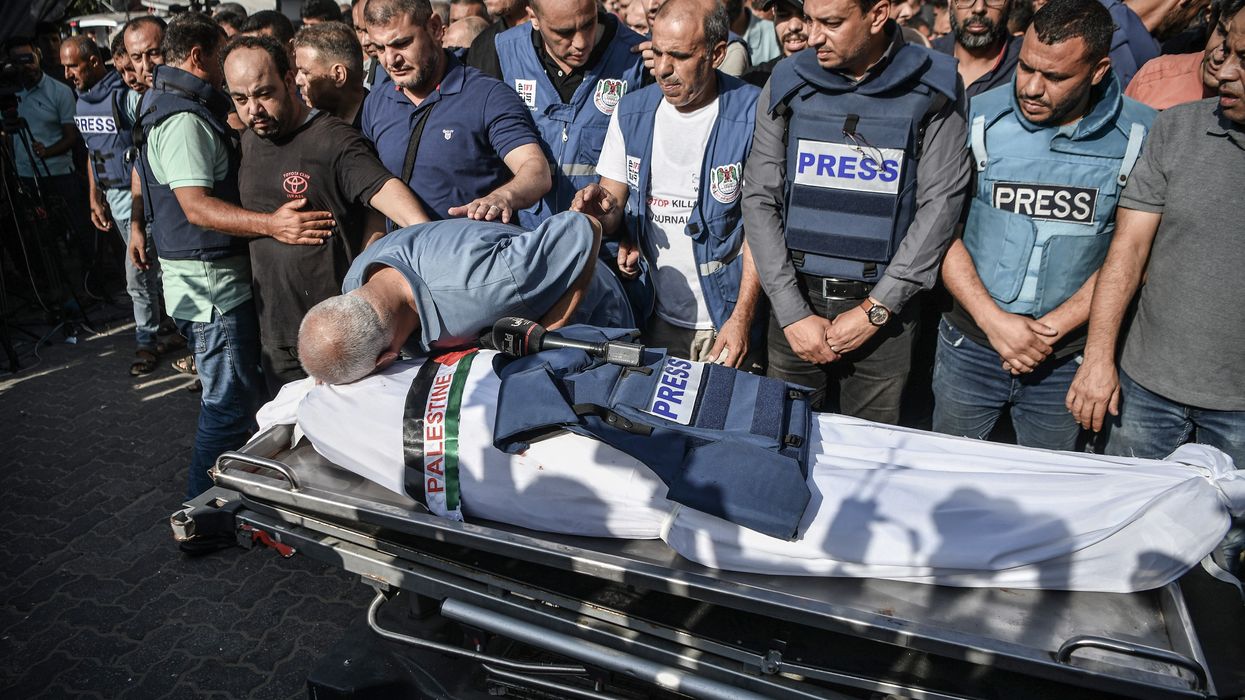 No amount of censorship or attacks on reporters will be able to suppress the reality of chaos and carnage that Israelis have unleashed in Gaza.
Truth – and journalists – are the first casualties of the war on Gaza. As Israel's 7-week bombardment of the Gaza Strip has killed over 14,000 Palestinians, 5,000 of whom were children, courageous Palestinian journalists, working in Gaza under unbelievably difficult and dangerous circumstances, are being killed, one by one. This week, a grim milestone was reached, as the number of journalists killed in the conflict surpassed 50. While a negotiated pause gives civilians in Gaza a brief respite, and 50 Israeli hostages held in Gaza will be released, Israeli Prime Minister Benjamin Netanyahu has promised the violence will continue immediately afterwards.
According to the Committee to Protect Journalists (CPJ), at least 53 journalists and media workers have been killed in what the organization calls "the deadliest month for journalists since CPJ began gathering data in 1992." To date, 46 Palestinians, four Israelis and three Lebanese reporters have been killed. Eleven have been injured, three remain missing, and 18 Palestinian journalists have been arrested by Israel.
"We've never seen anything like this. It's unprecedented," Sherif Mansour, CPJ's Middle East and North Africa program coordinator, said on the Democracy Now! news hour. "For journalists in Gaza specifically, the exponential risk is possibly the most dangerous we have seen."
One of those killed was Ayat Khaddura, a 27-year-old independent journalist and podcast creator. She and her family were killed by an Israeli airstrike this week, at home in northern Gaza.
"This may be the last video for me," Ayat said in Arabic, in a video she posted. "Today, the occupation dropped phosphorus bombs on the Beit Lahia project area and scary sound bombs and threw evacuation notices in the area. Almost the entire area has been evacuated. Everyone started running madly in the streets. No one knows where they're going to or coming from. We're separated…The situation is very terrifying. What is happening is very difficult. May God have mercy on us."
Holding back tears, Ayat Khaddura ended what would be her last video.
Belal Jadallah, considered the "Godfather" of Palestinian journalism, was killed in his car by an Israeli tank shell. Jadallah was the chairman of the Gaza Press House, which trained young journalists.
"Belal Jadallah helped us document this deadly pattern of journalists being killed by Israeli fire over 21 years," Sherif Mansour said, describing a CPJ report released on May 11th, the first anniversary of the killing of Palestinian-American journalist Shireen Abu Akleh by an Israeli army sniper in the occupied West Bank. "On Sunday, Belal became a victim of this same deadly pattern when he was killed in his car. Jadallah also provided crucial safety equipment for journalists in order to do their job safely. And he opened the Press House for journalists to use the electricity and internet when there was no other place."
Belal Jadallah also facilitated the arrival and work of foreign journalists in Gaza, so his death will make it even harder for reporters to get in to report on the devastation of Gaza.
Fair, accurate reporting is essential, especially in a time of war and collective punishment. A report on the current four-day pause published by Politico included a short but revealing line, attributed to an unnamed Biden administration official:
"…there was some concern in the administration about an unintended consequence of the pause: that it would allow journalists broader access to Gaza and the opportunity to further illuminate the devastation there and turn public opinion on Israel."
The U.S. media has primarily relied on reporting from inside Israel, venturing into Gaza only when "embedded" with the Israeli military, obligated to follow uniformed Israeli military spokespeople. What Palestinian would speak freely with a foreign journalist accompanied by an armed Israeli soldier? A condition of participating in this embedded reporting is that all footage must be reviewed and approved by Israeli military censors before being broadcast. What gets reported is little more than Israeli state propaganda.
No amount of censorship, though, can suppress the scale of chaos and carnage.
In one scene, journalist Salman Al-Bashir of the Palestine News Agency was reporting that his colleague, Mohammad Abu Hattab, had been killed in an Israeli airstrike, along with 11 members of his family. Clearly distraught during the live broadcast, Al-Bashir tore off his blue helmet and protective vest, labeled "press," and threw them to the ground, asking, "Why do we bother wearing this if we're going to be killed anyway?" Back in the studio, the news anchor interviewing Al-Bashir wept as he spoke.
The ceasefire will take place during the Thanksgiving holiday in the United States. As we mourn all those who have died in this conflict, let's give thanks to the journalists who continue to bring us the truth from Gaza, at an enormous, unacceptably high price.
Opinion