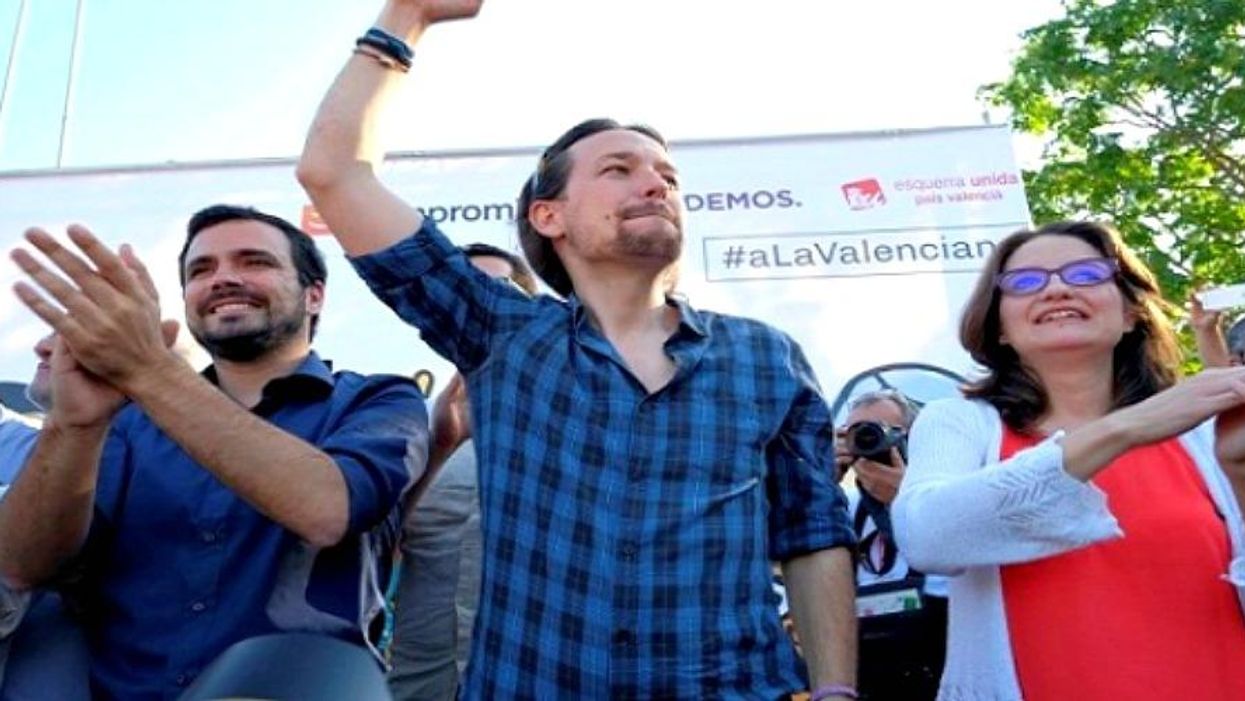 Ahead of Sunday elections, Spain's anti-austerity movement successfully shattered the era of two-party dominance
Spain's Podemos party, which in recent years rose to prominence on a defiant anti-austerity platform, has overtaken one of the nation's two leading political powerhouses and is threatening to unseat the conservative establishment in Sunday's general election.
Polls on Monday suggest that the populist party successfully has shattered the era of two-party dominance, besting the Socialist Party (PSOE) 25 to 21.2 percent, while the ruling conservative Popular Party (PP) still leads with 30.7 percent.
"We are very close to defeating the Popular Party in the elections," Podemos leader Pablo Iglesias declared. "We are very close. And they are very worried about it for what it means."
Indeed, Spain's conservative Prime Minister Mariano Rajoy expressed as much during a campaign stop Monday, telling supporters, "Radicalism and extremism can only be stopped by a coalition of people behind the Popular Party." To block the rise of Podemos, Rajoy called on "all moderate, sensible and balanced voters to unite" by casting their vote Sunday.
The latest poll by research website Electograph reflects a four percent increase in support for the outsider movement since December's election, during which Podemos secured 69 parliament seats. That upset effectively fractured the majority, forcing the king of Spain to dissolve parliament and hold another vote.
While the various parties have been jockeying to form coalitions, Podemos "has boosted its support by striking a deal with the United Left, once part of the Communist party," Euronewsexplains, forming the ascendant Unidos Podemos coalition.
"What is uncertain amid the maneuvering is the shape of a future government," Euronews continues. "What seems highly likely is that Spain's traditional two-party system looks set to be blown apart."
The elections will come amid a turbulent week in Europe, following the upcoming UK vote on the so-called "Brexit" referendum. As the Guardian's Owen Jones wrote on Tuesday, the two votes "highlight the competing visions of Europe's future."
Declaring this week a "defining moment" in postwar Europe, Jones continues:
Across Europe, the visions represented by the rightwing Brexiters in Britain and Podemos in Spain are locked in combat. If Britain leaves the EU as the result of a leave campaign whose core message is hostility to immigration, that will be a shot in the arm to already ascendant anti-immigration movements across Europe. The question isn't whether France's far-right leader Marine Le Pen will celebrate Brexit, but how expensive will be the champagne she chooses to toast it with. The odds of the EU disintegrating amid anti-immigrant and anti-refugee acrimony will increase. If Unidos Podemos do well in Spain on Sunday--and even forms a coalition government with the Socialists--then that will be a significant boost to movements arguing for a Europe of public investment and workers' rights.
"Are we to have a disintegrating Europe characterized by widespread, destructive, anti-immigrant resentment, corporate dominance and shredded social protection, or a democratic Europe run in the interests of the majority?" he concludes. "The people of Britain and Spain can light the way."
Earlier this month, Podemos published a catalogue-styled manifesto detailing its key political stances, such as plans to reduce unemployment and increase taxes on the wealthy, against a backdrop of Ikea-like images.
News