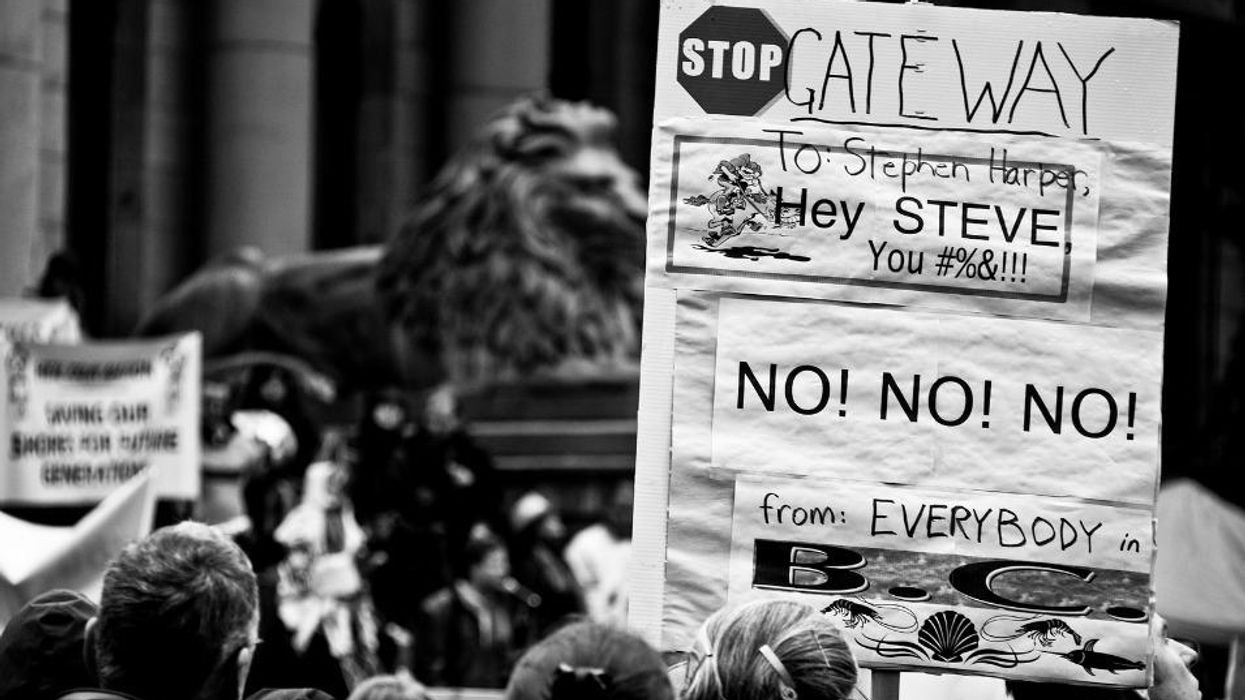 Week of fundraising events mark one year since Canada government gave greenlight to controversial Northern Gateway project
In what has been described as an unprecedented grassroots mobilization, activists, environmental groups, and others concerned about the future of the Pacific coast this week are rallying to support a First Nations court battle to block the construction of the controversial Northern Gateway pipeline.
"First Nations are poised to stop this in its tracks," said Caitlyn Vernon, campaigns director for Sierra Club British Columbia, in a statement Tuesday. The campaign Pull Together was launched to "show these nations are not standing alone" as they confront the infinite resources of the fossil fuel industry.
The week of fundraising events, dubbed the Week to End Enbridge, is being held June 13-21 to mark one year since the Canadian government approved the controversial Northern Gateway pipeline. Not coincidentally, the weeklong events conclude on June 21, National Aboriginal Day in Canada.
So far, a total of eighteen lawsuits have been launched against Enbridge to challenge its construction of Northern Gateway. The legal challenges from First Nations were further emboldened by a June 2014 Canadian Supreme Court ruling that recognized Aboriginal rights and title.
However, supporters say, when one is up against a $50 billion company like Enbridge, it's all hands on deck.
"First Nations have a saying: many paddles, one canoe," reads the Pull Together website. "Let's unleash the power of the vast majority of BC who don't want this pipeline and tanker project, and build a hopeful future for generations to come."
"Our goal is to raise a total of $600,000 by the summer, so the Heiltsuk, Kitasoo-Xai'xais, Gitga'at, Haida, Gitxaala, Nadleh Whut'en and Nak'azdli Nations have the resources they need before court hearings are held this fall," Vernon said in a recent Rabble column. The group has already raised more than $450,000. Lawsuits challenging the pipeline approval go to federal court in October.
"Is this real solidarity? Perhaps only time will tell, and it is not for me to judge," she continued. "What I do know is that court cases are extremely expensive and we all stand to benefit from the outcome. It doesn't seem right that First Nations should be left to shoulder this burden alone."
At a Vancouver rally on Saturday to launch the week of action, actress and activist Jane Fonda announced that she, too, "stands with...the unbelievably brave First Nations people who are trying to stop Big Oil from destroying the coastline."
"I'm 77 and I thought I was getting too tired to go to the barricades, but that's a bunch of B.S.," Fonda said in a speech at the Toast the Coast Before the Coast is Toast celebration, after which she gave a surprise donation of $10,000 to support the legal campaign. "This issue is too important and it's a very simple issue. People versus oil. Life versus oil."
Peter Lantin kil tlaats 'gaa, president of Haida Nation--one of the tribes leading the legal challenge--said he is "heartened by the strength and resolve of people across the country who are stepping up to support nations going to court to stop Enbridge." He added, "The broad support doubles down our commitment to keep oil tankers out of our waters and support our neighbors who will be affected upstream."
News