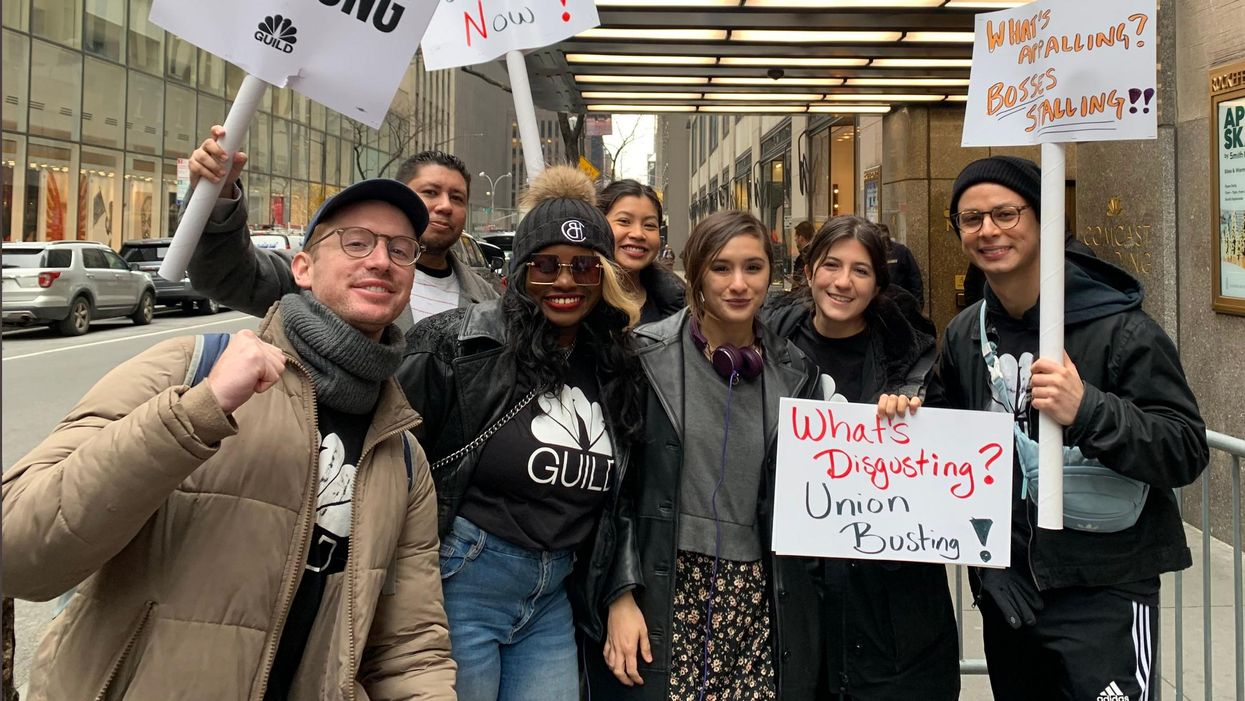 "NBC has repeatedly broken the law, disrespected the rights of its employees, and illegally terminated hard-working union journalists," workers said in a video explaining the 24-hour walkout. "Enough is enough."
After working more than 1,000 days without a contract, more than 200 unionized NBC NewsDigitalworkers on Thursday launched a 24-hour walkout to protest the media giant's ongoing "unfair labor practices," including the recent firing of seven union journalists.
Members of NBC News Guild—including reporters, editors, producers, and other staffers at NBC News, MSNBC, and "Today" Digital—walked off the job Thursday morning, with some rallying outside NBC's Midtown Manhattan headquarters to protest the layoffs and not having a contract since the union's founding in 2019.

\u201c@nbcnewsguild \n@CarlinMcCarthy not mincing any words.\u201d

— Antonio Planas (@Antonio Planas) 1675961859
In a statement issued Wednesday, NBC News Guild, which is part of the NewsGuild-CWA of New York, explained that last month NBC "illegally laid off seven bargaining unit members and informed others that they were no longer members of the union."

"This of course violates federal law," the statement continued. "We've written about how a company cannot lay off workers prior to a first contract being settled. And of course, NBC is familiar with this precedent because they illegally cut salaries without bargaining in 2020."

The union has filed six separate National Labor Relations Board complaints alleging unfair labor practices. In 2021, the NLRB ruled in favor of NewsGuild New York, finding that NBCimproperly rolled back wage increases it had previously given NBC News Digital employees.
In response to the walkout, an NBC News spokesperson said that "we are disappointed by the NewsGuild's continued attempts to misrepresent the facts while we work in good faith with them to reach an agreement."

in a video posted Thursday on social media explaining why they planned to walk off the job, an NBC Guild worker explained that "NBC News started off the third year of bargaining our first contract by illegally laying off seven union journalists and stripping another team of union protections."
"When we first organized this union to have a say in the workplace policies that affect us, Donald Trump was still president. No one had heard of Covid-19. Since then, we've covered an insurrection, a pandemic, a war in Ukraine, election after election, and everything else that's happened over the last two years, all without a contract," the video continued with numerous union members taking turns speaking.
\u201cWe sent a letter to @cesarconde_, @CatherineKimNY, @janelleNBC and @libbyleist this morning demanding they reinstate our colleagues and bargain towards a fair contract. \n\nWe unionized for stability in a precarious industry, and we're not settling for scraps.\u201d

— NBC Guild (@NBC Guild) 1675867543
The workers noted:

We've won awards, Emmys, Webbys, and Peabodys, shattered viewership records, and launched a massively successful streaming channel, but we've done that work without the critical union protections that we organized to secure. Management has delayed and delayed and delayed. They've denied us important information, violated federal labor law, and operated in bad faith, all while increasing profits and lauding our accomplishments.
"We deserve a national news outlet that prioritizes employee safety over corporate profits," the union members asserted. "We deserve an outlet that treats staff equitably and better represents the communities we cover. We demand a contract that secures fair pay, just cause, guaranteed benefits, and enforceable health and safety standards for the journalists of NBC News Digital."

"NBC News, stop union-busting," the workers implored. "Stop delaying us. Negotiate a fair contract that respects union journalists who make this newsroom what it is."

News