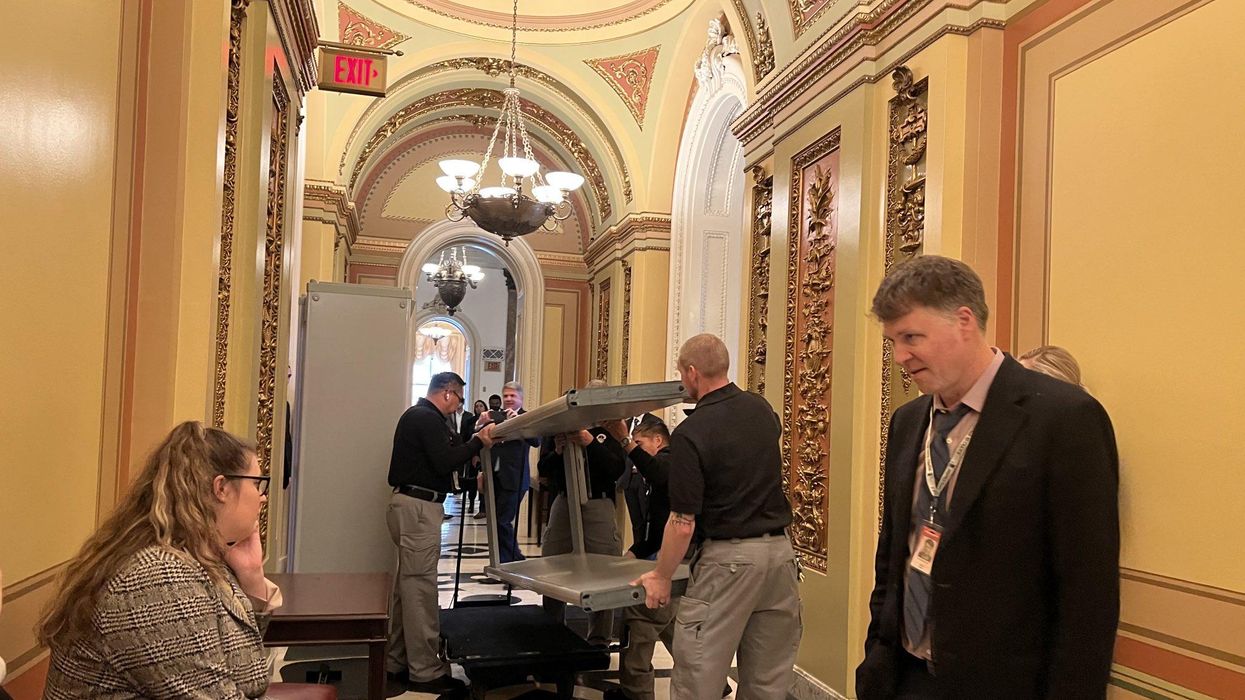 One reporter called the step "the first sign of the new GOP majority."
As Republicans on Tuesday prepared to formally assume the majority in the U.S. House of Representatives and vote on the next speaker amid growing party turmoil, video footage posted to social media showed officials removing metal detectors that were put in place following the January 6, 2021 insurrection.
Just after noon, Rep. Ayanna Pressley's (D-Mass.) chief of staff posted a short clip showing workers carrying a metal detector into a Capitol elevator.
\u201c12 noon sharp and Republicans just had the metal detectors removed from the House floor #118thCongress\u201d

— Sarah Groh (@Sarah Groh) 1672766123
CNN congressional reporter Manu Raju called the move "the first sign of the new GOP majority."

The metal detectors, put in place just outside of the House chamber as an extra security measure amid concerns about Republicans' ties to the January 6 attackers, were vocally opposed by GOP lawmakers, some of whom made a show of dodging them.
"Guns and other weapons were already banned from the chamber," The Washington Post noted Tuesday. "Some Democrats were already anxious about the potential for guns on the House floor after Rep. Lauren Boebert (R-Colo.) campaigned promising to remain armed as she worked on Capitol Hill. And former congressman Madison Cawthorn (R-N.C.) told a local paper after the attack that he had been armed when protesters stormed the Capitol."
In a video posted to Twitter, Boebert celebrated the removal of the magnetometers:
\u201cWe\u2019re turning Pelosi\u2019s House back into the People\u2019s House.\u201d

— Rep. Lauren Boebert (@Rep. Lauren Boebert) 1672766318
The removal of the metal detectors came shortly before Rep. Kevin McCarthy (R-Calif.) failed to win a majority of House votes on the first ballot for speaker as 19 GOP members opposed him, sending the voting to a second round.
In a rules package unveiled earlier this week, House Republicans propose eliminating "fines for failure of members to comply" with security screenings before reaching the chamber floor.
House members have yet to vote on the proposed rules.

News