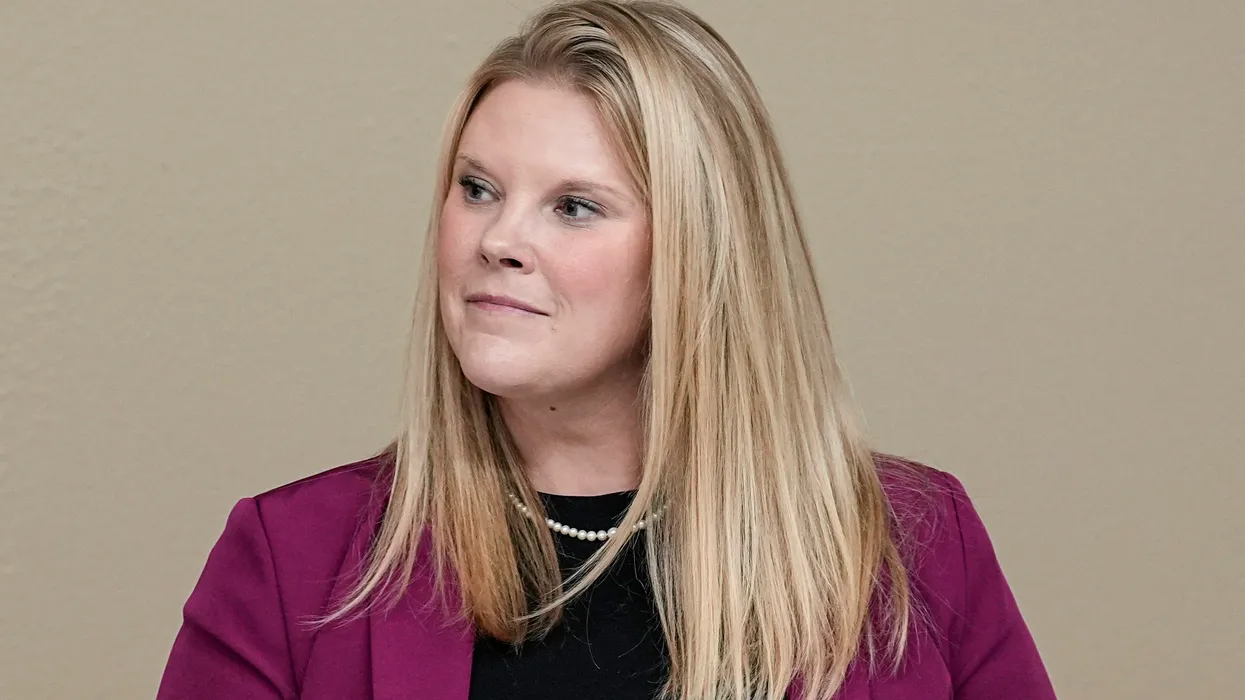 One expert said Republicans are using "extreme tactics" like the Senate vote and threats of impeaching a state Supreme Court justice "to subvert fair elections and maintain anti-democratic grip on power."
Democratic Wisconsin Attorney General Josh Kaul on Thursday swiftly filed a lawsuit after Republican senators attempted to oust the state's top election official, Meagan Wolfe, despite arguments that they lacked authority to do so.
The Wisconsin Senate's 22-11 party-line vote on Wolfe was "a bid to give election deniers and conspiracy theorists more control over how elections are run in the state," explainedMother Jones national voting rights correspondent Ari Berman.
"That follows threats by Republican legislative leaders to impeach newly elected state Supreme Court Justice Janet Protasiewicz before she has even ruled on a case," he added, "so that the court's new 4-3 liberal majority will be unable to strike down the heavily gerrymandered maps that have been integral to the GOP's stranglehold over the Legislature for the past decade-and-a-half."
Wolfe began serving as interim administrator of the Wisconsin Elections Commission (WEC) in early 2018 and was unanimously confirmed by the state Senate the following year. As Politicoreported Thursday:
Wolfe's position is a nonpartisan, nonvoting one tasked with implementing the decisions made by the three Democratic and three Republican commissioners.

As the head of the commission, Wolfe has been the target of GOP attacks following the 2020 presidential election, when President Joe Biden narrowly beat former President Donald Trump in the state. Wolfe has garnered vitriol from Republicans who amplified Trump's false claims about widespread fraud in the election.
The administrator's term expired on July 1, but the WEC's three Democrats abstained from voting to renominate Wolfe because they feared GOP senators would refuse to confirm her and, as Kaul highlighted last month, "the Wisconsin Supreme Court has squarely held that a holdover appointee may legally remain in office following the expiration of the term."
GOP legislators—led by Senate Majority Leader (R-9) Devin LeMahieu—went ahead with the vote on Thursday even though "the Republicans' own lawyers, as well as the state's Democratic attorney general, told the senators before the vote that they didn't have the authority to remove Meagan Wolfe," according toThe Washington Post.
"Wisconsin Republicans' attempt to illegally fire Wisconsin's elections administrator without cause today shows they are continuing to escalate efforts to sow distrust and disinformation about our elections, denigrate our clerks, poll workers, and election administrators, and undermine basic tenets of our democracy, including the peaceful transfer of power," declared Democratic Gov. Tony Evers.
Referencing a "bogus" bill unveiled earlier this week by GOP leaders, the governor said that "just days after Republicans announced they want Legislature-picked, Legislature-approved map drawers to conduct redistricting, Republicans today demonstrated why they cannot be trusted with that important responsibility—because they will threaten, intimidate, punish, and even attempt to illegally fire anyone who stands in the way of their relentless pursuit to retain political power."
"Our chief election administrator is a consummate, qualified professional who's worked in voter registration and outreach and election security for more than a decade—experience that I have no doubt was among the reasons she was unanimously confirmed by many of these same Republicans just a few years ago," he added. "I'm requesting the Wisconsin Department of Justice provide immediate representation to defend Ms. Wolfe so she can remain in this important role."
The Wisconsin attorney general, who filed a complaint in Dane County Circuit Court, said that "the story today is not what the Senate has purported to do with its vote. It's that the Senate has blatantly disregarded state law in order to put its full stamp of approval on the ongoing baseless attacks on our democracy."
"We are going to court to minimize the confusion resulting from today's stunt," Kaul continued, "and to protect a pillar of our democracy—the fair administration of elections."
The Cap Timesreported that "there is no formal appeals process for Wolfe to tap in order to push back against her ousting, according to the Wisconsin Legislative Council, a nonpartisan agency that provides legal and policy analysis for the Legislature. That leaves a lawsuit as her only option."
Wolfe welcomed the lawsuit and confirmed that she will continue to serve as administrator unless a majority of the WEC or a court orders her out. She said that "the Senate's vote today to remove me is not a referendum on the job I do but rather a reaction to not achieving the political outcome they desire."
The controversy comes as the state prepares for next year's elections. At the presidential level, Biden is seeking reelection and Trump is currently the GOP front-runner, despite facing four criminal cases—including two related to his efforts to overturn the 2020 results—and arguments that inciting the January 6, 2021 insurrection constitutionally disqualifies him from holding office.
"I think it's really worrisome because we're in the final stages of preparation for the 2024 elections," Barry Burden, a political scientist at the University of Wisconsin-Madison and director of its Elections Research Center, told the Post. "The elections commission is training clerks around the state and issuing guidance, so to have uncertainty about who the top administrator is going into this crucial election season, I think is a real problem."
News