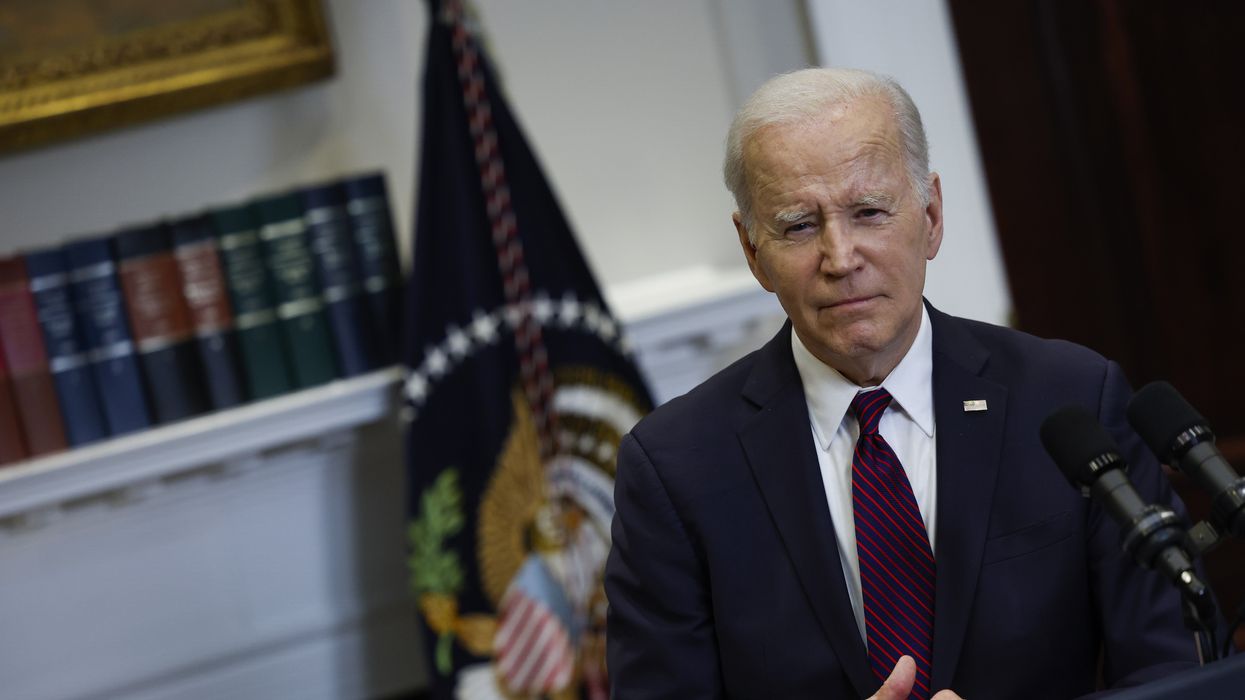 "GOP leaders have sent a wildly exploitative ransom note to the public," said one watchdog. "The administration should not accept its terms."
With President Joe Biden set to meet congressional leaders again on Tuesday as the so-called X-date nears, progressive watchdogs and commentators are warning the White House against caving to any of the Republican Party's spending demands, arguing that concessions would reward the GOP's debt ceiling hostage-taking, further embolden far-right lawmakers, and harm vulnerable Americans.
"GOP leaders have sent a wildly exploitative ransom note to the public. The administration should not accept its terms," Jeff Hauser, executive director of the Revolving Door Project, said in a statement Monday, pointing to the " many executive branch pathways" Biden can explore if House Republicans refuse to accept a clean debt ceiling increase before June 1—the day the U.S. Treasury Department may no longer be able to meet the federal government's payment obligations.
"The White House should be clear about the specific and steep costs to the American people of cutting government services and expediting fossil fuel extraction while limiting democratic community dissent," Hauser continued, pointing to the safety net cuts and Big Oil giveaways in the House GOP's proposed solution to the debt ceiling impasse.
"Heading into the 2024 election, with democracy itself yet again on the ballot, it would be devastatingly foolish to show the world that the president of the United States can be bullied."
"This is President Biden's moment to prove that protecting America's wellbeing is more important to him than his self-image as a Senate wheel-and-dealer," added Hauser. "These are not good-faith negotiations. Heading into the 2024 election, with democracy itself yet again on the ballot, it would be devastatingly foolish to show the world that the president of the United States can be bullied."
Progressives' concerns over Biden's willingness to stand firm in the face of GOP brinkmanship and, if necessary, fully utilize his executive authority to avert a debt default have grown in recent days amid reports that White House officials are "privately aiming for a two-year deal that would lift the debt limit and impose new limits on discretionary spending," as Politicoput it last week.
Republicans are pushing for 10 years of spending caps, an extreme demand that harks back to the GOP's approach during the 2011 debt ceiling standoff. Biden was vice president and the Obama White House's lead negotiator during that fight, which ended with a law that badly hindered the U.S. economy's recovery from the Great Recession.
Analysts and federal officials have warned that the GOP's latest austerity push could have similarly destructive consequences, resulting in steep cuts to critical government agencies and programs—from rental assistance to food aid. The U.S. Department of Housing and Urban Development said in March that the GOP's call for a federal spending freeze would make it "impossible to stave off mass evictions."
Ceding at all to the GOP on federal spending would be "a disastrous move," The American Prospect's Ryan Cooper argued Monday in the latest edition of the publication's "X-Date" newsletter.
"Politically, it reinforces the precedent that Republicans can extract concessions through legislative terrorism, and by signaling weakness and timidity in the Democratic leadership, it will further enable GOP extremism," Cooper wrote. "If Republicans control either chamber of Congress next time the ceiling is hit—a high likelihood given how bad the Senate map is in 2024—then they're virtually certain to take the debt ceiling hostage again."
Moreover, Cooper noted the possibility that spending cuts "would suck hundreds of billions of dollars out of an economy that is already plainly softening, thanks to high interest rates and instability in the banking system."
"A ton of austerity might just be the thing that tips America into a recession during an election year," he continued, "with Biden, a willing negotiator in this process, on the ballot."
In addition to negotiating broad spending levels, Biden told reporters Sunday that he's prepared to examine Republican proposals on work requirements for recipients of federal aid. Analysts have warned that the GOP's work requirement plans would boot millions off of Medicaid and the Supplemental Nutrition Assistance Program (SNAP).
\u201cPretty striking: Biden says he\u2019s waiting to hear GOP proposal on work requirements, per pool report (h/t @TonyRomm).\u201d

— Jeff Stein (@Jeff Stein) 1684116402
With June 1 rapidly approaching, there's little public evidence that an agreement between the Biden administration and Republicans is imminent.
While the White House said late last week that staff meetings "have been productive over the past few days," House Speaker Kevin McCarthy (R-Calif.)—who won his party leadership post by agreeing to use the debt ceiling as leverage to pursue far-right policy goals—declared Monday that he believes the two sides are "far apart" in the ongoing debt ceiling talks.
The Washington Postreported Monday that White House negotiators recently gave Republican leaders "a list of proposals to reduce the deficit by closing tax loopholes."
"Republican negotiators rejected every item," according to the Post.
With House Republicans refusing to accept a condition-free debt limit increase or the White House's budget proposals, pressure has been mounting for the Biden administration to pursue unilateral solutions.
Biden himself said last week that he "has been considering" invoking the 14th Amendment, which states that "the validity of the public debt of the United States... shall not be questioned."
Some constitutional scholars—including Harvard law professor Laurence Tribe—have encouraged Biden to take that route if needed, though the president and members of his administration have expressed concerns over legal challenges that would be sure to follow.
Sen. Elizabeth Warren (D-Mass.) said Sunday that "the 14th Amendment is not anyone's first choice."
"The first choice is that the Republicans raise the debt ceiling because the United States government never, ever, ever, ever defaults on its legal obligations," Warren added. "But if Kevin McCarthy is going to push the United States over a cliff, then it becomes the president's responsibility to find an alternative path."
News