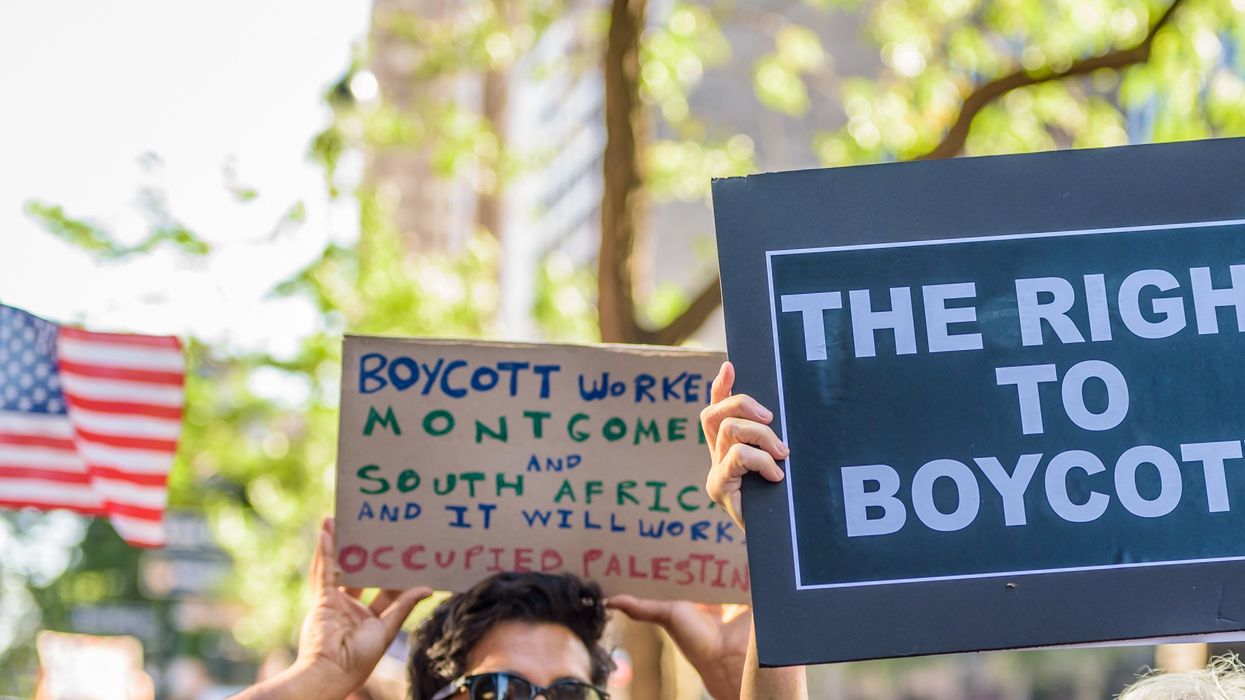 "The struggle for collective liberation requires global solidarity and economic pressure," said U.S. Rep. Rashida Tlaib. "Today's decision is a travesty, but the people will not be silenced."
In a move decried by one critic as a "significant loss for the First Amendment," the U.S. Supreme Court on Tuesday declined to hear a challenge to an Arkansas law requiring companies doing business with the state to sign a pledge vowing not to boycott Israel.
The justices will not hear an appeal to a June 2022 decision by the 8th U.S. Circuit Court of Appeals involving Act 710 of 2017, an Arkansas law imposing a 20% penalty on state contractors with contracts over $1,000 if they refuse an oath not to support the nonviolent international Boycott, Divestment, and Sanctions (BDS) movement against Israeli crimes in Palestine including occupation, settler colonization, ethnic cleansing, and apartheid.
The ACLU petitioned the Supreme Court to hear the case, Arkansas Times LP v. Mark Waldrip, on behalf of Arkansas Times editor Alan Leveritt, who was informed by officials at the University of Arkansas-Pulaski Technical College that the weekly alternative paper would have to sign the anti-BDS pledge if it wanted to keep its advertising contract with the state school. The publication does not boycott Israel, but refused to sign the oath.
"If states can suppress boycotts of Israel, then they can suppress boycotts of the National Rifle Association or Planned Parenthood."
In 2021, a three-judge panel of the 8th Circuit Court ruled that "supporting or promoting boycotts of Israel is constitutionally protected," however the court later reversed the ruling in a decision written by Judge Jonathan Kobes, an appointee of former President Donald Trump who the American Bar Association deemed "not qualified" to serve.

While pro-Israel groups and individuals hailed the high court's punt as a major blow to BDS, journalism, free speech, and Palestine advocates decried the move.
"We are obviously disappointed at the news today from the U.S. Supreme Court. Permitting state governments to withhold state contracts from citizens who voice opinions contrary to those held by a majority of their state legislators is abhorrent and a violation of the Bill of Rights," wrote Leveritt.
"In our case the Arkansas state Legislature required our magazine to sign a pledge not to boycott Israel if we wanted to receive state advertising," the editor continued. "We refused. We are not boycotting Israel but neither do we sign political pledges in return for advertising. Especially state advertising."
"Thanks to support from our readers, we will not be signing any pledges dictated by our Legislature," Leveritt added. "The Supreme Court can ignore our First Amendment rights but we will continue to vigorously exercise them."
U.S. Rep. Rashida Tlaib (D-Mich.)—the first Palestinian-American woman to serve in Congress—called the high court's decision not to hear the case a "travesty."
The Freedom of the Press Foundation tweeted that "SCOTUS should've stood up for the First Amendment. Instead, it let a ruling stand permitting the government to withhold ads from newspapers that won't pledge to not boycott Israel. Government should not financially pressure the press (or anyone) to echo its views."

Some critics warned that allowing anti-BDS laws to stand—effectively upholding them—will adversely affect Americans' right to voice dissent on a wide range of issues.
"From the Boston Tea Party to the Montgomery Bus Boycott to the boycott of apartheid South Africa, Americans have proudly exercised that right to make their voices heard," Brian Hauss—the senior staff attorney at the ACLU Speech, Privacy, and Technology Project—said in a statement.

"But if states can suppress boycotts of Israel, then they can suppress boycotts of the National Rifle Association or Planned Parenthood," he added. "While we are disappointed with the result in this case, the ACLU will continue to defend the right to boycott in courts and legislatures throughout the country."
Leveritt toldThe Guardian that "this is simply a template. It doesn't stop here. We now have in the Arkansas Legislature bills introduced to deny state contracts to financial and banking institutions that have [environmental, social, and corporate governance] policies that prohibit them from investing in fossil fuels or firearms companies."
"In other states, they've introduced laws to deny state contracts to any company that subsidizes their employees' transportation costs if they go out of state for an abortion," he added. "So this is just going to be used time after time after time, eventually, the Supreme Court is going to have to deal with it, or else it's going to be open season on the First Amendment."
While federal courts in Arizona, Georgia, Kansas, and Texas have ruled that laws banning or penalizing boycotts of Israel are unconstitutional under the First Amendment, each of those states subsequently amended their respective legislation to apply only to larger contractors and exclude individuals.
According to a database compiled by Lara Friedman at the Foundation for Middle East Peace, at least 34 U.S. states have passed laws targeting boycotts of Israel or its illegal Jewish-only settler colonies in the occupied West Bank and East Jerusalem.
Julie Bacha, director of the documentary film Boycott—which highlights efforts to fight anti-BDS laws including in Arkansas—toldMondoweiss that "it is unfortunate that the Supreme Court opted to stay on the sidelines for now, but let's be very clear—the fight to protect the right to boycott is far from over."
"The last—and only—time the Supreme Court reviewed the right to boycott in 1982, it ruled unanimously that the First Amendment protects the right of Americans to engage in boycotts to affect social and political change," she added. "Americans across the country will continue to exercise that right, and take their states to court when that right is violated."
News