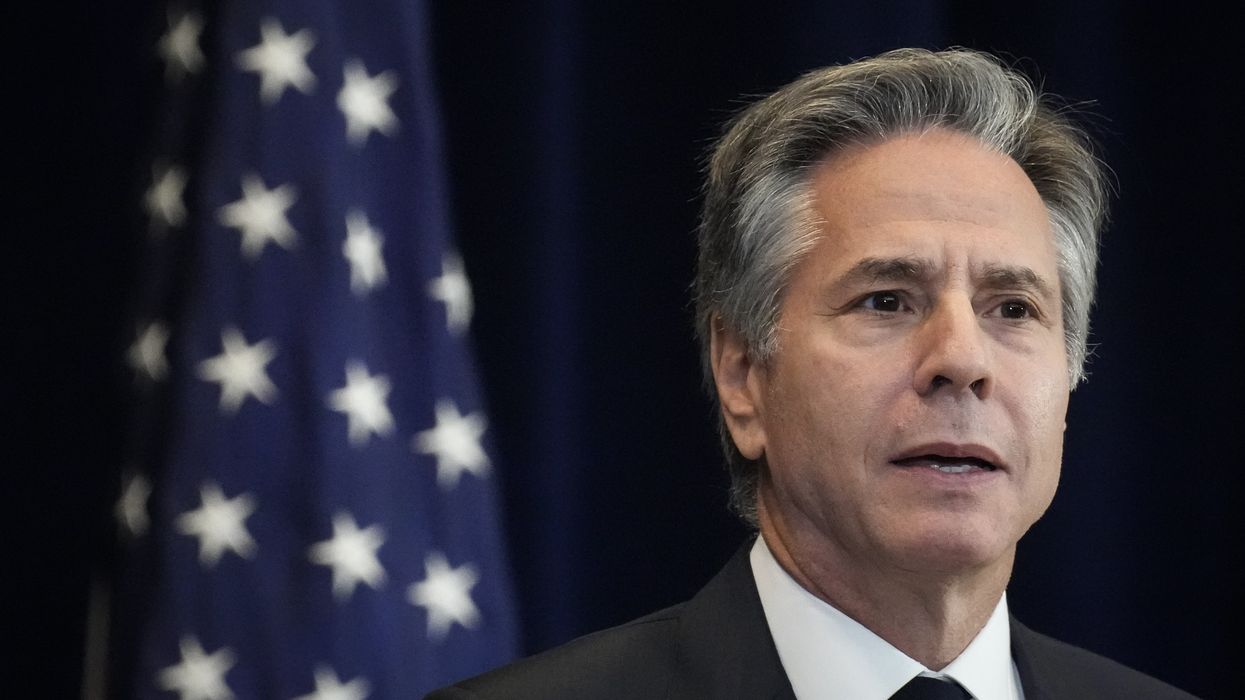 "The U.S. government can demand the UAE demonstrate through this high profile release its commitment to the human rights principles required for healthy civic space at this upcoming global gathering," said one campaigner.
A coalition of 19 advocacy groups on Wednesday demanded U.S. Secretary of State Antony Blinken pressure the United Arab Emirates to "immediately and unconditionally release" Ahmed Mansoor and other imprisoned human rights advocates before COP28, the UAE-hosted United Nations climate summit, kicks off in Dubai this November.
"We realize that U.S. relations with the UAE are multifaceted, including strategic military and political ties," the groups, including Amnesty International USA, Gulf Center for Human Rights (GCHR), and Human Rights Watch (HRW), wrote to the diplomat. "Unfortunately, U.S. government's attention to the UAE's terrible human rights record has long been woefully lacking."
"As the world's attention is on the UAE ahead of COP28, the U.S. government has an important opportunity to press the Emirati government to take concrete steps to adhere to its human rights obligations and to underscore the importance of thriving, independent civil society to climate action," the coalition continued.
"Specifically, we urge you to press the Emirati government to immediately and unconditionally release Ahmed Mansoor and other jailed human rights defenders," the groups added, "and to pledge to respect and protect the rights to freedom of expression, peaceful assembly, and association of all participants from all nationalities before, during, and after COP28."
The organizations also encouraged Blinken "to signal your deep concern about Ahmed Mansoor's well-being and request permission for the U.S. Embassy in Abu Dhabi to visit him in prison at the earliest opportunity."
Mansoor is a blogger, engineer, poet, father of four, one of the "UAE Five," and the nation's "most celebrated human rights activist," according to HRW. He is a member of advisory panels for that U.S.-based group and GCHR in Lebanon.
As the coalition's letter details:
According to the UAE's state news agency, authorities arrested Ahmed Mansoor for "spreading false news" to "harm the reputation of the state" in March 2017. All the charges on which he was convicted were based solely on his human rights advocacy, including using email and WhatsApp to communicate with Human Rights Watch, Amnesty International, and other human rights organizations. Following more than a year in isolation in pre-trial detention and a grossly unfair trial, an Emirati state security court sentenced him to 10 years in prison and fined him 1,000,000 Emirati Dirhams (around $272,000).

Over the past six years, U.N. human rights experts as well as independent rights groups have documented how the UAE government has held Ahmed Mansoor in solitary confinement without access to reading materials, television, or radio. Since December 2017, he has been denied eyeglasses, most personal hygiene items, and, at least until recently, a bed or mattress in his cell. These measures violate the prohibition against torture and other cruel, inhuman, or degrading treatment or punishment. UAE authorities deny that they have subjected Mansoor to such treatment, while refusing to allow independent observers to visit him.
"The U.S. has been shockingly silent for years since Ahmed Mansoor's unjust imprisonment," Joey Shea, HRW's Saudi and UAE researcher, said in a statement. "The U.S. should take every opportunity to press Emirati authorities, in public as well as diplomatically, to end its persecution of rights defenders and free them, starting with Ahmed Mansoor."
Elizabeth Rghebi, Amnesty's advocacy director for the Middle East and North Africa (MENA), stressed that "as a participant in COP28, the U.S. government can demand the UAE demonstrate through this high-profile release its commitment to the human rights principles required for healthy civic space at this upcoming global gathering."
After United Nations Framework Convention on Climate Change Executive Secretary Simon Stiell and Sultan Ahmed Al Jaber, the UAE oil executive who is also the COP28 president-designate, signed the host country agreement earlier this month, they said in a joint statement that "in line with UNFCCC guidelines and adherence to international human rights norms and principles, there will be space available for climate activists to assemble peacefully and make their voices heard."
Heba Morayef, Amnesty's MENA regional director, responded, "The fact that the hosts of this crucial climate meeting felt the need to highlight that some form of free assembly and expression will be allowed during COP28 serves only to highlight the normally restrictive human rights environment in the United Arab Emirates and the severe limits it places on the rights to freedom of expression and peaceful assembly."
"In the UAE, peaceful dissent through expression, association, or peaceful assembly is severely restricted or criminalized, public assemblies require government approval, and dozens of critics of the government are in jail," Morayef explained. "Rather than make an exception related to this two-week meeting, the UAE should permanently do away with these restrictions, as well as the many other curbs it imposes on human rights, and make amends for previous abuses."
In May, Amnesty led dozens of human rights groups—including many that signed the new letter to Blinken—in sounding the alarm about UAE authorities' "sustained assault on human rights and freedoms," how the nation's policies could impact protests during the summit, and how the "government could try to use its COP28 presidency to cynically promote an image of openness and tolerance, despite the UAE's failure to respect the rights to freedom of expression, association, and peaceful assembly."
Global Witness, a signatory to the May letter, released a report last September revealing that at least 1,733 environmental defenders have been killed worldwide over the past decade, a rate of one murder every two days. The countries with the highest death tolls were Brazil, Colombia, the Philippines, Mexico, and Honduras.

News