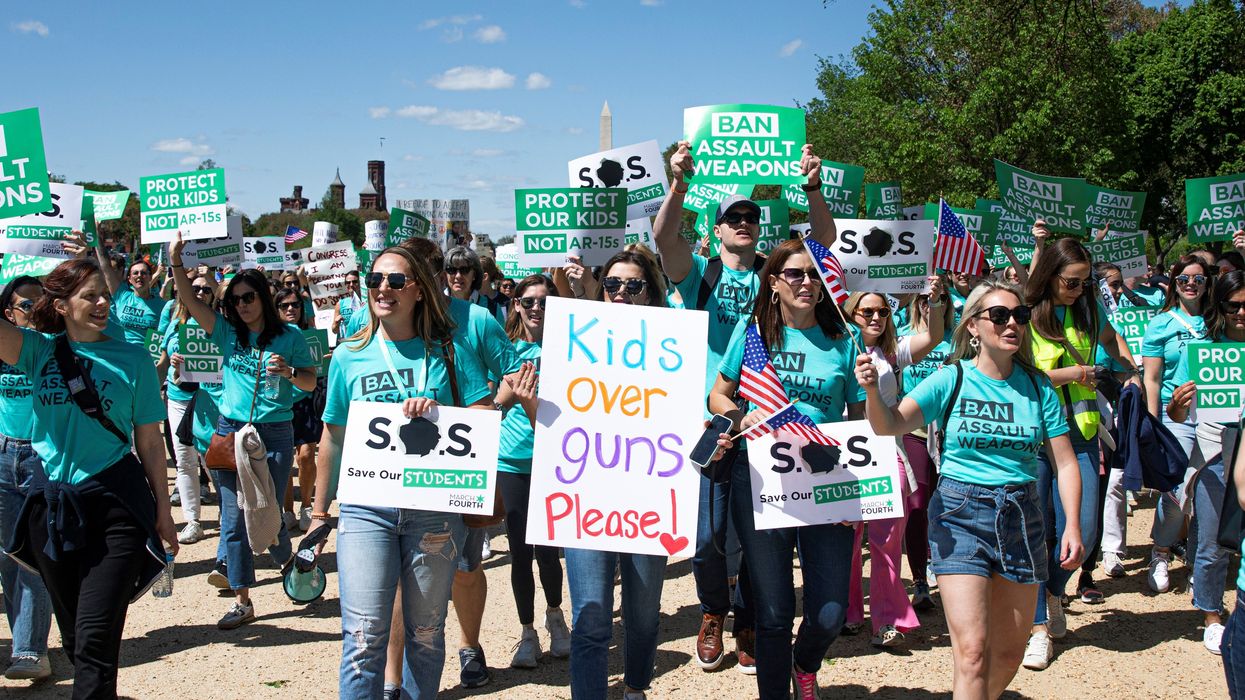 One lawyer said it is "proof that these laws are consistent with the Second Amendment and can—and should—be upheld by courts across the country."
Illinois Democrats and gun control advocates on Friday welcomed a federal appeals court decision upholding the state's ban on assault weapons and high-capacity magazines amid renewed demands for a similar restrictions nationwide in the wake of a mass shooting in Maine.
"The 7th Circuit Court of Appeals has affirmed what gun safety advocates have said from day one—the Protect Illinois Communities Act is a commonsense law that will keep Illinoisans safe," said Democratic Illinois Gov. JB Pritzker, who signed the law that state legislators passed after a July 4, 2022 massacre at a parade in Highland Park, a Chicago suburb.
"Despite constant attacks by the gun lobby that puts ideology over people's lives, here in Illinois we have stood up and said 'no more' to weapons of war on our streets," added Pritzker. "This is a victory for the members of the General Assembly who stood alongside families, students, and survivors who worked so hard to make this day a reality. Now Congress must act so Illinois is not an island surrounded by states with weak protections."
Illinois state Rep. Bob Morgan (D-58)—who represents Highland Park, was at the parade with his young children, and spearheaded the legislative fight for the law—similarly celebrated the new ruling "a huge win" while also calling for federal legislation.
Democratic Chicago Mayor Brandon Johnson also welcomed the decision, saying: "This landmark legislation is an important step for our communities, providing commonsense gun control measures that have been so desperately needed in our city and throughout the state. This decisive measure will aid in keeping weapons of war out of our neighborhoods and off our streets, creating safer communities for all."
The three-judge appellate panel collectively considered six cases challenging state and local bans: four out of the Southern District of Illinois; one against the state, Chicago, and Cook County; and another involving a firearm shop owner from suburban Naperville and the National Association for Gun Rights—who unsuccessfully sought an intervention from the U.S. Supreme Court.
The gun violence prevention group Brady served as counsel for the city of Naperville in the case. In response to the "important victory," Douglas Letter, the organization's chief legal officer, declared that "states and cities should have the right to stop these weapons of war from decimating our communities, and this ruling demonstrates that assault weapon and large-capacity magazine bans are indeed constitutional."
"When the victims of the Highland Park shooting were gunned down by an assault weapon, their local and state leaders took a stand to say enough is enough," he said. "The gun industry feels threatened by the groundswell of voices trying to hold them accountable, and after today, they should feel even more unsteady."
Everytown Law executive director Eric Tirschwell highlighted that the the Chicago-based court's ruling notably came after right-wing U.S. Supreme Court determined last year in New York State Rifle & Pistol Association Inc. v. Bruen that gun restrictions must be "consistent with the nation's historical tradition of firearm regulation."
The 2-1 decision Friday "to uphold this lifesaving law is not only a victory for gun safety," Tirschwell said, "it also marks the first significant appeals court decision on this issue since the Supreme Court's decision in Bruen and is proof that these laws are consistent with the Second Amendment and can—and should—be upheld by courts across the country."
U.S. Judges Diane Wood and Frank Easterbrook—respectively appointed by former Presidents Bill Clinton and Ronald Reagan—supported upholding the state and local laws, while Judge Michael Brennan, an appointee of President Donald Trump, dissented.
"The Second Amendment to the Constitution recognizes an individual right to 'keep and bear arms. Of that there can be no doubt, in the wake of the Supreme Court's decisions," Wood wrote, citing cases including Bruen. "But as we know from long experience with other fundamental rights, such as the right to free speech, the right peaceably to assemble, the right to vote, and the right to free exercise of religion, even the most important personal freedoms have their limits."
"Government may punish a deliberately false fire alarm; it may condition free assembly on the issuance of a permit; it may require voters to present a valid identification card; and it may punish child abuse even if it is done in the name of religion," she continued. "The right enshrined in the Second Amendment is no different."
Wood also pointed out that the ruling pertains to preliminary injunctive relief, so the panel did not "rule definitively on the constitutionality of the act or any of the municipal ordinances," meaning that the policies could face future challenges.
The decision in Illinois coincided with President Joe Biden's trip to Lewiston, Maine, where a mass shooter last month killed a total of 18 people at a bowling alley and a bar before being found dead from an apparent self-inflicted gunshot wound.
Biden—who is seeking reelection next year—and others in his administration have called for reinstating a federal assault weapons ban. After the Maine shooting, Vice President Kamala Harris said that "it is a false choice to suggest we must choose between either upholding the Second Amendment or passing reasonable gun safety laws to save lives. Congress can and must make background checks universal. Pass red flag laws. Ban high-capacity magazines. And renew the assault weapons ban."
Such policies are unlikely to pass during the current session, considering the makeup of Congress—though after the carnage in his hometown of Lewiston, Rep. Jared Golden (D-Maine) last month endorsed an assault weapons ban and sought forgiveness for his past opposition to it.
News