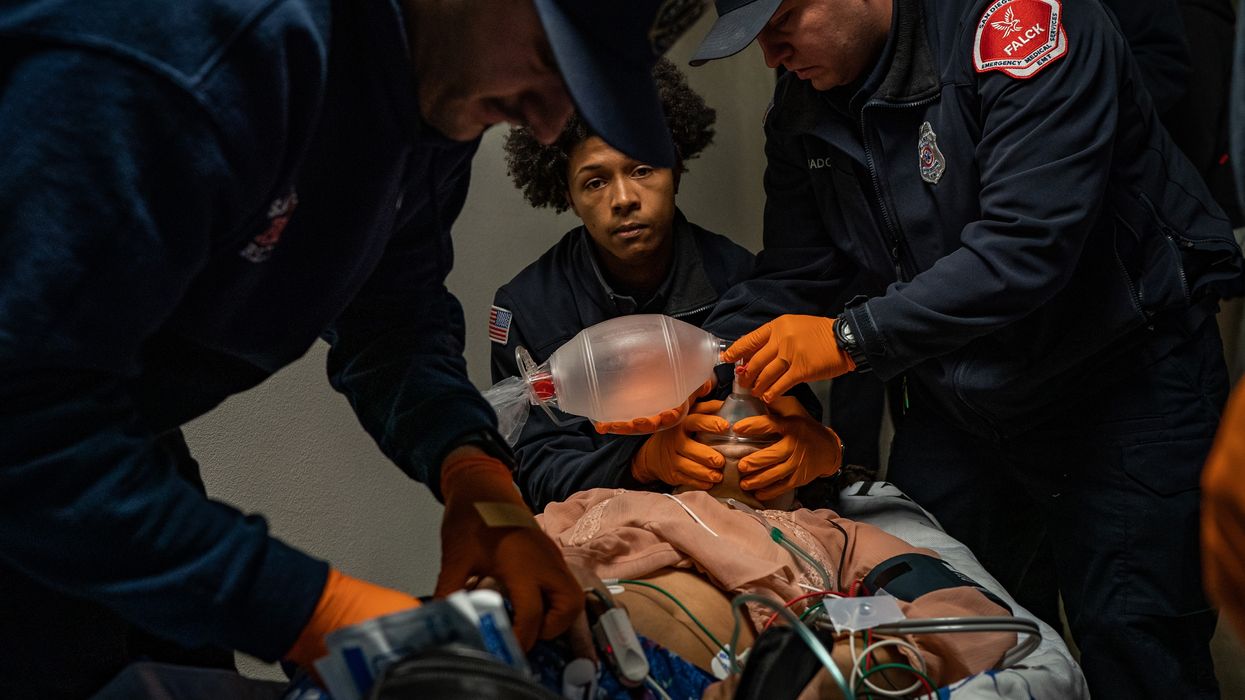 "By passing this bill, the House has signaled that Congress is entering a new carceral era."
With the support of more than 70 Democrats, the Republican-controlled U.S. House on Thursday passed legislation that would permanently classify fentanyl analogues as Schedule I drugs and impose mandatory-minimum prison sentences on people found guilty of distributing the substances—an approach that critics slammed as a return to "failed drug war strategies of the past."
"It's sad to see lawmakers revert to over-criminalization once again when we have 50 years of evidence that the war on drugs has been an abject failure," said Laura Pitter of Human Rights Watch, one of nearly 160 advocacy groups that signed a letter earlier this week imploring Congress to reject the HALT Fentanyl Act.
The bill, led by Rep. Morgan Griffith (R-Va.), nevertheless passed the House with bipartisan support, with 74 Democrats joining 215 Republicans in voting yes. Just one Republican—Rep. Thomas Massie of Kentucky—voted no along with 132 Democrats.
One of the bill's Democratic opponents, Rep. Frank Pallone (D-N.J.), echoed civil rights groups during floor debate over the legislation, warning that the measure represents an attempt to "incarcerate our way out of a public health crisis."
"This war on drugs—mandatory sentencing, incarcerate everybody—has not worked," Pallone said. "It didn't work on other drugs."
The HALT Fentanyl Act aims to cement policy changes first enacted by the Trump administration, which temporarily classified fentanyl-related substances (FRS) as Schedule I drugs in 2018—a designation that lawmakers have since extended with the support of President Joe Biden, even as experts have emphasized that "not all fentanyl analogues are harmful."
Fentanyl itself is classified as a Schedule II drug, and it is sometimes used in medical settings to treat severe pain.

Schedule I drugs carry the most harsh prison sentences. Under current policy, as The Marshall Project's Beth Schwartzapfel has noted, "a five-year mandatory minimum is triggered by 40 grams of drugs laced with fentanyl, but if laced with a scheduled fentanyl analogue, only 10 grams of drugs will trigger that same sentence."
Despite his campaign pledge to end mandatory-minimum sentencing—a practice he helped usher into U.S. law as a senator—Biden has come out in support of the HALT Fentanyl Act, with the White House urging Congress to send the bill to his desk.

"If mandatory minimums and harsh sentences made communities safer, the overdose crisis would not have occurred."
To spotlight the dangers of mandatory minimums for FRS in particular, the Leadership Conference on Civil and Human Rights recently highlighted the case of Todd Coleman, who was "sentenced to a mandatory minimum of 10 years for selling 30 grams of cocaine—about two tablespoons—because a local lab said that they were laced with three illegal fentanyl analogues."
"But none of the substances were illegal fentanyl analogues, and one was a substance called 'Benzyl Fentanyl' that the Drug Enforcement Administration has long known is not dangerous or illegal," the group wrote in a letter to House leaders last week.
While a judge ultimately resentenced Coleman, the Leadership Conference warned that "the HALT Fentanyl Act enshrines mandatory minimums for distribution of FRS under the Controlled Substances Act, which could criminalize inert or harmless substances" and unjustly entangle more people in the U.S. prison system.
Recent history shows that an incarceration-focused approach to the United States' overdose crisis is doomed to fail, the group stressed.
"Between 2015 and 2019, prosecutions for fentanyl-analogue offenses increased by more than 5,000%, with no corresponding decrease in the use of FRS or in overdose deaths," the group wrote in its letter to House leaders. "In 2019, 58.9% of those sentenced in fentanyl-analogue cases were Black. Any further extension of the classwide scheduling policy threatens to repeat past missteps with crack cocaine that policymakers are still working to rectify."
\u201cBREAKING: The House just passed #HR467.\n\nThis bill's provisions would exacerbate pretrial detention, mass incarceration, and racial disparities in the prison system, doubling down on a fear-based, enforcement-first response to a public health challenge. The Senate must reject it.\u201d

— The Leadership Conference (@The Leadership Conference) 1685025266
Liz Komar, sentencing reform counsel for the Sentencing Project,
said
Thursday that "by passing this bill, the House has signaled that Congress is entering a new carceral era."
"The federal prison population has been on the rise since the beginning of the Biden administration after seven years of decline," said Komar. "The passage of the HALT Fentanyl Act would deepen that trend by doubling down on failed drug policies that prioritize prisons over drug treatment and overwhelmingly harm Black and Brown communities."
"If mandatory minimums and harsh sentences made communities safer," Komar added, "the overdose crisis would not have occurred. We urge the Senate to reject this bill and all expansions of mandatory minimums and reverse this punitive trend."
Maritza Perez Medina, director of the office of federal affairs at the Drug Policy Alliance, also urged the Senate to tank the bill, saying, "Our communities deserve real health solutions to the overdose crisis, not political grandstanding that is going to cost us more lives."
News