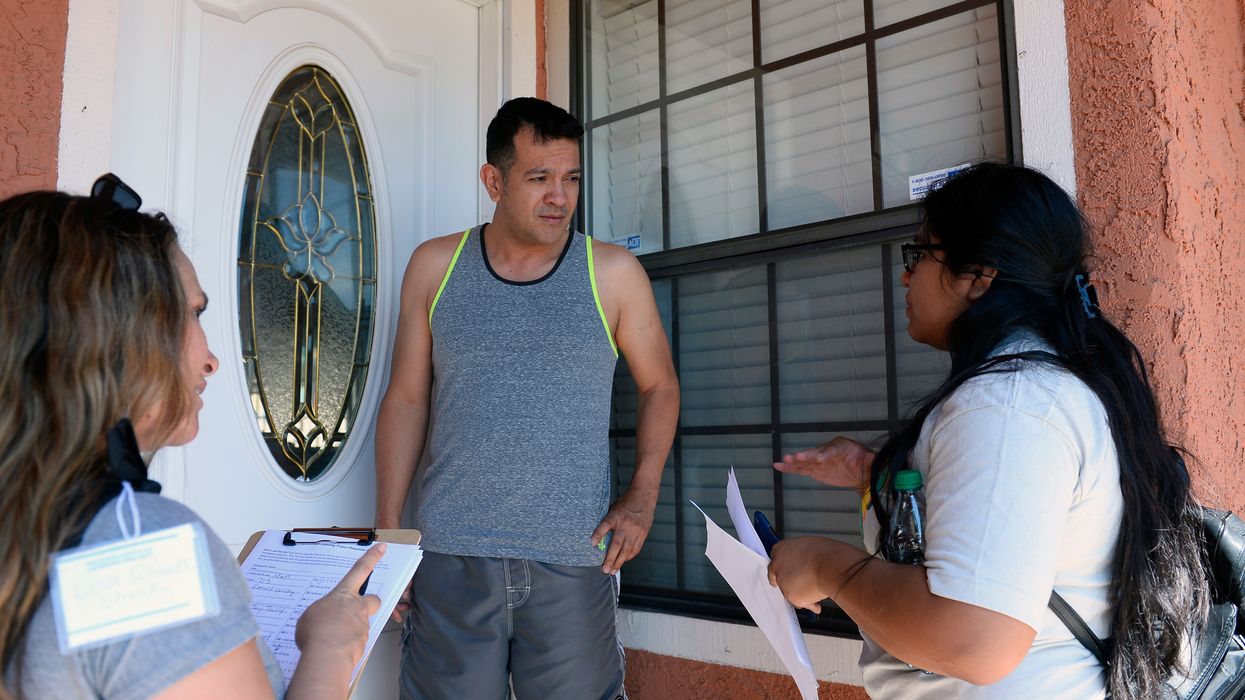 "Beliefs are not fixed," said Eboni Taggart, training manager at the Deep Canvass Institute. "We don't want to write people off as unreachable. I think there's a real danger in that."
On the surface, it may seem implausible that at a time of heightened polarization and crises so large in scale that they often feel insurmountable, one-on-one conversations can have the capacity to spur transformative political change.
But a growing of body evidence accumulated over the past decade and a half in the United States indicates that such conversations—specifically an outreach method known as deep canvassing—are effective at connecting with people who feel alienated from the political system, altering worldviews, and impacting election results, making them critical in the fight for a more just future.
Deep canvassing has its origins in the grueling fight for marriage equality, and it differs from the traditional door-knocking of political campaigns in that it focuses on nonjudgmental listening, curiosity, and story-sharing—not bombarding people with statistics and talking points.
"We believe that stuff shuts people down," Eboni Taggart, training manager at the Deep Canvass Institute (DCI), told Common Dreams. "That's not saying they don't matter, but they don't matter right away. The first thing is to understand where people are coming from and get vulnerable with them."
DCI, a project of the People's Action Institute and the New Conversation Institute, was launched in 2021 in an effort to build on the work and successes of deep canvassers across the U.S., which continued during the devastating coronavirus pandemic and chaotic 2020 election cycle.
In a new report shared exclusively with Common Dreams, DCI takes stock of the past two years and notes that thousands of people and hundreds of organizations have taken part in its deep canvass training. Those individuals and organizations went on to hold more than 245,000 deep canvass conversations around the country on a variety of key topics, from climate to trans rights to immigration.
Starting on July 18, DCI is holding a virtual and free three-day training aimed at teaching participants how to have deep canvass conversations, which could prove key to mobilizing neglected, marginalized segments of the population as the 2024 election approaches and as the Republican Party ramps up its assault on reproductive freedoms, LGBTQ rights, environmental protections, safety net programs, and workers.
"Our main purpose and goal is to reduce the barrier of entry to training around deep canvassing, hence the Deep Canvassing Institute," Ella Barrett, a co-founder of the New Conversation Institute, told Common Dreams in an interview. "The time is now, in my opinion, to ensure that every single conversation we have with someone is intentional and is using evidence-based tactics. And I think deep canvassing is the way to do it."
"When we listen to working-class people and build campaigns around our issues, we can win."
In March, after more than a decade of debate and Republican stonewalling, the North Carolina Legislature voted to expand Medicaid—a move that's expected to provide health insurance to more than 600,000 people in the state.
Corporate media coverage of the stunning reversal focused largely on shifting attitudes among Republican lawmakers as the decisive factor, but advocates in the state say it was their years of on-the-ground work—knocking on doors, cold-calling voters, and holding rallies to build grassroots pressure on politicians opposed to Medicaid expansion—that helped turn the tide.
Down Home North Carolina, a multiracial organizing group that focuses on rural and small-town communities, said after the March vote that its campaigners "doggedly organized for Medicaid expansion" and "deep canvassed to mobilize our communities" as part of a broader effort to build political power from the ground up.
"Our fight and victory on Medicaid expansion reminds us: When we listen to working-class people and build campaigns around our issues, we can win," said the group, whose organizing work temporarily staved off a Republican supermajority in North Carolina in 2022. (The GOP only achieved veto-proof majorities in both chambers of the state Legislature after a Democrat switched parties in April.)
Down Home's Medicaid expansion efforts, which included thousands of deep canvass conversations across North Carolina, are among the examples that DCI highlights in its new report to show how its approach can deliver tangible results that dramatically alter people's material conditions and shift political landscapes.
Amy Cooper, a Down Home member, told DCI that she used her personal healthcare experiences as a conversation starter in deep canvassing sessions, which aim to foster attitude changes that last beyond just the nearest election cycle.
"If I hadn't qualified for Medicaid, with the pregnancy condition I had, I would've died," Cooper said, explaining her approach in one-on-one conversations. "For them to know that, 'Wow, this person who's talking to me, if they hadn't been covered by insurance, they would've died.' That's a real thing."
Exchanging stories and establishing a genuine emotional connection is central to deep canvassing, particularly when navigating difficult discussions around abortion, LGBTQ rights, race, the climate crisis, and other topics.
"Compassionate curiosity is really the heartbeat of deep canvassing," Taggart, DCI's training manager, told Common Dreams. "If you're going to have a conversation where you need to change someone's heart and mind, you need to be really curious about their lived experience and why they feel the way that they do."
"People have very conflicted feelings," Taggart added. "Oftentimes they're dealing with cognitive dissonance... They're in an echo chamber and they're not being pushed or reflecting to lean into where that comes from."
In Maine, Texas, and elsewhere, Planned Parenthood and other reproductive rights organizations have been deep canvassing for years amid intensifying right-wing attacks on abortion access, knocking doors and directly engaging with voters who are opposed to or on the fence about abortion.
"When you talk to people about the actual experience of abortion and what they want for the people around them, they are way more supportive than if you ask are you pro-choice or pro-life, and are you a Democrat or a Republican," Caroline Duble, the political director of Avow Texas, told the Dallas Morning News in October.
Climate advocates have also found value in deep canvassing. After knocking on thousands of doors and speaking with hundreds of people in low- and moderate-income precincts in 2021, Kentuckians for the Commonwealth concluded that the method is "a powerful and ever-evolving practice."
"We have seen it change minds," the group wrote.
"With the research that has been done over the last seven years, it has been proven that deep canvassing can, in one conversation, have a lasting change on the way people behave and think."
The anecdotal experiences of volunteers and organizers—which pose a challenge to depictions of unbridgeable ideological divides one often gets from social media and news coverage of American politics—have been borne out in scientific research.
In 2020, building on an earlier study, University of California, Berkeley political science professor David Broockman and Yale political scientist Josh Kalla found that "non-judgmentally exchanging narratives in interpersonal conversations can facilitate durable reductions in exclusionary attitudes."
The pair's latest peer-reviewed research, published in the journal American Political Science Review, used field experiments in several locations in Tennessee and California to test whether deep canvassing methods could measurably combat prejudiced views on undocumented immigrants and trans people.
The study, in which 230 canvassers spoke with more than 6,800 voters ahead of the 2018 midterms, found that "face-to-face conversations deploying arguments alone had no effects on voters' exclusionary immigration policy or prejudicial attitudes, but otherwise identical conversations also including the non-judgmental exchange of narratives durably reduced exclusionary attitudes for at least four months"—in contrast with the rapidly fading impact of television ads and mailers.
The experiments targeting transphobic attitudes yielded similar results.
"The contexts in which these experiments took place also suggest optimism for efforts for individuals and organizations to implement the non-judgmental exchange of narratives at scale: none of the seven organizations we worked with had previously implemented such an intervention, nor had the canvassers had any such prior experience," Broockman and Kalla found.
More recently, during the 2022 midterm election cycle, DCI teamed up with Broockman, Kalla, and advocacy organizations in Missouri, Idaho, and Georgia to conduct a deep canvassing experiment focused on former President Donald Trump's election lies, specifically the false claim that mail-in voting is riddled with fraud.
"The experiment found, in a survey 10 days after the canvass, a 4.2 percentage point increase in agreement with the statement that we should 'allow all Americans to vote by mail,' after a deep canvass conversation with the script developed in collaboration with the Deep Canvass Institute," DCI notes in its new report.
"Researchers similarly found a 1.9 percentage point decrease in the belief that mail-in voting contributes to electoral fraud," the report adds. "The data shows that deep canvass conversations were particularly effective with political moderates and independent voters. Furthermore, these deep canvass conversations had positive results among voters both with and without a college degree."
Barrett of the New Conversation Institute, who helped develop deep canvassing methods at the Los Angeles LGBT Center's Leadership LAB project, told Common Dreams that "with the research that has been done over the last seven years, it has been proven that deep canvassing can, in one conversation, have a lasting change on the way people behave and think about issues and build more connection across difference."
"I think it has the power to fundamentally change culture because we're not having to go back to people time and time again," said Barrett. "We are able to have that sort of meaningful, memorable impact through one 10- to 20-minute interaction with someone, which gives me a ton of hope about what organizing and field work can do to really depolarize our country."
"I don't think that we're doing it enough, especially with how effective we have found it to be."
DCI's work to scale deep canvassing operations across the country is imbued with a sense of urgency.
"Given the severity of the attacks transgender people currently face," the new report says, "it is essential that our movement is equipped with the skills and knowledge to transform attitudes towards compassion and empathy for transgender young people and adults."
The 2024 election, and the dangerous prospect of another Trump term, also looms large.
In 2020, according to a report by People's Action, a deep canvass phone program that connected with voters in several key states "had a substantial impact on decreasing Trump's vote margin among independent women, respectively 4.9% with women and 8.5% independent women and an overall 3.1% impact on Trump's vote margin."
"That is larger than the 2016 margin of victory in nine key battleground states including Michigan, Pennsylvania, Wisconsin, and Florida which would translate to 108 electoral votes," the report found. "This tactic is one of the only proven strategies to shift presidential vote choice and is an estimated 102 times more effective per person than the average presidential persuasion program, as documented by academic research."
Such results have led prominent members of Congress to voice support for and utilize deep canvassing techniques in their efforts to build public support for progressive agenda items.
In late 2021, Rep. Ayanna Pressley's (D-Mass.) team engaged in deep canvassing across her district to build support for student debt cancellation.
Daniela Michanie, Pressley's organizing director, said in a recent interview that the congresswoman's team used the common deep canvassing technique of asking people how supportive they were of student debt cancellation on a scale of one to 10, and then working to bump them up over the course of the conversation.
"We were able to move people up this scale by an average of two points," said Michanie. "That doesn't seem like a lot, but that is really, really significant getting someone to admit to you that they now approach an issue from a different perspective."
"I don't think that we're doing it enough," Michanie said of deep canvassing, "especially with how effective we have found it to be."
For Taggart and DCI, deep canvassing is an antidote to hopelessness in the face of immense challenges and high-stakes political conflicts.
DCI's new report opens with a quote from U.S. Surgeon General Dr. Vivek Murthy, who said last month that "our epidemic of loneliness and isolation has been an underappreciated public health crisis that has harmed individual and societal health."
Speaking to Common Dreams, Taggart said that "it really is important for us to use deep canvassing as a way to inspire folks that change is possible."
"Beliefs are not fixed," said Taggart. "We don't want to write people off as unreachable. I think there's a real danger in that."
"We wouldn't even have deep canvassing if gay rights activists decided to write people off who disagreed with them," she added. "This whole tool was created with the intention to persuade individuals to lean into our shared humanity."
News