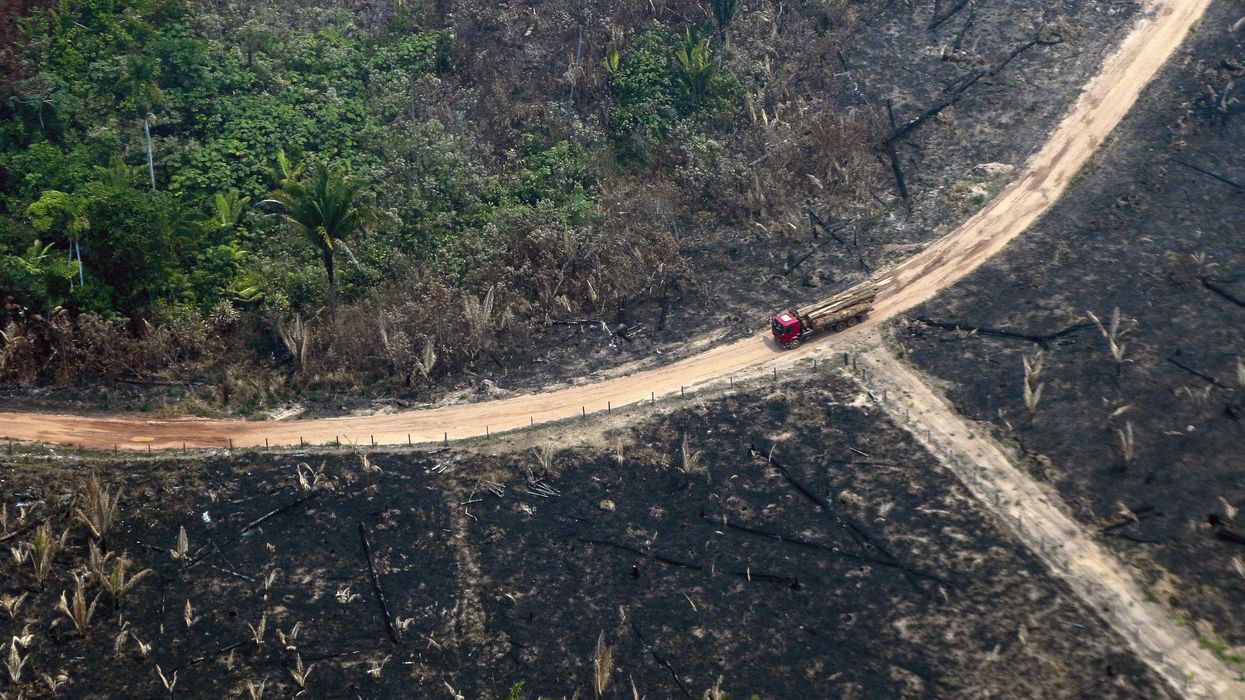 "Did you sprinkle a little collagen in your smoothie this morning? Might be worth looking into where it came from," said one reporter.
Global demand for collagen—touted as an anti-aging "wonder product"—is driving deforestation and abuses against Indigenous people in Brazil, an investigation published Monday revealed.
The investigation—which involved numerous media outlets and organizations including the Bureau of Investigative Journalism (TBIJ), the Pulitzer Center's Rainforest Investigations Network, the Center for Climate Crime Analysis, ITV, O Joio e O Trigo, and The Guardian—is the first to link bovine collagen with tropical forest loss and violence against Indigenous people, according to its collaborators.
"While collagen's most evangelical users claim the protein can improve hair, skin, nails, and joints, slowing the aging process, it has a dubious effect on the health of the planet," Elisângela Mendonça, Andrew Wasley, and Fábio Zuker wrote in the report.
"Collagen can be extracted from fish, pig and cattle skin, but behind the wildly popular 'bovine' variety in particular lies an opaque industry driving the destruction of tropical forests and fueling violence and human rights abuses in the Brazilian Amazon," the trio added.
\u201cEXCLUSIVE \ud83c\udf0eWe spent months digging into the supply chains for Brazilian bovine collagen \n\nSpoiler alert: they are highly complicated, with numerous middlemen involved, but unlike beef, soy& palm oil, collagen companies have no obligation to track their environmental impacts yet.\u201d

— Elis\u00e2ngela Mendon\u00e7a (@Elis\u00e2ngela Mendon\u00e7a) 1678107982
The report's authors linked at least 1,000 square miles of deforestation to the supply chains of two major Brazilian players in the $4 billion annual collagen industry. Some of the collagen is tied to Vital Proteins, a Nestlé-owned U.S. brand whose chief creative officer is the actress Jennifer Aniston.
Collagen is called a "byproduct" of the cattle industry, which is responsible for 80% of deforestation in the Brazilian Amazon. But experts interviewed for the report said that the "byproduct" narrative is largely a myth.
"I wouldn't call any of them byproducts," Rick Jacobsen, commodity policy manager at the U.K.-based Environmental Investigation Agency, told the report's authors. "The margins for the meat industry are quite narrow, so all of the saleable parts of the animal are built into the business model."
\u201cDid you sprinkle a little collagen in your smoothie this morning? Might be worth looking into where it came from. Fantastic/horrifying investigation from @lilimendonca + colleagues #Brazil https://t.co/R9zbcysBnQ\u201d

— Stephanie Nolen (@Stephanie Nolen) 1678115903
The publication also cast doubt on claims made by collagen promoters.

The Guardian reports:
While there are studies suggesting taking collagen orally can improve joint and skin health, Harvard School of Public Health cautions potential conflicts of interest exist as most if not all of the research is either funded by the industry or carried out by scientists affiliated with it.

Collagen companies have no obligation to track its environmental impacts. Unlike beef, soya, palm oil, and other food commodities, collagen is also not covered by forthcoming due diligence legislation in the [European Union and United Kingdom] designed to tackle deforestation.
"It's important to ensure that this type of regulation covers all key products that could be linked to deforestation," Jacobsen stressed.

Nestlé responded to the report by stating it has contacted its collagen supplier to look into the investigation's claims, while assuring it is working to "ensure its products are deforestation-free by 2025."
Vital Proteins told its buyers after TBIJ contacted them for comment that it would "end sourcing from the Amazon region effective immediately."
In addition to harming the environment, the collagen industry is fueling human rights crimes, Indigenous leaders and other critics say.
\u201c\ud83d\udea8REVEALED: #Nestl\u00e9 brand sells collagen linked to deforestation and invasion of Indigenous lands in Brazil. \n\n@pulitzercenter RIN Fellow @lilimendonca, @ZukerFabio & @Andrew_Wasley report for @TBIJ. Read here \ud83d\udc49 https://t.co/z0kxMJFnO8 \n\n\u2795 \ud83e\uddf5 1/5\u201d

— Rainforest Investigations Network (RIN) (@Rainforest Investigations Network (RIN)) 1678111914
As Mendonça, Wasley, and Zuker noted:
With sales of beef, leather, and collagen booming, more and more forest has been felled and replaced by pastures in recent years, with land often seized illegally. Virtual impunity for land-grabbing during the [former President Jair] Bolsonaro government also fueled attacks on traditional communities. In 2021, the third year of his presidency, there were 305 invasions of Indigenous lands. This is three times more than the 2018 figures reported by the Catholic Church's Indigenous Missionary Council.
"No cattle ranching expansion in the Amazon can take place without violence," Bruno Malheiro, a geographer and professor at the Federal University of Southern and Southeastern Pará, told the authors.
In January—his first month in office—leftist Brazilian President Luiz Inácio Lula da Silva, who has vowed to protect Indigenous peoples and rainforests from deforestation, oversaw a 61% drop in forest destruction over 2022 levels.
Kátia Silene Akrãtikatêjê, leader of the Akrãtikatêjê Gavião Indigenous people, said her constituents feel "surrounded" and "suffocated" in a "process of territorial confinement" amid creeping deforestation. Last September, a Gavião village was burned to the ground, and residents believe it was no accident.
Land capitalists "destroy what is theirs, and invade what is ours," the Akrãtikatêjê Gavião chief said. "I can't understand why they destroy everything."

News