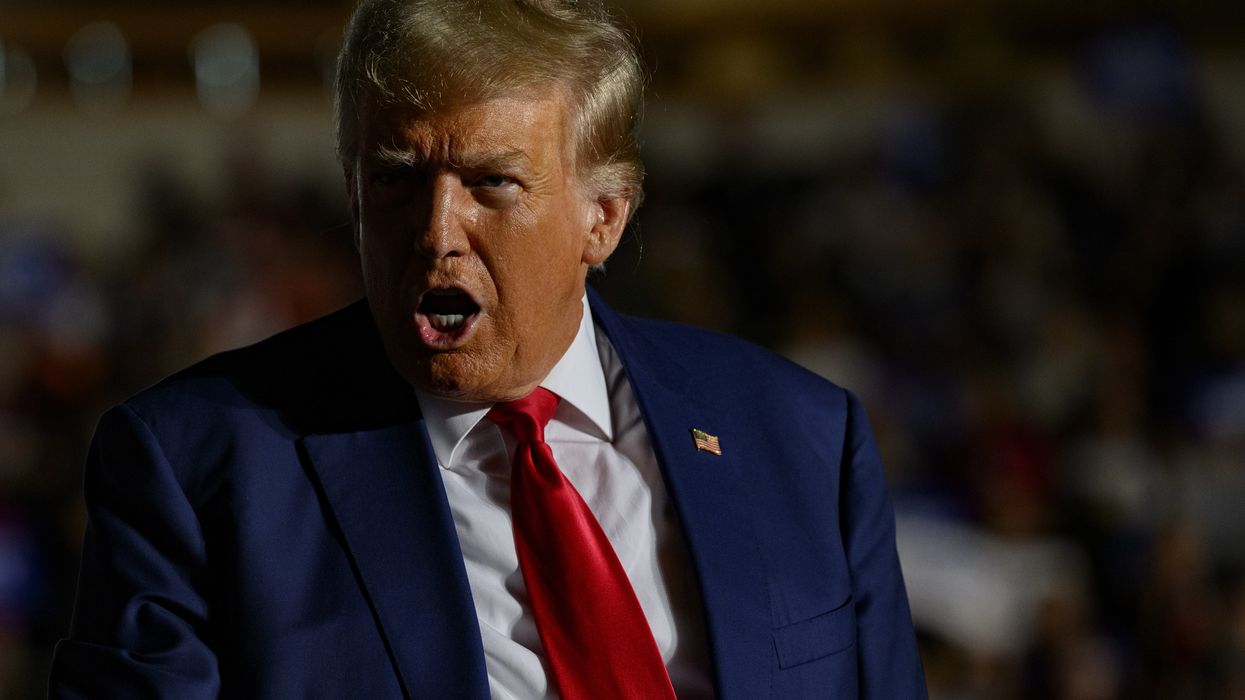 The decision follows the district attorney suggesting that charges for 2020 election interference loom. As she put it, "The work is accomplished."
A Georgia judge on Monday rejected an effort by former President Donald Trump—who is seeking the 2024 Republican nomination—to upend Fulton County District Attorney Fani Willis' probe of attempts to overturn the state's 2020 presidential election results.
The nine-page order from Fulton County Superior Court Judge Robert McBurney came ahead of anticipated charges in the investigation and after a similar unanimous decision in mid-July by the Georgia Supreme Court, whose justices were mostly appointed by GOP governors.
In a March motion joined the following month by pro-Trump "alternate" presidential elector Cathleen Latham, the ex-president sought to quash the final report of a special purpose grand jury convened by Willis, prevent prosecutors from using any evidence derived from the jury's work, and disqualify Willis' office from further probing or prosecuting alleged interference with the election.
"The court now finds that neither Trump nor Latham enjoys standing to mount a challenge—at this pre-indictment phase of the proceedings—to the continued investigation into and potential prosecution of possible criminal interference in the 2020 general election in Georgia," wrote McBurney. "The movants' asserted 'injuries' that would open the doors of the courthouse to their claims are either insufficient or else speculative and unrealized."
"Arguments like those being made prematurely in the pending motions can be more effectively (and reasonably) presented and ruled upon when the full picture of who is being charged with what has been painted," he continued. "Guessing at what that picture might look like before the investigative dots are connected may be a popular game for the media and blogosphere, but it is not a proper role for the courts and formal legal argumentation."
The judge added that "Trump and Latham both seek to have the special purpose grand jury's final report locked away from public view forever. Such permanent silencing of that investigative body is not what either statutory or case law generally allows."
As for their "bold" request to disqualify Willis, McBurney concluded that neither of the primary grounds for such action, conflict of interest or forensic misconduct, had been met. In fact, he wrote, "the district attorney's office has been doing a fairly routine—and legally unobjectionable—job of public relations in a case that is anything but routine."
As The Atlanta Journal-Constitutionreported Monday:

McBurney's order comes just days after Senior Superior Court Judge Stephen Schuster scheduled a hearing for August 10 on a secondary bid by Trump to disqualify Willis and quash the special grand jury's final report. Trump's lawyers said they filed this challenge—called a writ of mandamus and prohibition—because it had taken McBurney months to rule on the former president's original motion. Schuster was assigned the case, filed in Fulton Superior Court, as a visiting judge because all of Fulton's judges were recused from hearing the challenge.

"Perplexingly, prematurely, and with the standard pugnacity, Trump has filed not one but two mandamus actions against the district attorney and this court," one the Georgia Supreme Court has already dismissed, McBurney noted.

It is not clear whether the August 10 hearing will still take place.
Meanwhile, orange security barriers have been installed "near the main entrance of the Fulton County Courthouse in downtown Atlanta," which The Washington Postcalled "the most visible sign yet of the looming charging decision in a case that has ensnared not only Trump but several high-profile Republicans who could either face charges or stand witness in a potential trial unlike anything seen before in this Southern metropolis."
The barriers are among various security measures taken by law enforcement along with Wills and her staff—who have faced an onslaught of threats including racist, menacing phone calls—in preparation for charges that are expected to be filed during the first few weeks of August.
The Post pointed out that "Willis has strongly hinted for months that she will seek multiple indictments in the case, using Georgia's expansive anti-racketeering statutes that allow prosecutors not only to charge in-state wrongdoing but to use activities in other states to prove criminal intent in Georgia."
Willis on Saturday made clear to the Atlanta television station 11Alive that her office is prepared to move forward, saying that "the work is accomplished. We've been working for two-and-a-half years. We're ready to go."
In a series of posts on his Truth Social platform Monday morning, Trump—who is leading polls for the crowded field of GOP challengers to Democratic President Joe Biden—suggested, yet again, that any charges related to the 2020 election are politically motivated.
"The Radical Left Democrat Thugs shouldn't be allowed to investigate me during, and in the middle of, my campaign for President," Trump said. "Why didn't they file these ridiculous charges 2.5 years ago? They waited because they wanted to illegally and negatively influence the 2024 Presidential Election, arguably the most important Election in the history of the USA."
If Trump is charged in Georgia next month, it will be his third indictment this year. The other two—in April and June—were the result of investigations by Manhattan District Attorney Alvin Bragg and Special Counsel Jack Smith, who is also leading a probe into the January 6, 2021 attack on the U.S. Capitol, which could lead to additional charges against the twice-impeached former president.
While Congress was certifying Biden's win two years ago, Trump said in a speech outside the White House: "I know that everyone here will soon be marching over to the Capitol building to peacefully and patriotically make your voices heard... We're going to the Capitol, and we're going to try and give... our Republicans—the weak ones because the strong ones don't need any of our help—we're going to try and give them the kind of pride and boldness that they need to take back our country."
Trump said Monday that "I assume that an Indictment from Deranged Jack Smith and his highly partisan gang of Thugs, pertaining to my 'PEACEFULLY & PATRIOTICALLY Speech, will be coming out any day now, as yet another attempt to cover up all of the bad news about bribes, payoffs, and extortion, coming from the Biden 'camp. This seems to be the way they do it. ELECTION INTERFERENCE! PROSECUTORIAL MISCONDUCT!"
Some advocacy groups and legal experts argue that regardless of any charges related to January 6 or in other cases, Trump's incitement of insurrection disqualifies him from holding office again because of the 14th Amendment to the U.S. Constitution.

News