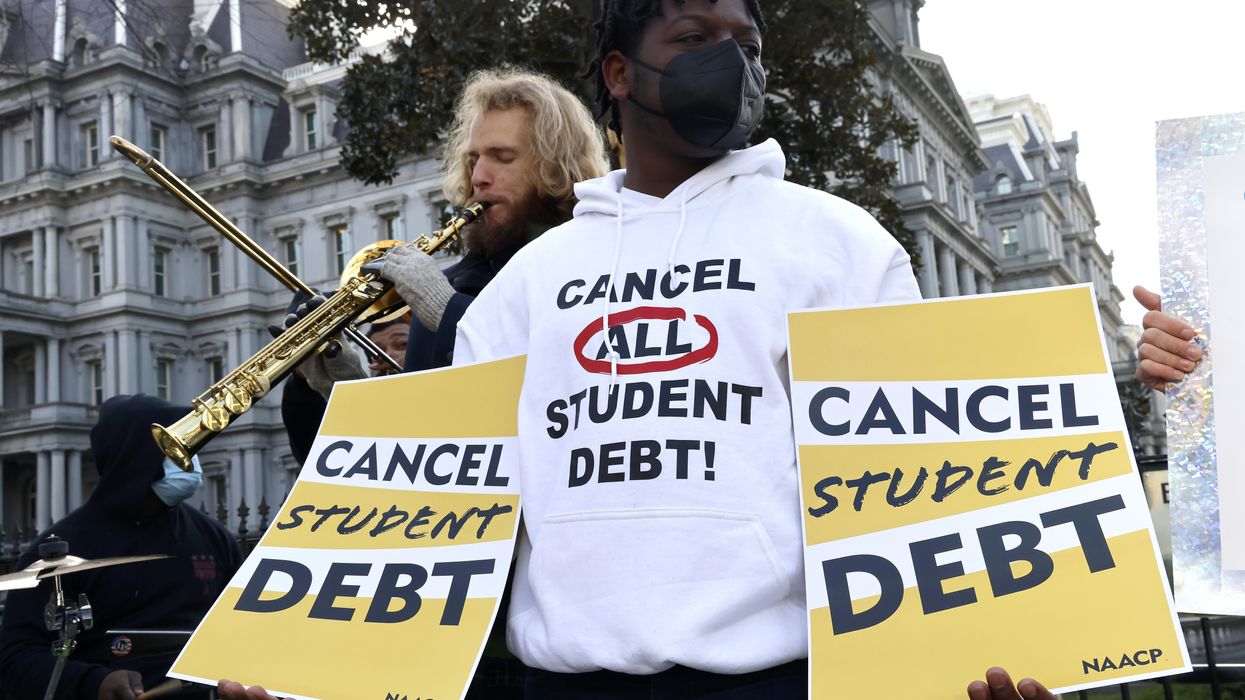 "These for-profit companies literally committed crimes—but Trump/Reagan judges don't care," said one economic justice group.
Economic justice advocates on Monday said three right-wing federal judges sought to "make fraud legal" when they blocked newly implemented Biden administration rules that made it easier for student loan borrowers to cancel their debt if they were defrauded.
A panel on the 5th U.S. Circuit Court of Appeals—composed of judges appointed by former Republican Presidents Ronald Reagan and Donald Trump—granted a temporary nationwide injunction requested by Career Colleges & Schools of Texas (CCST), a group representing dozens of for-profit colleges.
The panel said it will consider the group's case against the rules in the fall and did not explain their reasoning in the two-page ruling, but the Debt Collective, a union of student loan borrowers that has advocated for student debt cancellation for years, said the three judges simply "don't care" that for-profit colleges "literally committed crimes."
"We have a judicial problem," said the group.
The rules—which took effect on July 1 and are separate from President Joe Biden's thwarted student debt cancellation program—were finalized late last year by U.S. Education Secretary Miguel Cardona. The new policy reformed the government's "borrower defense to repayment" standards, which govern the Education Department's authority to discharge loans due to colleges' misconduct.
Under the rules, the Education Department was able to review claims filed by individual borrowers or large groups of student who said they had been defrauded. They also compelled colleges to cover the cost when students' loans were cancelled due to fraud and made it easier for borrowers to obtain relief if an institution closed suddenly after promising them an education.
Peter Mills, a legislative assistant to U.S. Sen. Chris Murphy (D-Conn.), demanded to know how CCST had legal standing when it requested the injunction.
"They got their money and defrauded students," he said on social media. "Why does it matter at all what happens to the loans we should've never allowed to go to criminal organizations like these colleges in the first place?"
As the ruling was handed down, The Washington Postreported that the Project on Predatory Lending (PPSL) has accused the Education Department of violating its new policy of requiring loan servicing companies to issue full refunds to borrowers whose student debt has been cancelled.
The group said in a letter on July 27 that the department has been applying the refunds to other federal loans for borrowers whose loan discharges were processed before March of this year. The refunds apply to students whose debt has been cancelled under the borrower defense to repayment program.
"There should be parity in the department's policy on these refunds," Eileen Connor, president and director of PPSL. "If it was willing to make a change going forward, why not apply that policy to everyone?"
The Debt Collective said that ongoing litigation regarding student debt cancellation denotes "problem" with the Biden administration as well as with the courts.
The administration "should simply stop funding predatory colleges," said the group. "They can do this without Congress."

News