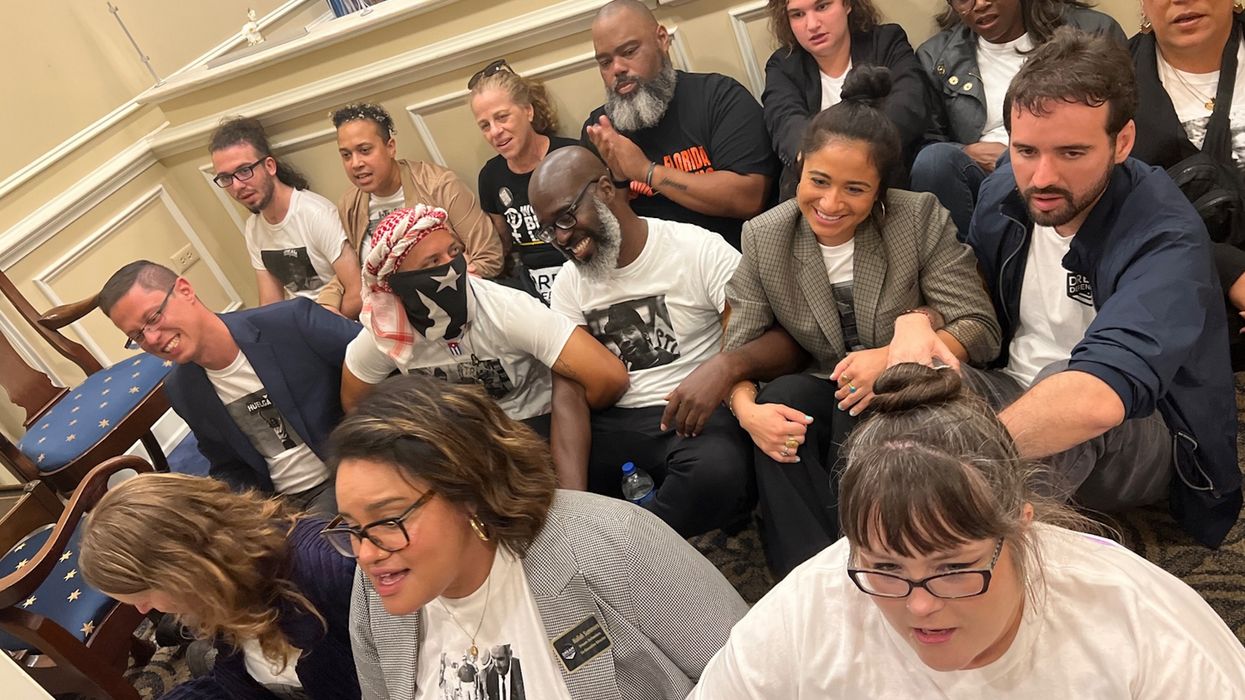 History matters. And right now the right-wing is attempting to obliterate the often violent, racist history of the United States.
Students nationally rallied on May 3rd for the Freedom to Learn, taking action to challenge censorship, book banning and voter suppression sweeping the country. They are demanding the right to learn their history and that of their forebears, even if it makes others "uncomfortable." The day of protest fell on an auspicious anniversary. Sixty years earlier, on May 3rd, 1963, thousands of young people risked their lives in Birmingham, Alabama, on the second day of what became known as The Children's Crusade. Images of the march shocked people worldwide, as Black children and teens engaging in non-violent protest were brutalized with police dogs, clubs and water cannons.
Birmingham was considered the Jim Crow South's most segregated and most violent city, controlled for decades by a racist political boss named Bull Connor. The courage demonstrated by those young people that day was remarkable, and contributed to enduring change – change that is now threatened.
"Sixty years ago today, I woke up with my mind on freedom," Children's Crusade participant Janice Kelsey recalled, speaking on the Democracy Now! news hour. "I had attended student nonviolent workshops, and I was prepared, because I finally understood that it was more than just segregation, it was inequality."
Janice Kelsey continued, "In the preparation sessions that were held at 16th Street Baptist Church, we had seen film of demonstrations in other places, so I saw people being hit, being called names and being mistreated for demonstrating. We were told that if you participate, some of this may happen to you, but this is a nonviolent movement, and you cannot respond, except to pray or sing a freedom song…I was so incensed at having been mistreated all these years, until I was willing to sacrifice whatever was necessary to take steps to change the environment."
The Birmingham campaign was planned in secret in January, 1963 by Dr. Martin Luther King, Jr. and a handful of his closest associates, including the Rev. Ralph Abernathy, James Bevel and Fred Shuttlesworth. The late Harry Belafonte rescued King's Southern Christian Leadership Conference from near bankruptcy, raising for the Birmingham campaign, in one night at a fundraiser he hosted, close to $500,000 – almost $5 million in 2023 dollars. This history is detailed in the newly published book, "You Have to Be Prepared to Die Before You Can Begin to Live: Ten Weeks in Birmingham That Changed America," by Paul Kix. The title's first sentence comes from words Shuttlesworth spoke at Belafonte's fundraiser.
Days later, the Birmingham campaign began, as Kix quotes King, to "break segregation or be broken by it." When it didn't take off with hoped-for intensity, King himself marched and was arrested. While in Bull Connor's jail, he clandestinely penned "The Letter from Birmingham Jail."
One of King's key advisors was Vincent Harding, an African American war veteran who had embraced non-violence. Speaking on Democracy Now! in 2008, Harding explained the Children's Campaign:
"There was a whole development in which many of the protesters were young people, and in some cases children, who came to play a crucial role in leading the struggle against segregation, partly because many of the adults were afraid to, couldn't afford to, were worried about what would happen to them and their livelihoods if they did it."
Vincent Harding played a role in helping King deliver his secretly-penned letter, which explained why American Blacks, especially in the South, were tired of waiting for change.
"We know through painful experience that freedom is never voluntarily given by the oppressor; it must be demanded by the oppressed," King wrote. "We have waited for more than 340 years for our constitutional and God given rights."
340 years before 1963 was 1623, four years after 1619, the year the first ship carrying enslaved Africans arrived on the shores of what would become the United States.
History matters. And right now the right-wing is attempting to obliterate the often violent, racist history of the United States.
"It's very discouraging and frightening to see leaders in legislatures and governors who are trying to push back on the gains that were made due to the tremendous sacrifices that were made by young people 60 years ago…I'm hoping and praying that our young people will step up again and say, 'No, we are not going back,'" Janice Kelsey said.
As this column was going to press, ten young Dream Defenders, committed to racial justice, were occupying the office of Republican Florida Gov. Ron Desantis. "He stokes division to try and make white people afraid and I'm here to say that we will not be divided…we are stronger when we stand together," Julia Daniel, one of the occupiers, said in a statement.
Janice Kelsey needn't worry. Today's youth, like those of 1963, are taking a stand.
Opinion