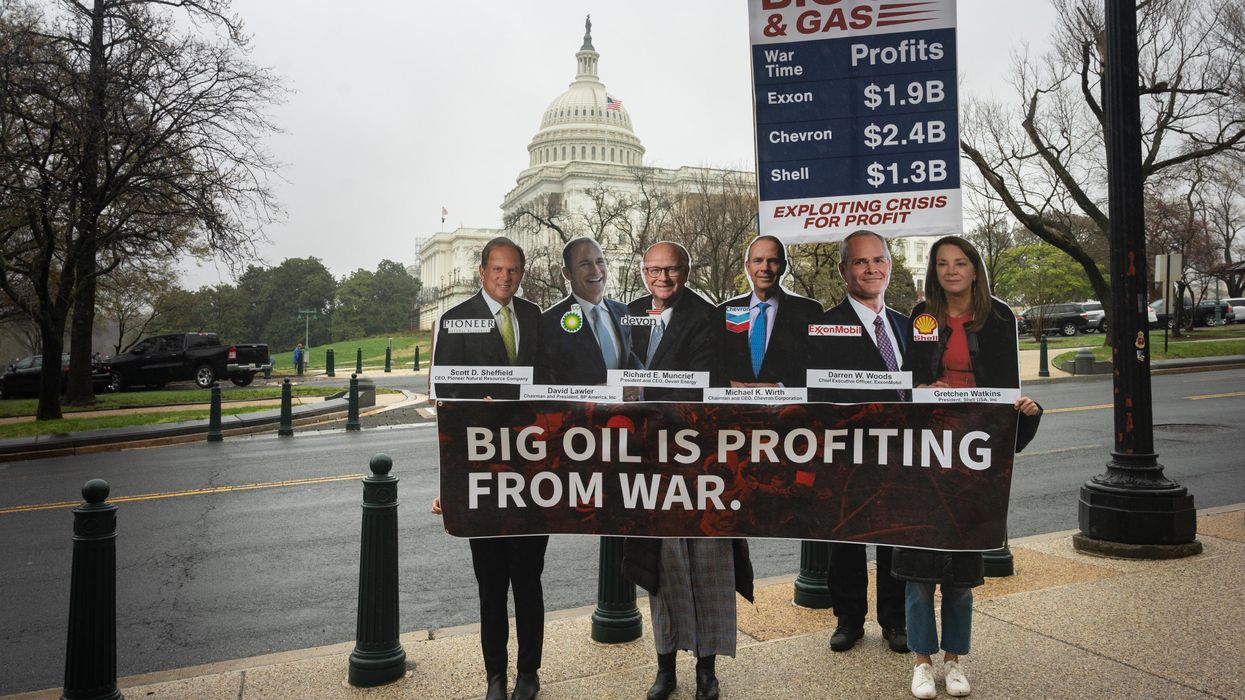 "The American public wants to hold Big Oil accountable for its relentless war profiteering while getting some relief from price gouging at the pump," one campaigner approvingly noted.
In a move welcomed by climate campaigners, a pair of Democratic U.S. lawmakers on Tuesday reintroduced a Big Oil Windfall Profits Tax, legislation meant to take on corporate greed and "send relief to the American public."
Sen. Sheldon Whitehouse (D-R.I.) and Rep. Ro Khanna (D-Calif.) revived the bill, which was first proposed last year as gas prices soared due in large part to Big Oil profiteering amid Russia's invasion of Ukraine. Under the proposal, oil companies producing or importing more than 300,000 barrels per day would pay a "per-barrel quarterly tax equal to 50% of the difference between the current price of a barrel of oil and the pre-pandemic average price per barrel between 2015 and 2019."
Revenue raised from the tax would be returned to consumers "in the form of a quarterly rebate, which would phase out for single filers who earn more than $75,000 in annual income and joint filers who earn more than $150,000."
Whitehouse and Khanna said that with oil priced at around $90-100 per barrel, the tax would raise approximately $48 billion annually, meaning single tax filers would receive an estimated $255 each year, while joint filers would get $382.
"The American public wants to hold Big Oil accountable for its relentless war profiteering while getting some relief from price gouging at the pump, and Sen. Whitehouse's proposal answers that call," Jamie Henn, a spokesperson for Stop the Oil Profiteering, said in a statement.
\u201cBREAKING: @SenWhitehouse and @RepRoKhanna are reintroducing their Big Oil Windfall Profits Tax in this new Congress! \n\nTime to go after Big Oil's profiteering and clawback some money for struggling families. https://t.co/y3FFFw8pu0\u201d

— Jamie Henn (@Jamie Henn) 1676410296
"Families are still struggling with high prices while Big Oil CEOs continue to line their pockets and those of their shareholders with obscene, record-shattering windfall profits," Henn added. "Eighty percent of voters support the idea, it's time for Congress to get it done and pass this bill."
As a statement from the lawmakers' offices noted:
The five largest publicly traded oil companies—ExxonMobil, Chevron, BP, Shell, and TotalEnergies—hauled in pre-tax profits totaling $264.3 billion in fiscal year 2022. Exxon alone reported $77.8 billion in profits in 2022, smashing the earnings record of any American or European oil company. Exxon also announced plans to keep oil production flat for the year ahead. Rival oil giant Chevron—flush with $49.7 billion in profits—greenlit $75 billion in stock buybacks in 2023 to benefit its wealthy executives and shareholders on Wall Street.
"Big Oil's obscene profits last year are the spoils of war and cartel pricing. Clawing back Big Oil's windfall and returning it to the American families who paid for it at the pump is good policy that will help deter future price gouging," Whitehouse—who chairs the Senate Budget Committee—said in a statement. "Congress should heed the president's call, ignore the fossil fuel industry's lies, and deliver this needed relief for the American people."
\u201cRoses are red, \ud83c\udf39\nProfiteering is bad. \ud83d\ude45\ud83c\udffc\u200d\u2642\ufe0f\nHolding Big Oil accountable \u26fd\ufe0f\nSure would be rad. \ud83d\ude0e\u201d

— Sheldon Whitehouse (@Sheldon Whitehouse) 1676408776
Khanna said that "Big Oil continues to rake in record profits in the midst of an ongoing energy crisis and is using the money to enrich their own shareholders while average Americans are hurting at the pump."
"I'm glad to introduce this legislation with Sen. Whitehouse to hold Big Oil accountable for high gas prices and put that money back in the pockets of Americans," he added.
News