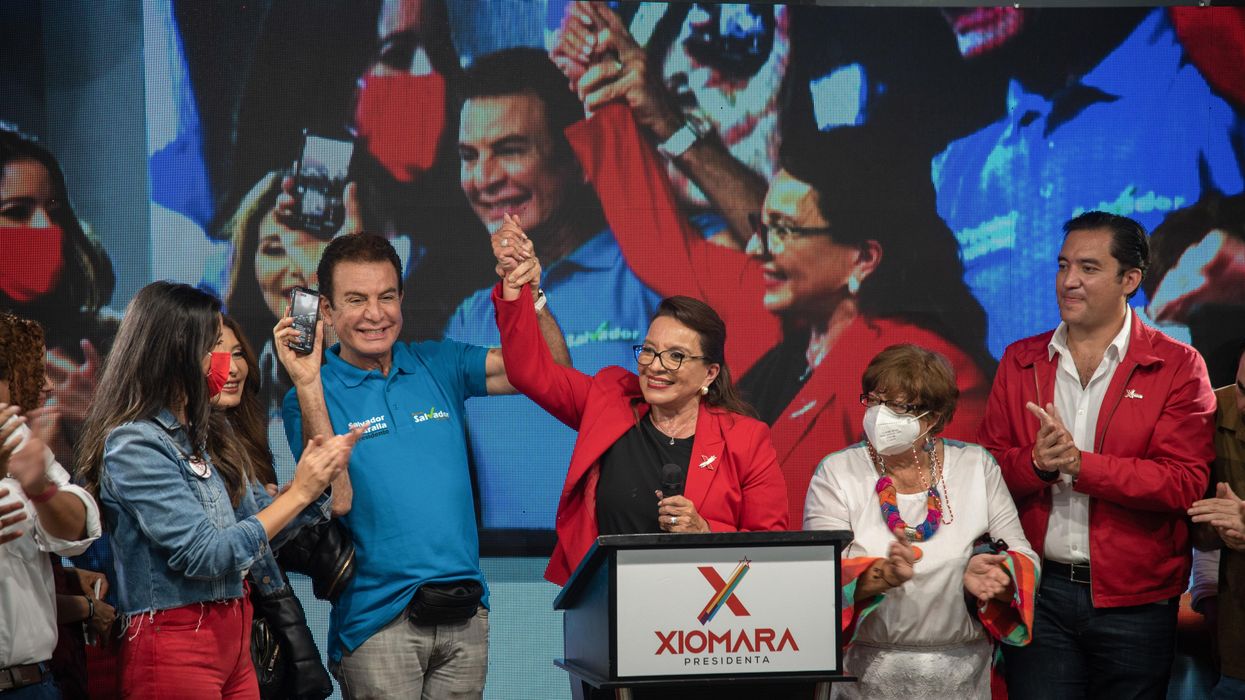 "We encourage the Biden administration to use this opportunity to make a clean break with previous presidential administrations, which worked to ensure that the 2009 coup d'état succeeded."
Calling the victory of Honduran President-elect Xiomara Castro "an opportunity for a new chapter in U.S.-Honduras relations," Congressional Progressive Caucus Chair Pramila Jayapal on Friday congratulated the first woman and socialist to be elected leader of the Central American nation long plagued by American subversion of democracy.
Castro, a political activist and the wife of former Honduran President Manuel "Mel" Zelaya, won last week's presidential election by more than 15 points over right-wing Tegucigalpa Mayor Nasry Asfura.
Jayapal (D-Wash.) said in a statement that she hopes this new phase of bilateral relations is "one based on mutual respect, support for democracy, and equitable development."
\u201cThe Honduran people have elected a new president in a historic election \u2014 and presented the United States with an opportunity to reset our countries' relationship.\n\nOur chair @RepJayapal is calling for a clean break from previous administrations' policies toward Honduras \u2b07\ufe0f\u201d

— Progressive Caucus (@Progressive Caucus) 1638561944
"We encourage the Biden administration to use this opportunity to make a clean break with previous presidential administrations, which worked to ensure that the 2009 coup d'etat succeeded, legitimized the deeply flawed elections in 2009, 2013, and 2017, and pushed policies that have resulted in surges in Honduran insecurity, poverty, mass migration, and organized crime," the congresswoman added.
Democratically elected in 2005, Zelaya challenged Honduras' status as a U.S. client state while spurning the neoliberal economic policies of his oligarchic predecessors. In just three years in office, he implemented policies including an 80% minimum wage hike, universal free education, free school lunches for 1.6 million children, free electricity for low-income households, and land reforms including government subsidies for poor farmers.
Zelaya's progressive reforms earned him powerful enemies among the Honduras oligarchy--in which a handful of families control 90% of the nation's wealth--and in U.S. business and political circles. In 2009 he was ousted in a military coup led by Gen. Romeo Orlando Vasquez Velasquez, a two-time graduate of the U.S. Army School of the Americas, also known as the "school of assassins" due to the plenitude of dictators and human rights criminals among its alumni.
\u201cHondurans elected their first woman president, Xiomara Castro, ousting the conservative ruling party in a landslide.\n\nThe government has been under the control of the conservative National Party since 2009, which has been marked by corruption and scandals.\u201d

— AJ+ (@AJ+) 1638400010
"Immediately following Zelaya's unconstitutional ouster, members of the Congressional Progressive Caucus mobilized to denounce the overthrow as a military coup and call for the reinstatement of the elected president," said Jayapal.
However, despite initially condemning the coup and despite a demand by the United Nations General Assembly for the "immediate and unconditional restoration" of Zelaya's rule, the administration of then-U.S. President Barack Obama recognized the illegitimate presidency of Porfirio Lobo, the Honduran oligarchs' hand-picked candidate in an election marred by government violence and widely viewed as fraudulent.
As Hondurans took to the streets to protest against the coup regime, state security and paramilitary forces responded by killing hundreds of actual and perceived opponents while then-U.S. Secretary of State Hillary Clinton worked behind the scenes to ensure Zelaya did not return to power. Before she was assassinated in March 2016, Indigenous land defender Berta Caceres blamed Clinton for helping to legitimize the coup regime.
Jayapal said that since the coup, "Progressive Caucus leaders have organized and protested against the brutal repression, autocratic governance, violations of human rights, and murders of labor organizers, human rights activists, environmental defenders, journalists, and Afro-Indigenous leaders under Honduras' post-coup regimes."
"The Progressive Caucus has also been at the forefront of demanding a change in U.S. policy," she added, "including an end to U.S. weapons and training for Honduras' repressive security forces until real efforts have been made to end impunity and restore the rule of law."
News