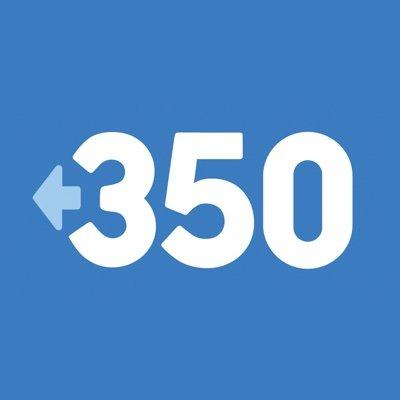 For Immediate Release
Contact:
Diana Nabiruma Senior Communications Officer, AFIEGO-Uganda: dnabiruma@afiego.org
Christine Mbithi Communications Manager, 350Africa.org: christine.mbithi@350.org
East African CSOs call on leaders to embrace renewable energy and abandon fossil fuel exploration
KAMPALA, Uganda
The 10th East African Petroleum Conference and Exhibition 2023, which came to a close in Kampala yesterday, has drawn criticism from Civil Society Organizations (CSOs) in the region. In a May 10, 2023 letterter sent to the Heads of State of East African nations, 41 CSOs voiced concern over East African leaders' discussions to exploit oil in the region, which could exacerbate climate change.
Youth from East African countries, including Uganda, Kenya, Tanzania and the Democratic Republic of Congo (DRC), also took to Twitter on May 11, 2023, to voice their concerns over their governments' and oil companies' plans to enhance investments in oil and gas in East Africa.
The regional petroleum conference themed East Africa as a hub for Investment in Exploration and Exploitation of Petroleum Resources for Sustainable Energy and Socioeconomic Development brought together top East African government representatives with the aim of developing a common energy policy (mainly anchored in oil) to be backed with a protocol that will define the regional framework to support the development of the petroleum sector.
"It's concerning that regional leaders should meet to discuss how to build new oil projects when the world is transitioning from fossil fuels to renewable energy. In its 2021 World Energy Outlook report, the International Energy Agency (IEA) indicated that oil demand is expected to level off in the mid-2030s and decline in 2050," Mr Dickens Kamugisha, the CEO of Africa Institute for Energy Governance (AFIEGO) from Uganda, says.

He adds, "Yet East African countries are borrowing huge amounts of money to invest in oil and gas. How will they recoup the monies that are invested? East Africans are poor and should not be straddled with assets that could become stranded. Governments should avoid investing in coal, oil and gas."

"Africa has significant renewable energy potential, which if developed, can position the continent to lead the global green energy transition. Instead of seemingly doubling down on fossil fuels, we urge East African leaders to prioritize the adoption of safe and sustainable renewable energy. We are concerned about talks between Uganda and the Democratic Republic of Congo regarding the exploration and transportation of oil from DRC via the East African Crude Oil Pipeline, and reiterate calls for the governments of DRC, Uganda and Tanzania to abandon the oil and gas auction and the EACOP project respectively, which faces resistance in the region due to its impacts on local communities, sensitive ecosystems, the environment and on climate." said Charity Migwi, Regional campaigner, 350Africa.org

"The Intergovernmental Panel on Climate Change (IPCC) has warned that at the current rate, global warming would reach 1.5 degrees Celsius by 2040, which could cause severe environmental and economic damage. Suppose the East Africa Community (EAC) member states proceed in this direction, they will undermine the scientists and put undue pressure on frontline communities in the region suffering climate change consequences." said Ms Hilda Flavia Nakabuye, a Fridays for Future Uganda co-founder.

"Numerous studies by reputable energy think tanks show that renewable energy is becoming increasingly cost-competitive with fossil fuels. Renewable energy is the fastest-growing energy source worldwide and is projected to make up 90% of new power capacity added globally over the next decade. Fossil fuel infrastructure will quickly become a stranded asset as the world moves towards a low-carbon future. It's, therefore, difficult to imagine why the regional bloc would support building new oil pipelines like the East African Crude Oil Pipeline (EACOP)." Mr. Baraka Lenga of GreenFaith International said

"East Africa is one of the regions that is worst hit by climate change resulting in prolonged droughts and flash floods. The Congolese Red Cross says that at least 411 died in the Democratic Republic of Congo following the flooding. It was, therefore, disturbing to see the DRC speak of bilateral engagement with Uganda to develop hydrocarbons and access to the EACOP to transport crude oil, which will be extracted from the Albertine Graben in the DRC." Jimmy Ufoy from the Ituri region in DRC said.

The CSOs call on East Africans to collectively hold their leaders accountable for their actions and demand that they put people and nature's well-being above profits. Oil exploration in East Africa threatens the region's biodiversity, ecosystems, and people's livelihoods, as evident from the controversial EACOP.

350 is building a future that's just, prosperous, equitable and safe from the effects of the climate crisis. We're an international movement of ordinary people working to end the age of fossil fuels and build a world of community-led renewable energy for all.
LATEST NEWS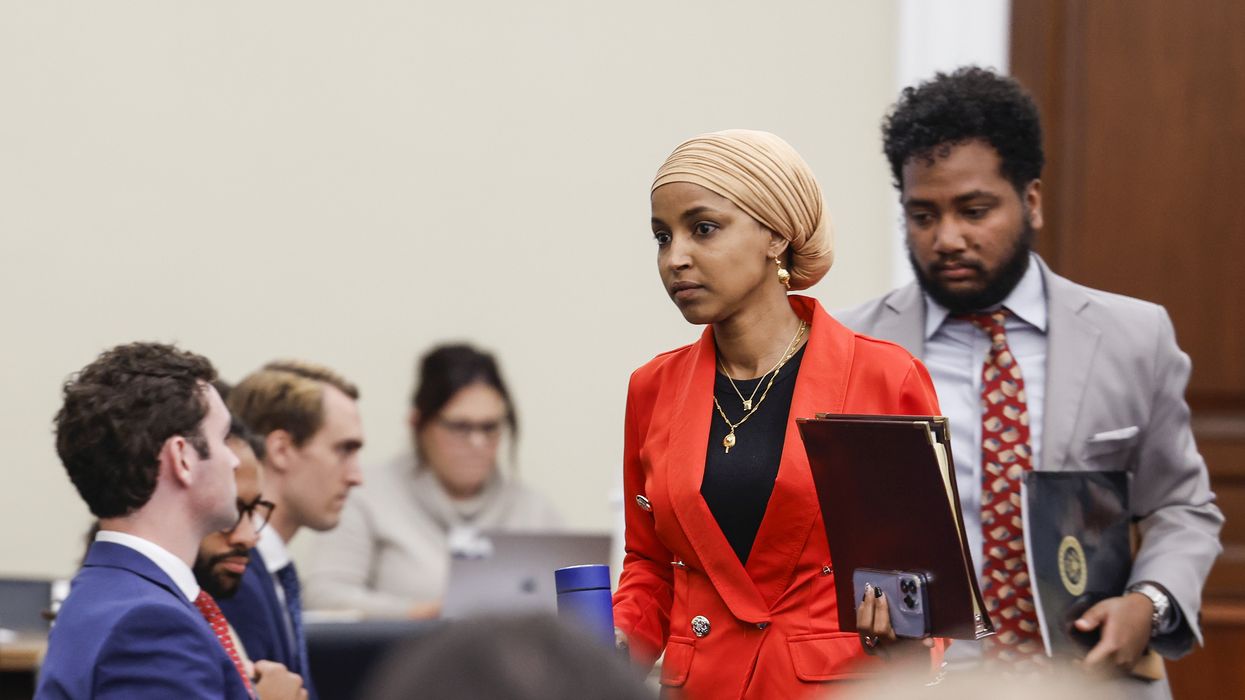 The Minnesota Democrat slammed the GOP for pursuing massive safety net cuts "while doing nothing to rein in our nearly trillion-dollar Pentagon budget or the trillions they've handed out to millionaires and billionaires."
Rep. Ilhan Omar on Wednesday condemned her Republican colleagues for proposing a budget resolution that includes massive cuts to key aid programs while backing an extension of giveaways for the wealthy and large corporations.

"We are in the midst of a shutdown crisis because Republicans can't even organize their own caucus to pass funding levels that were already agreed to," Omar (D-Minn.) said during the House Budget Committee's markup of the new resolution. "And now they launch some of the most radical cuts to healthcare, to housing assistance, to food assistance, to the postal office, and nearly every program under the sun—all while doing nothing to rein in our nearly trillion-dollar Pentagon budget or the trillions they've handed out to millionaires and billionaires through the Trump tax cuts."
"There's a lot of awful stuff in this budget," Omar continued, pointing to the proposal's $1.9 trillion in Medicaid cuts over the next decade as well as the hundreds of millions of dollars in cuts to the Supplemental Nutrition Assistance Program (SNAP), "literally starving families who are already struggling with rising food prices."
Omar also slammed the resolution's call for a bipartisan commission to examine Social Security, Medicare, and other trust fund programs—a proposal that advocates warn is a ploy to fast-track benefit cuts.
"But what is the most sickening is that they entirely leave in place the Trump and Bush tax cuts to benefit them and their friends—which have cost over $10 trillion and are responsible for almost all of the increasing debt ratio," said the Minnesota Democrat. "Oh, and on top of that, they defund enforcement of high-earning tax cheats."
Omar went on to single out by name ultra-wealthy members of the House Budget Committee who would benefit from an extension of Trump-era tax provisions and any further weakening of the Internal Revenue Service.

"That includes Buddy Carter, who has vocally pushed to slash Medicaid and take away healthcare from his own constituents and is worth $33 million," said Omar. "And it includes Ralph Norman, one of the most extreme advocates of taking away food assistance from working people, who is worth a whopping $43 million."
The House Budget Committee advanced the GOP resolution in a party-line vote on Wednesday, with all of the panel's Democrats voting no.
Rep. Brendan Boyle (D-Pa.), the top Democrat on the committee, said in response to the vote that "just 10 days away from another Republican government shutdown, Budget Committee Republicans have revealed just how extreme their budget plan really is."

"This budget resolution is a dark vision for America," said Boyle, "one that favors the wealthy and well-connected over working families, one that makes massive cuts to the critical programs Americans rely on, and one that doubles down on the extreme demands that are driving our nation towards a shutdown."
On Wednesday, House Speaker Kevin McCarthy (R-Calif.) reportedly briefed his caucus on a "new plan" to keep the government open beyond September 30, a proposal that includes even steeper spending cuts than what the White House and GOP agreed to as part of their debt ceiling deal earlier this year.
Boyle said Wednesday that Democrats will remain opposed to the GOP's push for extreme cuts.
"While Republicans may not care about the costs of a government shutdown or the devastating impact of these cuts, Democrats do," said Boyle. "We will continue fighting to make sure this nightmarish vision never becomes reality, and we will continue fighting to invest in the American people so that we can lower the cost of living and grow the middle class. Instead of wasting more time on this far-right agenda, House Republicans need to do their job, honor the bipartisan budget agreement, and keep our government open."
News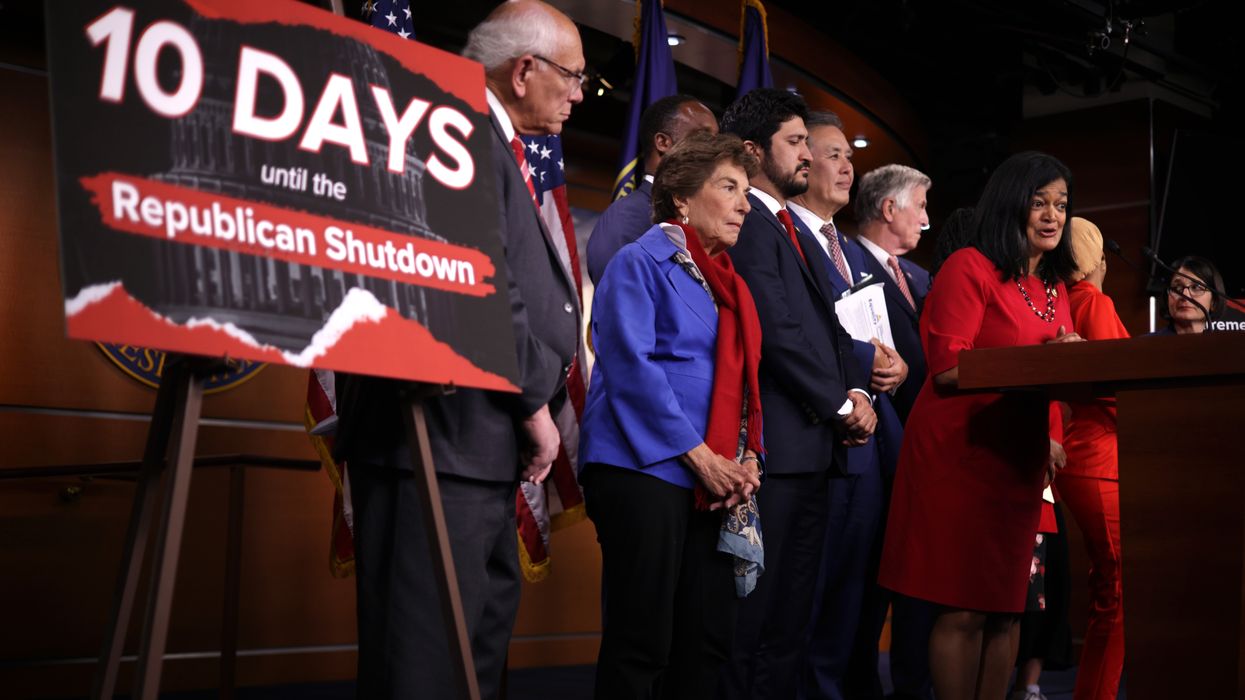 "Extremists in Congress need to stop using our lives as bargaining chips," said AFSCME's president. "It's time for them to follow through on the promises they have already made to keep the government open."
Just 10 days away from a potential U.S. government shutdown, calls for bipartisan action to prevent it are mounting, as is outrage over Republicans in the House of Representatives who seem content with causing chaos.
"What we want is simple: No cuts. No layoffs. No shutdown," Congressional Progressive Caucus (CPC) Chair Pramila Jayapal (D-Wash.) said at an afternoon press conference. She described the "Republican shutdown" as "a ticking time bomb," and called out the GOP—particularly House Speaker Kevin McCarthy (R-Calif.)—for lighting the fuse.
"And who loses from these absurd, delusional political games? Working- and middle-class families will suffer," Jayapal stressed. In addition to some CPC members, she was flanked by signs calling out McCarthy and warning that MAGA Republicans are trying to pull teachers out of classrooms, kick kids out of preschool, and slash funding for food aid.
Far-right House Republicans this week have refused to support a McCarthy-backed continuing resolution (CR) that would prevent a government shutdown for a month. The measure contains provisions also opposed by congressional Democrats and President Joe Biden—including spending cuts that conflict with the Fiscal Responsibility Act, the debt limit deal Biden struck with McCarthy earlier this year.
In a Wednesday letter to McCarthy arguing that "the time has come to end partisan posturing and put forward a viable path to funding our government," 92 members of the CPC noted that the GOP has pushed for betraying the debt ceiling deal.
"We stand ready to support a bipartisan funding vehicle free of poison pill policy riders that is consistent with the agreement you struck with President Biden and which was ratified by bipartisan majorities in both the House and Senate," they wrote. "If you choose not to pass a bipartisan government funding bill consistent with the Fiscal Responsibility Act, you are deliberately choosing to shut down the government."
"We can look to the Senate for an example, where senators achieved bipartisan consensus on funding and policy for all 12 of its appropriations bills," the CPC members continued. "In contrast, your House majority has been unable to pass the vast majority of its own hyper-partisan appropriations bills, despite the inclusion of extreme policy riders and draconian spending cuts designed to accommodate the far-right faction of your conference."
The CPC was far from alone in calling out the GOP on Wednesday. The Biden White House said in a lengthy statement that "extreme House Republicans are consumed by chaos and marching our country toward a government shutdown that would damage our communities, economy, and national security."
The White House highlighted impacts of the looming shutdown, from endangering disaster response and delaying infrastructure projects to undermining medical research, food safety, and environmental and public health protections.
"These consequences are real and avoidable—but only if House Republicans stop playing political games with people's lives and catering to the ideological demands of their most extreme, far-right members," the White House added. "It's time for House Republicans to abide by the bipartisan budget agreement that a majority of them voted for, keep the government open, and address other urgent needs for the American people."
Lee Saunders, president of the American Federation of State, County, and Municipal Employees (AFSCME)—the nation's largest trade union of public employees—also called out "anti-worker politicians in Congress" for "going back on their word."
"They are demanding drastic cuts to the essential programs millions of families need to survive—food, housing, education, and more," he said. "And to get their way, they are using the threat of a government shutdown, which would jeopardize the livelihood of frontline federal employees as well as their families, while pausing lifesaving programs for millions of people nationwide."
"All this to appease their corporate megadonors, who care about little else besides receiving massive tax cuts," Saunders emphasized. "Extremists in Congress need to stop using our lives as bargaining chips. It's time for them to follow through on the promises they have already made to keep the government open."
The current GOP-caused chaos on Capitol Hill was arguably predicable. As Chris Lehmann wrote Tuesday for The Nation:

Today's shutdown battle involves little in the way of clear policy objectives beyond McCarthy's rapid capitulation to far-right House demands to launch Biden impeachment inquiries and the perennial demand for more draconian measures to police the U.S. southern border. "In many ways, the shutdown is the goal," says Princeton University historian Julian Zelizer... "Meaning, to create chaos and dysfunction has become an animating goal for the GOP, which makes negotiation much harder to achieve even within the party."

[...]

Across the past quarter-century of Republican-engineered shutdowns, the clearest lesson is that the triumph of procedural nihilism only ensures that things will get worse. Since this budget bloodsport launched in 1995, Zelizer says, "we have seen a continual ratcheting up of what the GOP is willing to do: shutdowns, debt ceiling threats, and the rest are all part of the new normal. McCarthy... accepts this and agreed to rules that made these forces stronger than ever."
Given those conditions, "small groups of centrist Democrats are holding secret talks with several of McCarthy's close GOP allies about a last-ditch deal to fund the government," Politicoreported Wednesday, citing over a half-dozen people familiar with the discussions.
"Generally, the bipartisan group is focusing on two major ideas: a procedural maneuver to force a vote on a compromise spending plan—or somehow crafting a bill so popular that McCarthy can pass it and survive any challenge from the right," according to the outlet. "That bill would likely be a bipartisan short-term patch with some disaster money, Ukraine aid, and small-scale border policies."
In the meantime, Punchbowl News' John Bresnahan reported after House Republicans' Wednesday afternoon meeting that "the current thinking in House GOP leadership" is that the chamber should focus on a defense bill Thursday and Friday, then pass a new CR Saturday.
Then, the Senate could take up the CR, amend it, and send it back to House, which "will take several days" and "sets up shutdown drama for [the] following weekend," he explained, stressing that "this is all very fluid."
On the Senate side, Majority Leader Chuck Schumer (D-N.Y.) said Wednesday that "House Republicans rejected their own extremist bill, and by rejecting it, that's a dead giveaway they're not serious about avoiding a shutdown."
"Speaker McCarthy says he wants to avoid a shutdown, he says nobody wins in a shutdown," Schumer added. "Well, then he should reach across the aisle to find an agreement that actually has the votes to pass both chambers. That's the only way—the only way—this crisis gets resolved."
This post has been updated with comment from Senate Majority Leader Chuck Schumer (D-N.Y.) and the Groundwork Collaborative.

News
The allegations against the former Trump attorney and New York City mayor follow a $10 million sexual assault suit filed earlier this year by a former high-level employee.
Former White House aide Cassidy Hutchinson alleges that Rudy Giuliani, who was serving as an attorney for then-President Donald Trump, groped her hours before the January 6, 2021 attack on the U.S. Capitol, The Guardianreported Wednesday.
Hutchinson—a former aide to White House Chief of Staff Mark Meadows who has testified before Congress about the conduct of Trump and members of his inner circle on the day of the insurrection—accuses Giuliani in her new book, Enough. Hutchinson claims the former New York City mayor touched "under my blazer, then my skirt."
"I feel his frozen fingers trail up my thigh," she writes. "He tilts his chin up. The whites of his eyes look jaundiced. My eyes dart to [Trump adviser] John Eastman, who flashes a leering grin."
"I fight against the tension in my muscles and recoil from Rudy's grip," she continues. "Filled with rage, I storm through the tent, on yet another quest for Mark."
The alleged incident took place backstage at the speech Trump delivered near the White House, in which he exhorted his supporters to march on the Capitol as part of his efforts to overturn his 2020 election loss to President Joe Biden.
Giuliani spokesperson Ted Goodman told The Guardian that "it's fair to ask Cassidy Hutchinson why she is just now coming out with these allegations from two-and-a-half years ago, as part of the marketing campaign for her upcoming book release."
"This is a disgusting lie against Mayor Rudy Giuliani—a man whose distinguished career in public service includes taking down the mafia, cleaning up New York City, and comforting the nation following September 11," Goodman added.
This isn't the first time that Giuliani has been accused of sexual misconduct. In May, Noelle Dunphy, a former head of business development for multiple Giuliani-owned companies, filed a $10 million lawsuit alleging "unlawful abuses of power, wide-ranging sexual assault and harassment, wage theft, and other misconduct."
Dunphy's suit claims Giuliani—who she said took Viagra "in preparation"—would demand "sexual gratification" from her and make her "work naked, in a bikini, or in short-shorts with an American flag on them that he bought for her."
News
Independent, nonprofit journalism needs your help.
Please Pitch In
Today!