For Immediate Release
February, 07 2011, 01:03pm EDT
Contact:
Sam Husseini, (202) 347-0020; or David Zupan, (541) 484-9167
Egyptian Activists Demand Resignation of Mubarak
WASHINGTON
Egypt is 7 hours ahead of U.S. ET. For online resources see: https://www.accuracy.org/online-resources-on-egypt
JACK SHENKER,

Shenker is a London-born
journalist who reports for the Guardian from Egypt. Last night he
reported on a statement from activists at Tahrir (Liberation) Square.
The first demand is "the resignation of the president." See full statement
ASMAA MAHFOUZ
A member of the April 6 Youth Movement, Mahfouz posted several YouTube
videos, including one on January 18 that has been credited by many with
having helped spark the protests in Egypt that began on January 25;
for example, "Equal Rights Takes to the Barricades" by Mona El-Naggar in the New York Times.
See video with English subtitles
The April 6 Youth Movement was set up largely to support workers in
El-Mahalla, an industrial town, who held a series of strikes over the
last several years (including on April 6, 2008). See from The Real News "Roots of the Egyptian Revolutionary Moment"
Dr. AIDA SEIF AL-DAWLA, MOSTAFA HUSSEIN

Hussein is a doctor at Nadeem Center for Victims of Torture; Al-Dawla is a psychiatrist with the group. She was profiled by Time magazine as a global hero in 2004.
PHILIP RIZK

Rizk is an independent blogger and filmmaker based in Cairo. He was featured on a news release Sunday from the Institute for Public Accuracy, "Egypt: Threat of the Army, Resilience of the Protests."
A nationwide consortium, the Institute for Public Accuracy (IPA) represents an unprecedented effort to bring other voices to the mass-media table often dominated by a few major think tanks. IPA works to broaden public discourse in mainstream media, while building communication with alternative media outlets and grassroots activists.
LATEST NEWS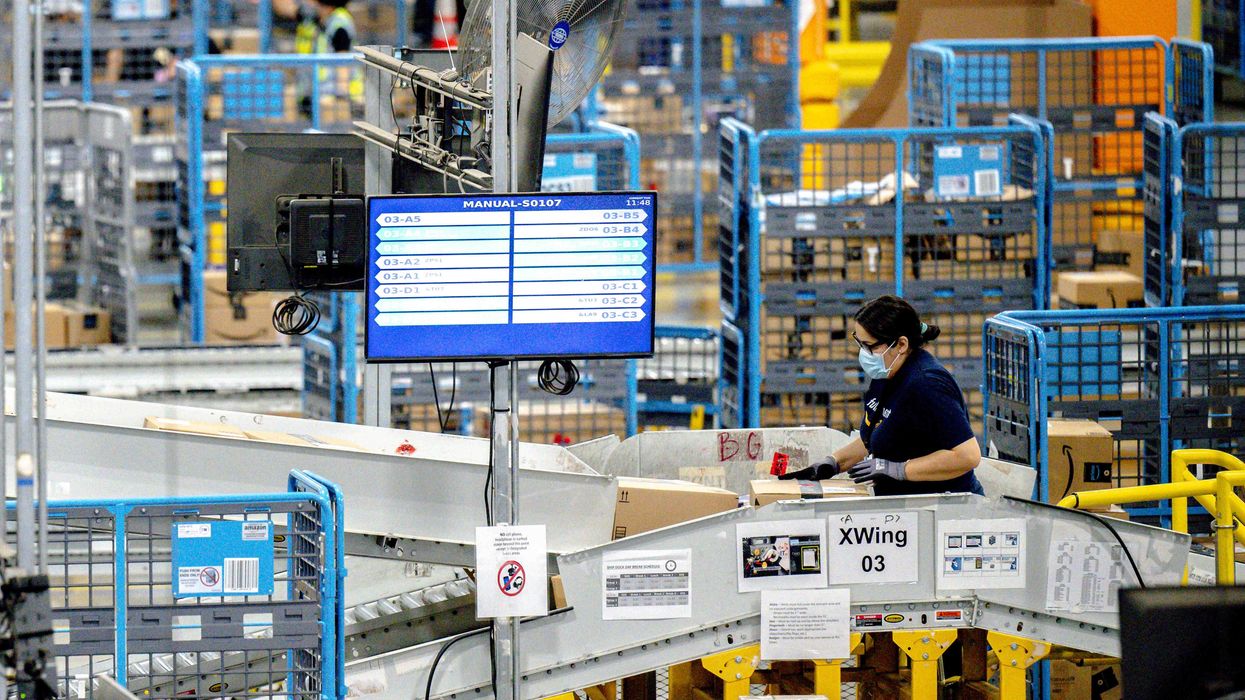 For serious injuries linked to the company's insistence that employees maintain a relentless pace of work, Amazon was fined $60,000—the amount it made "every four seconds in 2022."
A paltry $60,000 fine for failing to keep employees safe at one of the world's richest companies offered the latest evidence, according to one critic, that the system ostensibly meant to protect workers "is so broken."
That was the assessment of Paris Marx, host of the podcast "Tech Won't Save Us," after the Occupational Safety and Health Administration (OSHA) announced Wednesday it had issued a citation to Amazon for worker safety violations at three of its warehouses in Deltona, Florida; Waukegan, Illinois; and New Windsor, New York.
As part of an investigation that is still ongoing, OSHA found that Amazon warehouse employees experience "high rates of musculoskeletal disorders" and are at high risk for lower back injuries due to frequently being required to lift heavy packages for long hours.
A log of injuries sustained by workers at the warehouse in Waukegan showed one employee suffered a foot fracture while handling a 55-pound package, another person's face was "crushed/smashed" by a 61-pound piece of furniture, and another worker sprained their lower leg while handling a 148-pound item.
\u201cNEW: Dept of Labor is preparing to fine Amazon $60K for workplace safety hazards. \n\nRecent injuries at a warehouse in Waukegan, IL include:\n-a 61 lb piece of furniture smashing a worker's face\n-a 90 lb TV spraining a shoulder\n-a bed cutting a worker's nose\u201d

— Lauren Kaori Gurley (@Lauren Kaori Gurley) 1674060652
While many warehouse workers at a variety of companies lift heavy objects during their workdays, Amazon has been denounced by workers and labor rights groups for requiring employees to maintain a grueling pace in order to meet quotas and ensure deliveries are made rapidly.
As the Strategic Organizing Center (SOC) said in its report Primed for Pain: Amazon's Epidemic of Workplace Injuries in 2021, "the company's obsession with speed has come at a huge cost for Amazon's workforce," with workers suffering serious injuries at a rate 80% higher than warehouse employees at other companies.

"Each of these inspections found work processes that were designed for speed but not safety, and they resulted in serious worker injuries," said Doug Parker, assistant secretary for occupational safety and health at the U.S. Department of Labor.
Despite OSHA's findings, noted Mother Jones, the agency fined the e-commerce giant "roughly 0.000013% of its reported $469,822,000,000 2021 revenue," or as progressive journalist Timothy Burke put it, the amount the company made every four seconds last year.
\u201cAmazon made $60,000 every four seconds in 2022.\u201d

— Timothy Burke (@Timothy Burke) 1674059859
Amazon said Wednesday it plans to appeal OSHA's citation and appeared to reject the agency's findings, which represent the first time the Labor Department has accused a employer of maintaining an excessive work pace.

"The government's allegations don't reflect the reality of safety at our sites," Kelly Nantel, a spokesperson for Amazon, toldWired. "The vast majority of our employees tell us they feel our workplace is safe."
Eric Frumin, health and safety director at SOC, called on Amazon "to drop its relentless resistance to OSHA's orders to fix these hazards."
"Today's OSHA citations are the latest evidence that Amazon has company-wide, corporate-level policies and practices that create hazardous workplaces, and may result in medical mistreatment or denial of treatment for seriously injured workers," said Frumin. "Amazon treats its workers from the warehouse to the delivery route as disposable in its relentless drive for profit."
OSHA's investigation into the company is continuing at warehouses in Aurora, Colorado; Nampa, Idaho; and Castleton, New York.

News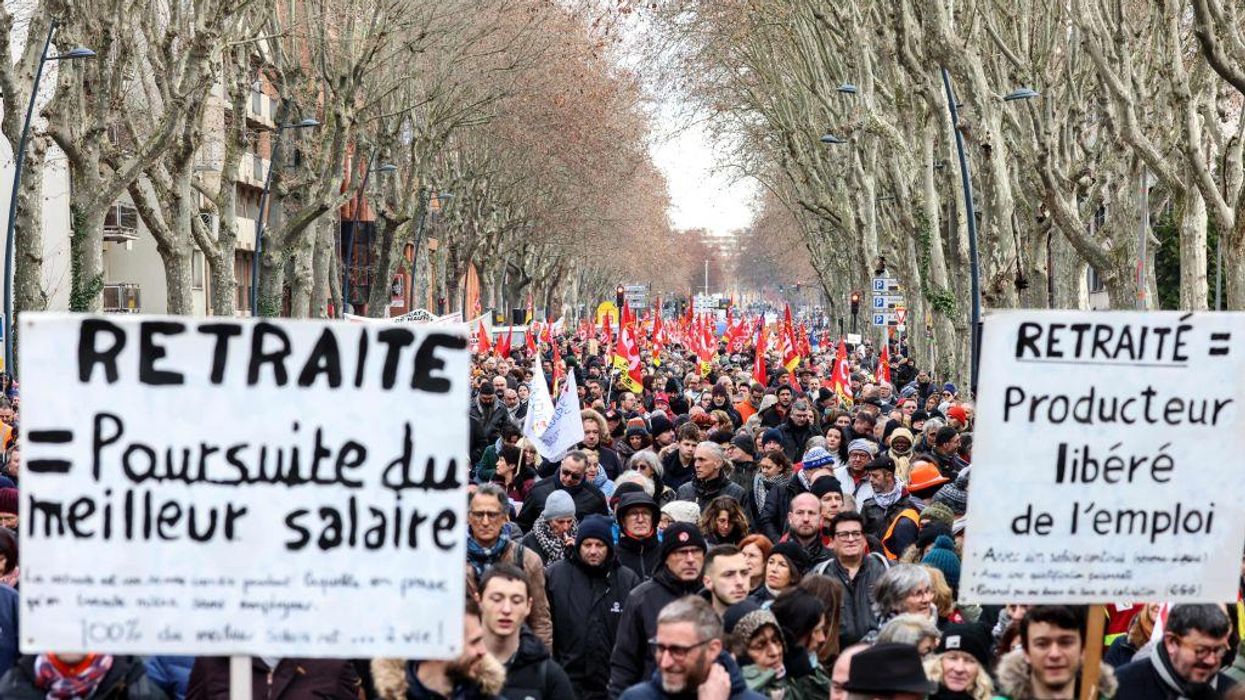 "If there is no positive response from the government, today is a first step, and there will be a second step," said one union leader.
The streets of France filled with outraged workers on Thursday as rail employees, teachers, and others walked off the job to protest President Emmanuel Macron's deeply unpopular plan to overhaul the nation's pension system by raising the official retirement age from 62 to 64.
The union-led demonstrations—which ground significant portions of the country, including many schools and transportation systems, to a halt—come as Macron is attempting to steamroll far-reaching opposition to his pension overhaul, declaring that "we must work longer."
Macron's government formally presented its draft law last week, the first step in the process of enacting a reform that would force French citizens to work longer to qualify for a full pension.

"Today Is a First Step"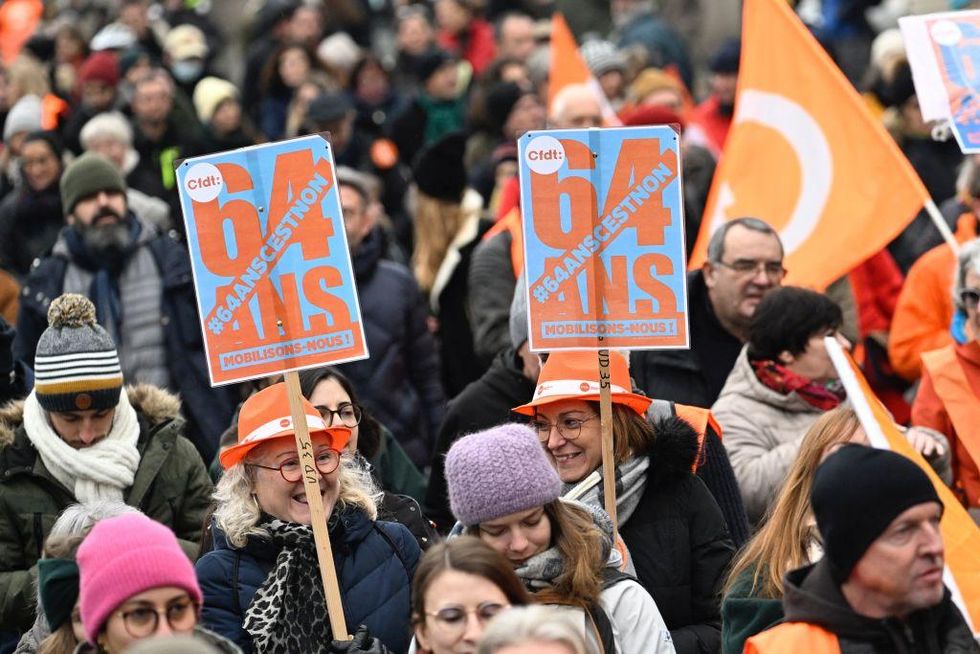 (Photo: Damien Meyer/AFP via Getty Images)
Philippe Martinez, the head of France's General Confederation of Labor union, told reporters that Thursday's strikes are just the beginning of widespread worker unrest if Macron doesn't abandon his attempt to hike the retirement age by 2030.
"If there is no positive response from the government, today is a first step, and there will be a second step," Martinez declared ahead of a march in Paris.
Eric Sellini, the union's coordinator for the French petroleum company TotalEnergies, echoed that sentiment.
"For the moment, we're sticking to our schedule," Sellini said. "Depending on how the situation in the country evolves, and if employees don't want to stop the strike, there could be an extension."
Reutersreported Thursday that the mass protests "led to a substantial fall in electricity output and halted deliveries from refineries operated by TotalEnergies and Esso."
"The CGT union expects that at least 70% of its refinery sector employees at TotalEnergies' four refining sites have joined the strike in opposition to the government plan to raise the retirement age," the outlet noted.
French unions also estimated that around 70% of the country's primary schoolteachers were on strike Thursday.

Broadly Unpopular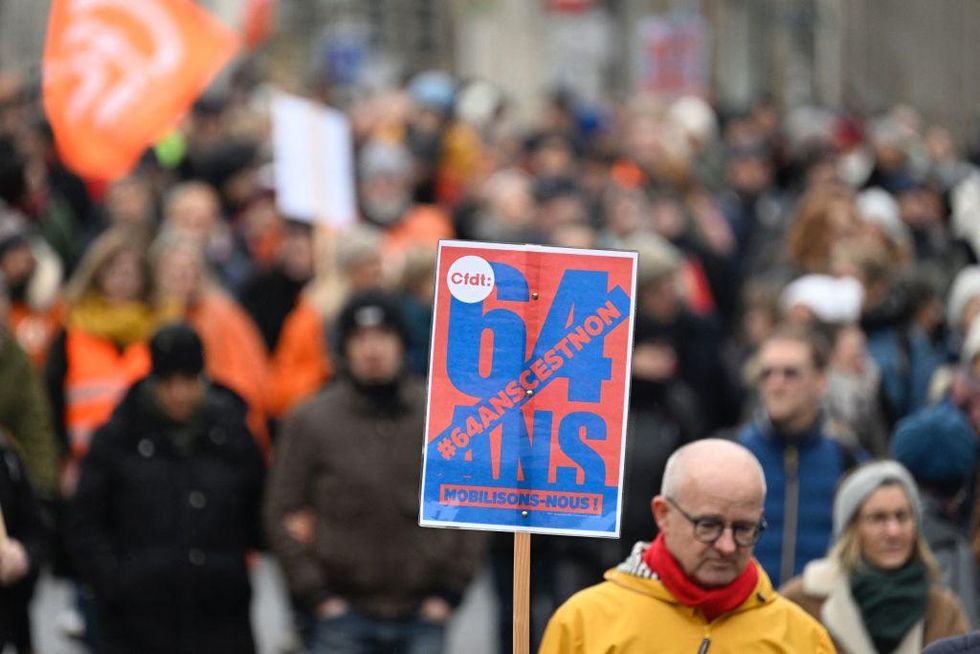 (Photo: Damien Meyer/AFP via Getty Images)
A survey conducted earlier this month by the polling firm Elabe found that roughly three-fifths of the French public opposes Macron's proposed pension overhaul, the latest iteration of a plan that the president has repeatedly put forth and subsequently delayed due to furious opposition.
"When he sought reelection last year amid an emboldened far right, Macron sent mixed messages on the issue," The Washington Postreported. "After first announcing that he wanted to raise the minimum retirement age even higher than planned, from 62 to 65, he later backtracked and said that '65 years is not a dogma.'"
"Time for Macron to Withdraw His Reform"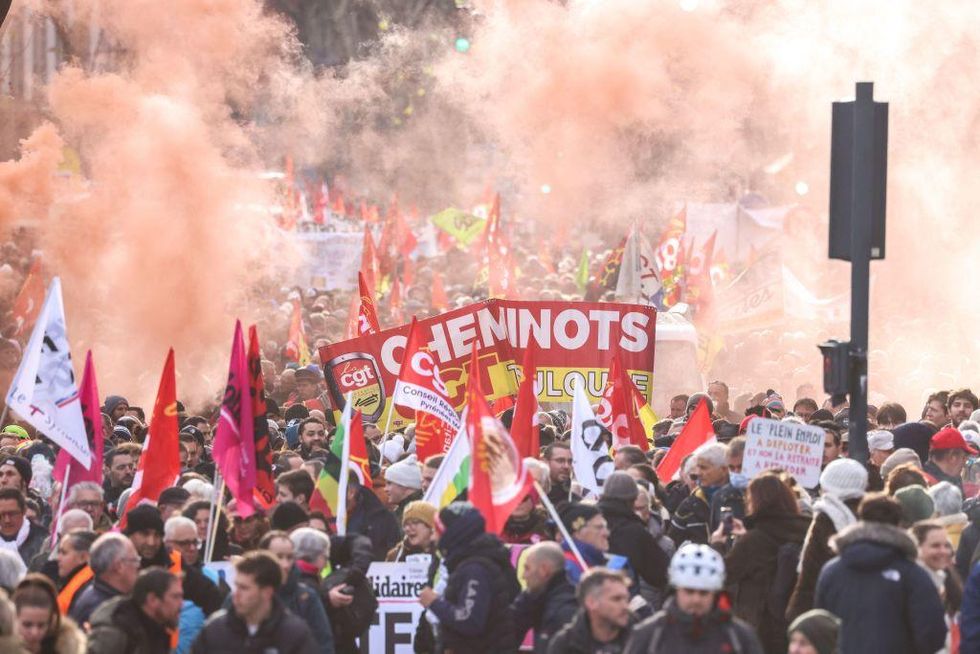 (Photo: Charly Triballeau/AFP via Getty Images)
Opponents of the pension attack—including the leftist leader of the France Unbowed party, Jean-Luc Mélenchon—are pushing Macron to drop the proposal for good as mass protests signal sustained opposition from workers.
"It is time for Macron to withdraw his reform," Mélenchon said Thursday.
News
The program "presents a threat to the integrity of traditional Medicare, and an opportunity for corporations to take money from taxpayers while denying care to beneficiaries," said Physicians for a National Health Program.
A national physician group this week called for the complete termination of a Medicare privatization scheme that the Biden White House inherited from the Trump administration and later rebranded—while keeping intact its most dangerous components.
Now known as the Accountable Care Organization Realizing Equity, Access, and Community Health (ACO REACH) Model, the experiment inserts a for-profit entity between traditional Medicare beneficiaries and healthcare providers. The federal government pays the ACO REACH middlemen to cover patients' care while allowing them to pocket a significant chunk of the fee as profit.
The rebranded pilot program, which was launched without congressional approval and is set to run through at least 2026, officially began this month, and progressive healthcare advocates fear the experiment could be allowed to engulf traditional Medicare.
In a Tuesday letter to Health and Human Services Secretary Xavier Becerra and Centers for Medicare and Medicaid Services Administrator Chiquita Brooks-LaSure, Physicians for a National Health Program (PNHP) argued that ACO REACH "presents a threat to the integrity of traditional Medicare, and an opportunity for corporations to take money from taxpayers while denying care to beneficiaries."
The group, which advocates for a single-payer healthcare system, voiced alarm over the Biden administration's decision to let companies with records of fraud and other abuses take part in the ACO REACH pilot, which automatically assigns traditional Medicare patients to private entities without their consent.
CMS said in a press release Tuesday that "the ACO REACH Model has 132 ACOs with 131,772 healthcare providers and organizations providing care to an estimated 2.1 million beneficiaries" for 2023.
"As we have stated, PNHP believes that the REACH program threatens the integrity of traditional Medicare and should be permanently ended," Dr. Philip Verhoef, the physician group's president, wrote in the new letter. "Whether or not one agrees with this statement, we should all be able to agree that companies found to have violated the rules have no place managing the care of our Medicare beneficiaries."
Among the concerning examples PNHP cited was Clover Health, which has operated so-called Direct Contracting Entities (DCEs)—the name of private middlemen under the Trump-era version of the Medicare pilot—in more than a dozen states, including Arizona, Florida, Georgia, and New York.
PNHP noted that in 2016, CMS fined Clover—a large Medicare Advantage provider—for "using 'marketing and advertising materials that contained inaccurate statements' about coverage for out-of-network providers, after a high volume of complaints from patients who were denied coverage by its MA plan. Clover had failed to correct the materials after repeated requests by CMS."
Humana, another large insurer with its teeth in the Medicare privatization pilot, "improperly collected almost $200 million from Medicare by overstating the sickness of patients," PNHP observed, citing a recent federal audit.
"It appears that in its selection process [for ACO REACH], CMS did not prevent the inclusion of companies with histories of such behavior," Verhoef wrote. "Given these findings, we are concerned that CMS is inappropriately allowing these DCEs to continue unimpeded into ACO REACH in 2023."
\u201cOur full letter to the @HHSGov secretary and @CMSGov administration highlighting troubling trends in Direct Contracting and REACH, and asking them to cancel this failed experiment: https://t.co/fnAT18CAtr\u201d

— Physicians for a National Health Program (@Physicians for a National Health Program) 1674090685
While the Medicare pilot garnered little attention from lawmakers when the Trump administration first launched it during its final months in power, progressive members of Congress have recently ramped up scrutiny of the program.
Last month, Sen. Elizabeth Warren (D-Mass.) and Rep. Pramila Jayapal (D-Wash.) led a group of lawmakers in warning that ACO REACH "provides an opportunity for healthcare insurers with a history of defrauding and abusing Medicare and ripping off taxpayers to further encroach on the Medicare system."
"We have long been concerned about ensuring this model does not give corporate profiteers yet another opportunity to take a chunk out of traditional Medicare," the lawmakers wrote, echoing PNHP's concerns. "The continued participation of corporate actors with a history of fraud and abuse threatens the integrity of the program."
News
SUPPORT OUR WORK.
We are independent, non-profit, advertising-free and 100%
reader supported.