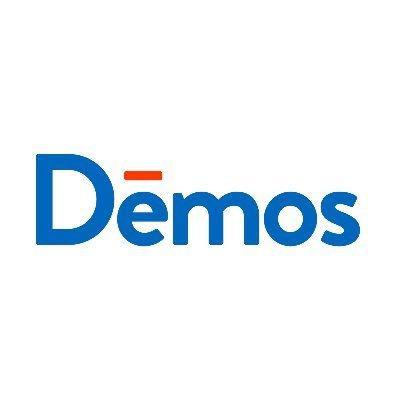 Credit Card Accountability Act Reintroduced in Senate
Demos Calls for Swift Enactment of Protections for Besieged Credit Card Customers
WASHINGTON
This week, Senator Chris Dodd (D-CT), Chairman of the Senate Committee on Banking, Housing and Urban Affairs, re-introduced The Credit Card Accountability, Responsibility and Disclosure Act ("the Credit CARD Act"). The legislation would outlaw several abusive lending practices in the credit card market. Tamara Draut, Vice President for Policy and Programs at Demos, a non partisan policy center that supports legislative measures to re-regulate the credit card industry and bolster the household economy, issued the following statement on the legislation:
"America's families are facing a dire economy, and this bill couldn't come at a better time. As the consequences of the subprime meltdown spread, banks are openly increasing interest rates and fees on their credit card customers in order to cover losses in other areas. The only reason this is possible is because in the absence of almost any regulation, issuers have tilted the playing field heavily in their favor.
"The Credit CARD Act would level the playing field between borrower and lender by putting an end to some of the most arbitrary, abusive, and unfair credit card lending practices that trap consumers-particularly disadvantaged and minority borrowers-in an unending cycle of costly debt. The bill would:
* Protect consumers from "any time, any reason" interest rate increases and account changes;
* Prohibit unfair application of card payments;
* Protect cardholders who pay on time;
* Limit fees and penalties;
* Ensure that cardholders are informed of the terms of their account; and
* Protect young consumers from credit card solicitations.
"Demos research shows that inequitable credit card underwriting practices have shifted the cost of credit to individuals least able to afford it, while at the same time generating some of the highest profits in the entire banking sector. Low-income families and households of color, primarily African Americans and Latinos, bear the brunt of the cost of credit card deregulation through excessive fees and high interest rates.
"Last fall, a similar measure known as H.R. 5244 in the 110th Congress, was passed overwhelmingly by the House of Representatives in September 2008 with bipartisan support-a vote of 312 to 112, with 84 Republicans joining Democrats to support the bill Unfortunately, the Senate did not have time to take up the bill before the end of the legislative session. Although the Federal Reserve and other bank regulators issued a rule in December 2008 that would prohibit many of the same unfair practices, the rule does not take effect until July 2010, giving credit card companies 18 months to proceed unchecked and delaying relief for millions of American consumers. The legislation introduced this week would establish important protections in the midst of the worsening economic crisis.
"Now that our regulating agencies have acknowledged that credit card issuers need to be brought back into line, it is up to Congress to stand up for beleaguered consumers. We look forward to working with members of the House and the Senate to speed relief to millions of Americans struggling to stay afloat in the midst of recession."
For more information on Demos' economic research, visit www.demos.org
Demos is a think tank that powers the movement for a just, inclusive, multiracial democracy. Through cutting-edge policy research, inspiring litigation, and deep relationships with grassroots organizations, Demos champions solutions that will create a democracy and economy rooted in racial equity.
LATEST NEWS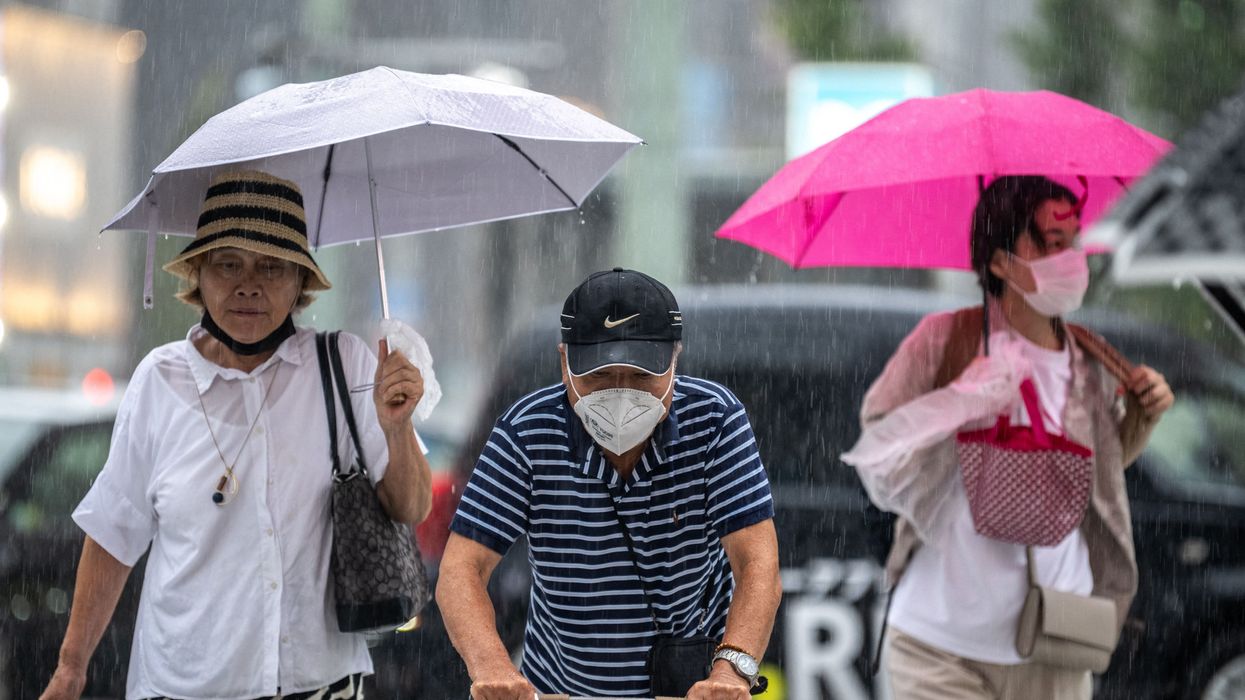 "If the issue of 'plastic air pollution' is not addressed proactively, climate change and ecological risks may become a reality, causing irreversible and serious environmental damage in the future," the study's lead author warned.

They're in the world's water, air, food, and even in our blood—and now researchers in Japan have discovered microplastics in clouds, raising the specter of super-contaminating "plastic rainfall" and possibly affecting the Earth's climate.
Analyzing cloud water samples from high-altitude mountains in Japan including Mt. Fuji, researchers from Waseda University in Tokyo found nine different types of polymers and one type of rubber in the airborne microplastics (AMPs) they detected.
"Research shows that large amounts of microplastics are ingested or inhaled by humans and animals alike and have been detected in multiple organs such as lung, heart, blood, placenta, and feces," notes a summary of the study, which was originally published in the journal Environmental Chemistry Letters.
"Ten million tons of these plastic bits end up in the ocean, released with the ocean spray, and find their way into the atmosphere," the summary continues. "This implies that microplastics may have become an essential component of clouds, contaminating nearly everything we eat and drink via 'plastic rainfall.'"
Earlier this year, researchers from the Indian Institute of Technology, Patna discovered AMPs in the city of Patna's rainwater, with polyethylene, terephthalate, and polypropylene being the most common polymers found.
In the Japanese study, the researchers found that "the presence of hydrophilic (water-loving) polymers in the cloud water was abundant, suggesting that they were removed as 'cloud condensation nuclei.'"
"These findings confirm that AMPs play a key role in rapid cloud formation, which may eventually affect the overall climate," they added.
Accumulation of AMPs in the atmosphere—especially around the Earth's poles—could also upset the planet's ecological balance, with devastating effects on biodiversity.
"AMPs are degraded much faster in the upper atmosphere than on the ground due to strong ultraviolet radiation, and this degradation releases greenhouse gases and contributes to global warming," Waseda University professor Hiroshi Okochi, who led the study, said in a statement. "As a result, the findings of this study can be used to account for the effects of AMPs in future global warming projections."
"If the issue of 'plastic air pollution' is not addressed proactively, climate change and ecological risks may become a reality, causing irreversible and serious environmental damage in the future," Okochi added.
News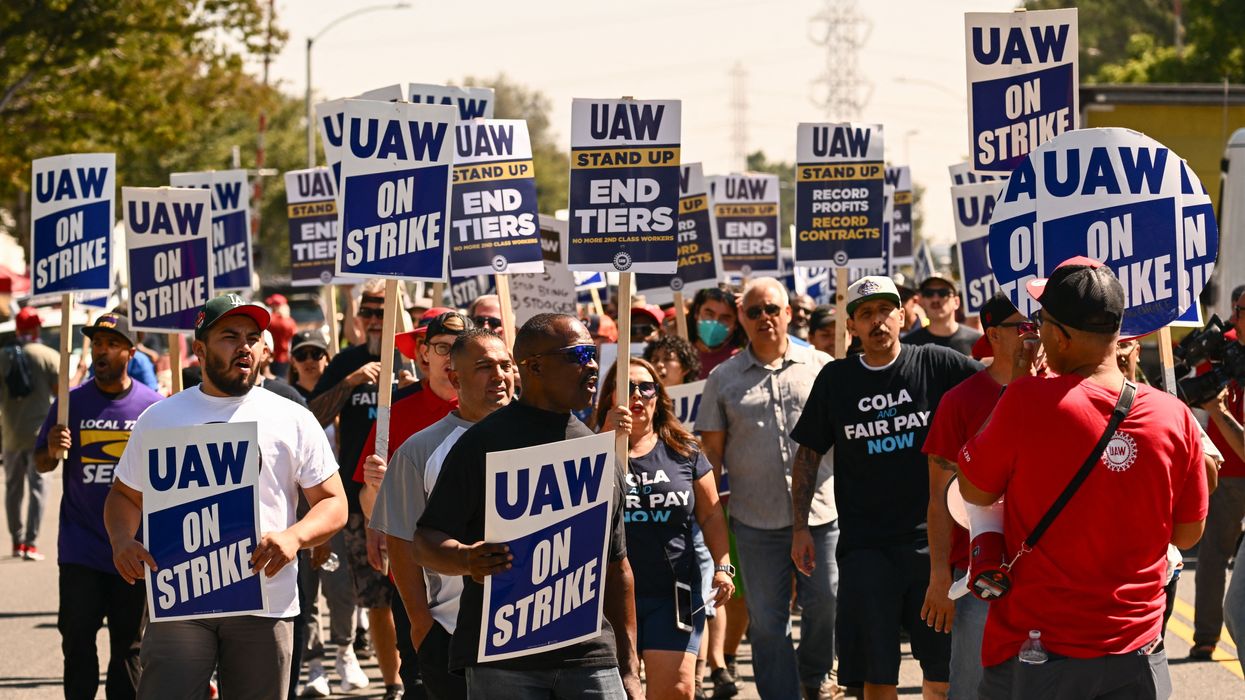 "What we win at the bargaining table depends on the power we build on the job," said United Auto Workers president Shawn Fain. "It's time to use that power."
The United Auto Workers expanded its strikes against Ford and General Motors on Friday, calling on nearly 7,000 additional members in Michigan and Illinois to walk off the job as the union looks to ramp up pressure on the companies to deliver stronger wage and benefit proposals.
The union opted not to expand its walkouts against Chrysler parent company Stellantis, citing progress in recent bargaining sessions on cost-of-living adjustments, the right to strike over plant closures, and other issues.
"Sadly, despite our willingness to bargain, Ford and GM have refused to make meaningful progress at the table," UAW president Shawn Fain said in a video update posted to social media on Friday. "To be clear, negotiations haven't broke down. We're still talking with all three companies, and I'm still very hopeful that we can reach a deal that reflects the incredible sacrifices and contributions our members have made over the last decade."
"But I also know that what we win at the bargaining table depends on the power we build on the job," said Fain. "It's time to use that power."
Friday's walkouts brought the total number of UAW members on strike at the Big Three U.S. car manufacturers to roughly 25,000—nearly double the number of workers who walked off the job on the first day of the strikes two weeks ago.
Survey data released earlier this week showed public support for the strikes has grown since their launch earlier this month. Last week, UAW members walked out at every General Motors and Stellantis parts distribution facility in the U.S.

As part of its "stand-up strike" strategy, the UAW is expected to continue steadily expanding its walkouts at strategic locations throughout the country in an effort to give negotiators more leverage to pursue the union's demands at the bargaining table.
"We will not be intimidated into backing down by the companies or scabs," Fain said Friday. "Our cause is just. Striking for a better future, to protect our communities, and to defeat corporate greed is not just our right, it's our duty."
"We will win. Our strategy is working," said Fain. "Our solidarity is the most powerful force in the world. When we stand together, united in the cause of social and economic justice, there's nothing we can't do."

News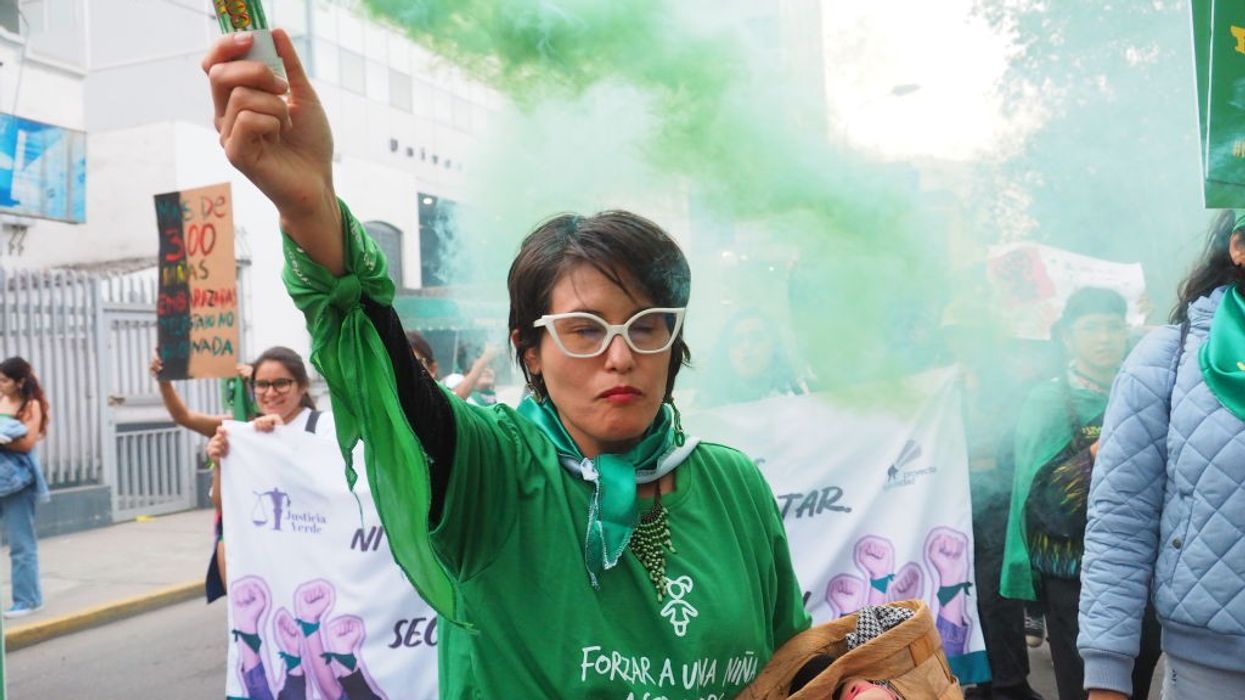 One activist in Mexico said the country's green wave movement now had the task of "decriminalizing abortion in the minds of the people."
Tens of thousands of women marched through major Latin American cities Thursday to celebrate wins and push for more rights on International Safe Abortion Day.
The protests come weeks after a major victory for the region's Green Wave reproductive freedom movement, when Mexico's Supreme Court decriminalized abortion.
"It's absolutely an achievement," Fernanda Castro, an organizer at womens' rights group GIRE that brought the case before the court, toldThe Associated Press. "And now we have another even more important fight—decriminalizing abortion in the minds of the people."
Marchers in Brazil hoped they might be next to celebrate, as the nation's highest court is currently considering a case that could decriminalize abortion until up to 12 weeks. As of now, it is only allowed in cases of rape or birth defects.
Brazil's Supreme Federal Court President Rosa Weber voted in favor of permitting abortion until up to 12 weeks and then retired, La Prensa Latinaexplained. Now the entire court must rule in while conservative lawmakers want to put the question to a referendum vote.
"The green wave is going to keep growing and (Brazilian women) are not alone," Castro told AP.
"Movements like Latin America's awe-inspiring Green Wave movement to decriminalize and legalize abortion are effectively changing laws and cultural norms across the globe."
In other countries, demonstrators stood vigilant against rollbacks. In Santiago, Chile, women protested a proposal to repeal the country's existing abortion law that allows for exceptions in cases of rape, incest, or the health of the mother.
Such a repeal would be a "serious setback in the sexual and reproductive rights of women," Minister of Women and Gender Equality Antonia Orellana told La Prensa Latina.
Reproductive rights defenders in Argentina are fighting to preserve protections won three years ago when the Senate voted to legalize abortion. Right-wing candidate Javier Milei, who is leading in the polls ahead of October's election, opposes abortion and has promised to put the question to a national referendum, AP pointed out. He has also criticized free gender-affirming medical care and mandatory sexual education.
"More than winning more rights, this is about protecting them. The most important thing is to protect what's already there," art student Sara Rivas told AP.
El Salvador is one of four countries—the others being Nicaragua, Poland, and the U.S.—that have rolled back or ended legal abortion protections in the last three decades, according to the Center for Reproductive Rights. There, abortion is banned even if the mother's health is in jeopardy, and women can face up to 30 years in prison for misscarrying, according to La Prensa Latina.
Activists from the Feminist Assembly gathered in El Salvador to oppose the status quo. One protester, Liseth Alas, called for "legislation that allows safeguarding the life and health of girls and women in the country," La Prensa Latina reported.
Overall, however, the Center for Reproductive Rights said the region offered hope for the global push for abortion access.
"Movements like Latin America's awe-inspiring Green Wave movement to decriminalize and legalize abortion are effectively changing laws and cultural norms across the globe, building momentum and creating new legal frameworks that we can use to make change in every country," the group posted on social media Thursday.
News
Independent, nonprofit journalism needs your help.
Please Pitch In
Today!