Iraqi Gov't Leaders Fear Obama?
Fadel: Iraqi officials fear unconditional support from U.S. Oval Office will end with Obama Pt5/5
WASHINGTON
In our final segment with McClatchy Baghdad Bureau Chief, Leila Fadel
we discuss the feasibility of the U.S. withdrawing from Iraq by 2011
and what could be expected if they do.
"With
this new agreement, so much will change," says Fadel although she does
note that this is conditional upon the Arab version of the agreement
being honored. According to Fadel this agreement will no longer
require Iraq to uphold any pretense of respect for the U.S. stating,
"There is no promise that Iraq will stay a friendly nation when we
leave."
With the new American president on the door step of the White
House, Fadel says historically Iraq has always felt that "the face of
the American White House changes but the policy never does." With
President elect Obama this may not be the case. She feels that "the
Iraqi government is very afraid, very afraid because under the Bush
administration they had almost a blank cheque policy" which garnered
them the support of a Bush administration who in this new agreement
"negotiated as if they were the weaker power."
With the new President, Fadel says "They (Iraq) won't have
unconditional support," and she believes that the new presidency was
"part of the reason they had to sign this (agreement) and get it
through and finished."
For complete coverage of this story visit our website:
Leila Fadel, Chief of McClatchy's Baghdad Bureau reports on Iraq
The Real News Network is a television news and documentary network focused on providing independent and uncompromising journalism. Our staff, in collaboration with courageous journalists around the globe, will investigate, report and debate stories on the critical issues of our times. We are viewer supported and do not accept advertising, government or corporate funding.
LATEST NEWS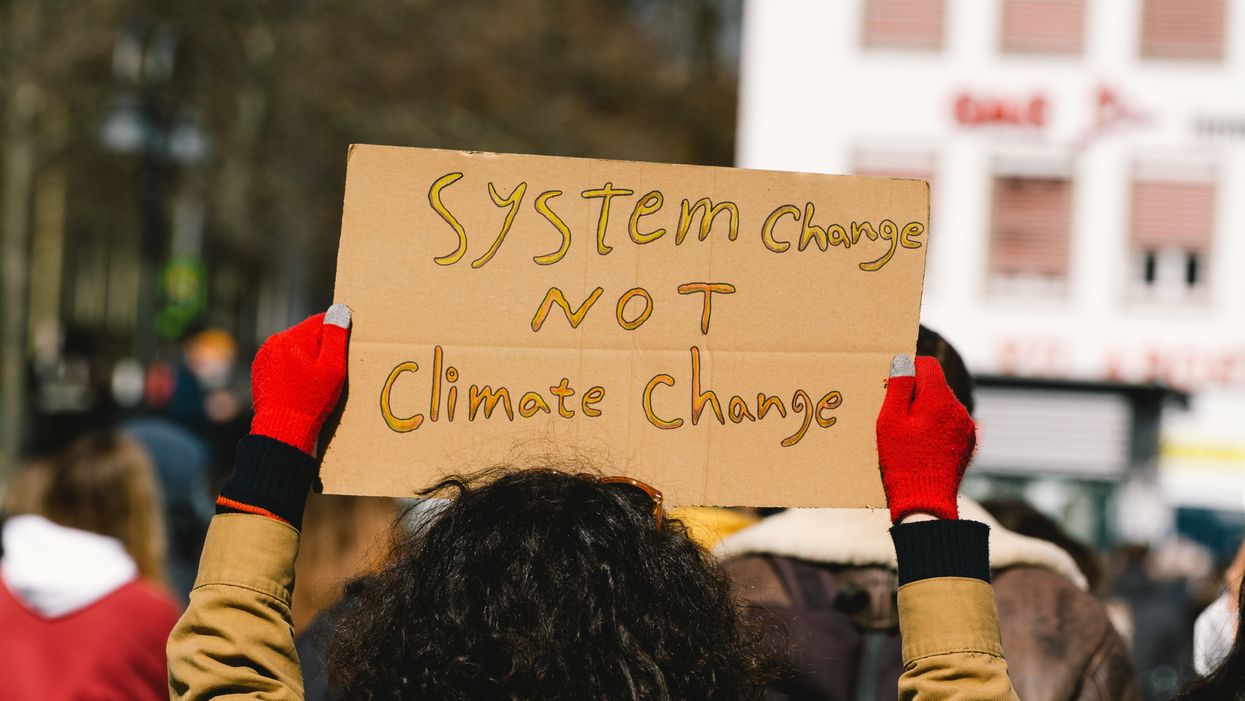 "Promoting the utilization of captured CO2 in petrochemicals, plastics, and fuels, as your legislation would encourage, will perpetuate environmental justice harms and subsidize the oil and gas industry to do it."
More than 100 organizations on Monday urged the congressional sponsors of a new proposal that would boost the tax credit for certain carbon capture projects to shift their focus to solutions that will actually address the fossil fuel-driven climate emergency.
The groups—including 350.org, Beyond Plastics, Center for Biological Diversity, Food & Water Watch, Indigenous Environmental Network, Physicians for Social Responsibility, Science and Environmental Health Network (SEHN), and Waterspirit—oppose the Captured Carbon Utilization Parity Act (S. 542/H.R. 1262).
Introduced last week by Sens. Sheldon Whitehouse (D-R.I.) and Bill Cassidy (R-La.) and Reps. David Schweikert (R-Ariz.) and Terri Sewell (D-Ala.), the legislation would increase the 45Q tax credit for carbon capture and utilization (CCU) "to match the incentives for carbon capture and storage (CCS) for both direct air capture (DAC) and the power and industrial sectors."
The groups sent a letter to the four sponsors arguing that:

This bill does not advance climate solutions, but is rather a giveaway to fossil fuel companies and other corporate polluters under the guise of climate action. Promoting the utilization of captured CO2 in petrochemicals, plastics, and fuels, as your legislation would encourage, will perpetuate environmental justice harms and subsidize the oil and gas industry to do it. Rather than perpetuating these climate scams, we encourage you to support the elimination of subsidies for the fossil fuel industry instead of enriching them through carbon capture schemes.
In addition to stressing that such projects consume a lot of water while producing emissions and chemical waste—further endangering frontline communities that are disproportuantely home to people of color and low-income individuals—the organizations pointed out that "carbon capture has a long history of overpromising and under-delivering."

"The overwhelming majority of captured carbon to date has been used to increase oil production via enhanced oil recovery (EOR)," the letter highlights. "The myth of a massive carbon management paradigm that uses and re-uses carbon dioxide on any large scale serves only to greenwash the reality of how carbon dioxide is used: for oil production."

"As laid bare in an investigation from the U.S. Treasury Inspector General for Tax Administration, the 45Q tax credit is rife with abuse as credits are improperly claimed," the letter further notes. "Moreover, documents uncovered by the House Oversight Committee's investigation into major oil companies and climate disinformation revealed that the biggest proponents of CCS also understand the technology to be costly, ineffective, and requiring continued and increasing government subsidization."

"The myth of a massive carbon management paradigm that uses and re-uses carbon dioxide on any large scale serves only to greenwash the reality of how carbon dioxide is used: for oil production."
Citing a report from the United Nations' Intergovernmental Panel on Climate Change, the organizations also explained that "in contrast to things like solar power and batteries, carbon capture is not the kind of technology that gets significantly cheaper over time, and increasing public subsidies to spark a carbon management industry will not result in a self-sustaining system."

According to dozens of groups representing communities across the country, "The carbon utilization fantasy should be abandoned, with focus restored on the solutions we know will help combat the climate crisis, like renewable energy and storage, electrification, energy efficiency, real zero-waste materials systems, agroecology, and more."
SEHN executive director Carolyn Raffensperger told Common Dreams that her group is supporting the letter "because carbon capture use and sequestration (CCUS) is the fossil fuel industry's diabolical plan to line its investors' pockets with public money" and "the antithesis of a climate solution in that it delays real, tried and true solutions."
"Further, the entire 45Q tax credit program turns sound environmental policy on its head: Instead of requiring the polluter to pay for its damage, 45Q tax credits pay the polluter to pollute," Raffensperger added. Pointing to proposed CO2 pipelines in Iowa, she said:
Keenly aware of the climate crisis, we investigated the claims that industry was making that we could address climate by putting a big machine on top of various polluting facilities and transporting the CO2 across the countryside and burying it deep underground. What we discovered was that the entire enterprise would require more energy than the original facility required. It will disrupt farm land and pose grave risks in case of a pipeline rupture. Even worse, we found that this vast complex system of carbon capture, transportation, and either use or disposal is horribly under-regulated by [the Environmental Protection Agency], the Pipeline and Hazardous Materials Safety Administration, the [Internal Revenue Service], and others. The frosting on this toxic cake is that the public pays the fossil fuel industry with public money and the public gets no climate benefit. If anything, CCUS makes climate change worse.
"Heed the lessons of the recent train derailment and pipeline disasters. That is, fix the regulatory mess before pouring money into 45Q tax credits," she urged U.S. lawmakers. "The tax credits are like shoveling coal into the boiler of a runaway train."
As Rachel Dawn Davis, public policy and justice organizer at Waterspirit, said Monday in an email to Common Dreams, independent science has already shown that investments in carbon capture "would be a waste of money and time," and "we are experiencing the sixth mass extinction; we have no time to continue wasting."

"If we are to provide a livable future for current and future generations of young people and all creation, we must invest solely in renewable energy, not furthering fossil fuel fallacies," she emphasized. "Subsidies going to the most heinous polluters are only continuing through this legislation; congressional representatives must know better by now."
News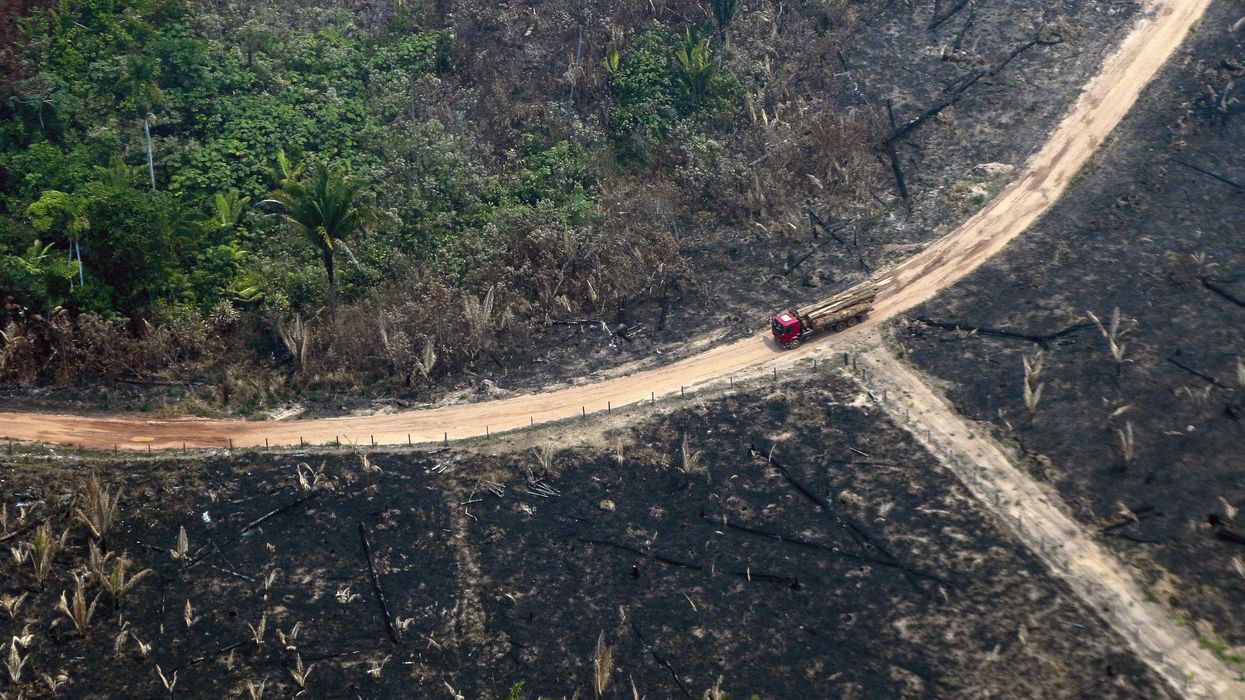 "Did you sprinkle a little collagen in your smoothie this morning? Might be worth looking into where it came from," said one reporter.
Global demand for collagen—touted as an anti-aging "wonder product"—is driving deforestation and abuses against Indigenous people in Brazil, an investigation published Monday revealed.
The investigation—which involved numerous media outlets and organizations including the Bureau of Investigative Journalism (TBIJ), the Pulitzer Center's Rainforest Investigations Network, the Center for Climate Crime Analysis, ITV, O Joio e O Trigo, and The Guardian—is the first to link bovine collagen with tropical forest loss and violence against Indigenous people, according to its collaborators.
"While collagen's most evangelical users claim the protein can improve hair, skin, nails, and joints, slowing the aging process, it has a dubious effect on the health of the planet," Elisângela Mendonça, Andrew Wasley, and Fábio Zuker wrote in the report.
"Collagen can be extracted from fish, pig and cattle skin, but behind the wildly popular 'bovine' variety in particular lies an opaque industry driving the destruction of tropical forests and fueling violence and human rights abuses in the Brazilian Amazon," the trio added.
\u201cEXCLUSIVE \ud83c\udf0eWe spent months digging into the supply chains for Brazilian bovine collagen \n\nSpoiler alert: they are highly complicated, with numerous middlemen involved, but unlike beef, soy& palm oil, collagen companies have no obligation to track their environmental impacts yet.\u201d

— Elis\u00e2ngela Mendon\u00e7a (@Elis\u00e2ngela Mendon\u00e7a) 1678107982
The report's authors linked at least 1,000 square miles of deforestation to the supply chains of two major Brazilian players in the $4 billion annual collagen industry. Some of the collagen is tied to Vital Proteins, a Nestlé-owned U.S. brand whose chief creative officer is the actress Jennifer Aniston.
Collagen is called a "byproduct" of the cattle industry, which is responsible for 80% of deforestation in the Brazilian Amazon. But experts interviewed for the report said that the "byproduct" narrative is largely a myth.
"I wouldn't call any of them byproducts," Rick Jacobsen, commodity policy manager at the U.K.-based Environmental Investigation Agency, told the report's authors. "The margins for the meat industry are quite narrow, so all of the saleable parts of the animal are built into the business model."
\u201cDid you sprinkle a little collagen in your smoothie this morning? Might be worth looking into where it came from. Fantastic/horrifying investigation from @lilimendonca + colleagues #Brazil https://t.co/R9zbcysBnQ\u201d

— Stephanie Nolen (@Stephanie Nolen) 1678115903
The publication also cast doubt on claims made by collagen promoters.

The Guardian reports:
While there are studies suggesting taking collagen orally can improve joint and skin health, Harvard School of Public Health cautions potential conflicts of interest exist as most if not all of the research is either funded by the industry or carried out by scientists affiliated with it.

Collagen companies have no obligation to track its environmental impacts. Unlike beef, soya, palm oil, and other food commodities, collagen is also not covered by forthcoming due diligence legislation in the [European Union and United Kingdom] designed to tackle deforestation.
"It's important to ensure that this type of regulation covers all key products that could be linked to deforestation," Jacobsen stressed.

Nestlé responded to the report by stating it has contacted its collagen supplier to look into the investigation's claims, while assuring it is working to "ensure its products are deforestation-free by 2025."
Vital Proteins told its buyers after TBIJ contacted them for comment that it would "end sourcing from the Amazon region effective immediately."
In addition to harming the environment, the collagen industry is fueling human rights crimes, Indigenous leaders and other critics say.
\u201c\ud83d\udea8REVEALED: #Nestl\u00e9 brand sells collagen linked to deforestation and invasion of Indigenous lands in Brazil. \n\n@pulitzercenter RIN Fellow @lilimendonca, @ZukerFabio & @Andrew_Wasley report for @TBIJ. Read here \ud83d\udc49 https://t.co/z0kxMJFnO8 \n\n\u2795 \ud83e\uddf5 1/5\u201d

— Rainforest Investigations Network (RIN) (@Rainforest Investigations Network (RIN)) 1678111914
As Mendonça, Wasley, and Zuker noted:
With sales of beef, leather, and collagen booming, more and more forest has been felled and replaced by pastures in recent years, with land often seized illegally. Virtual impunity for land-grabbing during the [former President Jair] Bolsonaro government also fueled attacks on traditional communities. In 2021, the third year of his presidency, there were 305 invasions of Indigenous lands. This is three times more than the 2018 figures reported by the Catholic Church's Indigenous Missionary Council.
"No cattle ranching expansion in the Amazon can take place without violence," Bruno Malheiro, a geographer and professor at the Federal University of Southern and Southeastern Pará, told the authors.
In January—his first month in office—leftist Brazilian President Luiz Inácio Lula da Silva, who has vowed to protect Indigenous peoples and rainforests from deforestation, oversaw a 61% drop in forest destruction over 2022 levels.
Kátia Silene Akrãtikatêjê, leader of the Akrãtikatêjê Gavião Indigenous people, said her constituents feel "surrounded" and "suffocated" in a "process of territorial confinement" amid creeping deforestation. Last September, a Gavião village was burned to the ground, and residents believe it was no accident.
Land capitalists "destroy what is theirs, and invade what is ours," the Akrãtikatêjê Gavião chief said. "I can't understand why they destroy everything."

News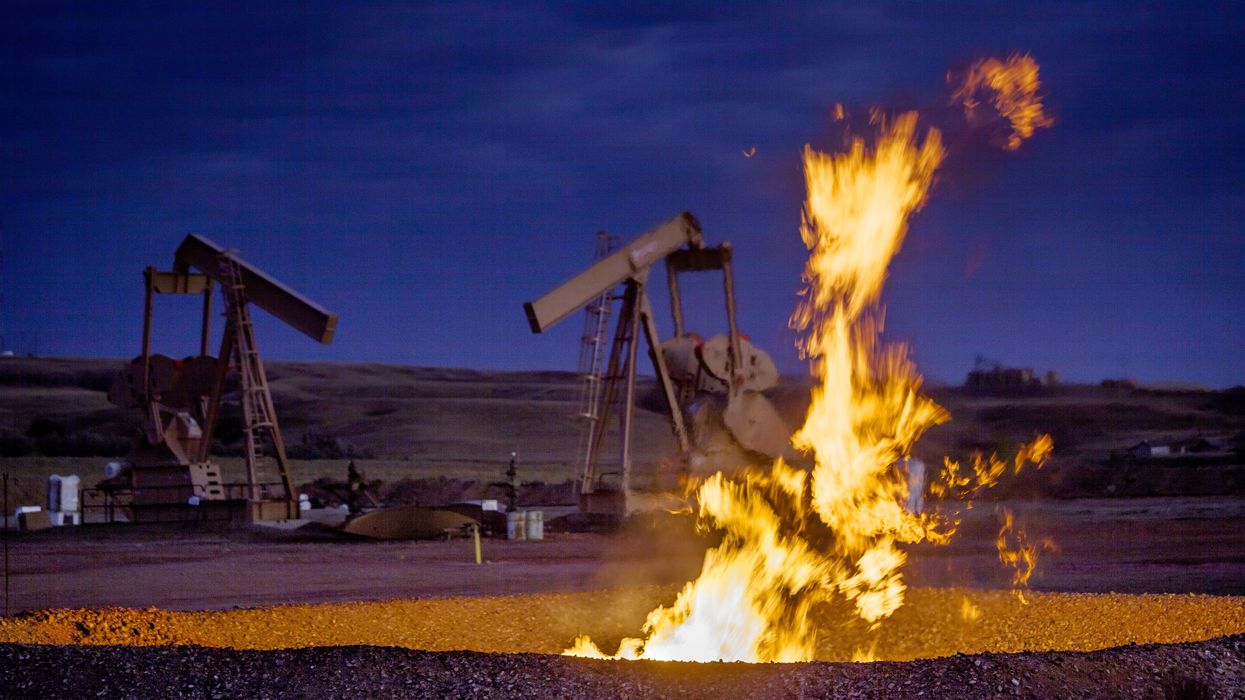 "The current rise in methane looks very scary indeed," said one researcher. "So removing the super-emitters is a no-brainer to slow the rise—you get a lot of bang for your buck."
More than 1,000 "super-emitter" incidents—human-caused methane leaks of at least one tonne per hour—were detected worldwide last year, mostly at oil and gas facilities, and policymakers must prioritize cutting this planet-heating pollution to avoid "triggering catastrophic climate tipping points."
That's according to Monday reporting from The Guardian, which also warned of the risks posed by 55 global "methane bombs," which are defined as "fossil fuel extraction sites where gas leaks alone from future production would release levels of methane equivalent to 30 years of all U.S. greenhouse gas emissions."
Emissions and atmospheric concentrations of methane—a potent gas that traps roughly 80 times more heat than carbon dioxide (CO2) over a 20-year period—have soared at an alarming rate in recent years and are responsible for an estimated 30% of global warming today. This surge jeopardizes the goal of limiting temperature rise to 1.5°C above preindustrial levels—beyond which impacts of the climate emergency will grow increasingly dire, especially for the world's poor who have done the least to cause the deadly crisis.
But at the same time, swiftly slashing methane pollution represents one of humanity's best opportunities for lifesaving climate action. Reducing methane emissions by 45% by 2030 would prevent 0.3°C of heating by the 2040s, according to the United Nations Environment Program, which says achieving this is entirely possible with enough political will.
"The current rise in methane looks very scary indeed," earth scientist Euan Nisbet of Royal Holloway, University of London, told The Guardian. "Methane acceleration is perhaps the largest factor challenging our Paris agreement goals. So removing the super-emitters is a no-brainer to slow the rise—you get a lot of bang for your buck."
According to The Guardian:
The methane super-emitter sites were detected by analysis of satellite data [conducted by the company Kayrros], with the U.S., Russia, and Turkmenistan responsible for the largest number from fossil fuel facilities. The biggest event was a leak of 427 tonnes an hour in August, near Turkmenistan's Caspian coast and a major pipeline. That single leak was equivalent to the rate of emissions from 67 million cars, or the hourly national emissions of France.

Future methane emissions from fossil fuel sites—the methane bombs—are also forecast to be huge, threatening the entire global "carbon budget" limit required to keep heating below 1.5°C. More than half of these fields are already in production, including the three biggest methane bombs, which are all in North America.

The fossil fuel industry is responsible for about 40% of annual anthropogenic methane emissions, compared with roughly 40% from industrial agriculture and another 20% from rotting waste in landfills.
But "tackling leaks from fossil fuel sites is the fastest and cheapest way to slash methane emissions," The Guardian reported. "Some leaks are deliberate, venting the unwanted gas released from underground while drilling for oil into the air, and some are accidental, from badly maintained or poorly regulated equipment."
Lena Höglund-Isaksson from the International Institute for Applied Systems Analysis in Austria told the newspaper that even a temporary breach of the 1.5°C threshold—something scientists warn has a 50% chance of happening by 2026, especially with a looming El Niño pattern—could "trigger irreversible effects" from multiple tipping points.
"Methane is the worst thing in the struggle to hold back the [climate] domino pieces because it's pushing them over very quickly," added Kjell Kühne of Leeds University and the Leave it in the Ground Initiative. "Having so many methane bombs out there is really worrisome."
Last May, Kühne and other researchers sounded the alarm about nearly 200 "carbon bombs," or massive oil and gas projects that threaten to unleash 646 billion tonnes of CO2 emissions and doom efforts to preserve a livable planet.
A new analysis from the same team of researchers has identified 55 "methane bombs." These are oil and gas fields "where leakage alone from the full exploitation of the resources would result in emissions equivalent to at least a billion tonnes of CO2," The Guardian explained. "Gas fields also produce methane, which is sold to customers and burned, pumping carbon dioxide into the atmosphere. When these emissions are combined with the leaked methane, the list of bombs that would result in global heating equivalent to 1 billion tonnes of CO2 swells to 112."
"In the scientists' central estimate, the total emissions from these 112 methane bombs would be equivalent to 463 billion tonnes of CO2—more than a decade of current global emissions from all fossil fuels," the newspaper noted. "The methane bomb emissions are also significantly higher than the emissions limit of 380 billion tonnes of CO2 from all sources needed to keep global heating below 1.5°C, according to the Global Carbon Budget's recent estimate."
Kühne said that he is "amazed how long this list is, and how many of these giant projects are still being pushed forward."
"The impacts of methane are front-loaded—they happen very soon after its emission. Last year's gas leaks are killing people this year," he warned. "At the same time, methane is a huge opportunity to reduce global heating. That is the unrealized potential in defusing methane bombs, to stop runaway climate change. I think it might be the last opportunity because we're already seeing some of these tipping elements tip over. We're in a climate emergency and [stopping fossil fuel methane leaks] is top of the list."
The Global Methane Pledge, an initiative launched at COP26 and now endorsed by 150 countries, aims to slash global methane emissions by at least 30% below 2020 levels by 2030.
As part of the United States' commitment to that pledge, the Biden administration in November unveiled an updated action plan for reducing national methane emissions. While welcoming the move, climate justice campaigners stressed that much more must be done.
"The EPA has taken an important step forward by issuing a robust standard for methane emissions from oil and gas operations, including a 'super-emitter program' aimed at the most egregious polluters," Rachel Cleetus, policy director and lead economist for the Climate and Energy Program at the Union of Concerned Scientists, said at the time. "Ultimately, to meet global climate goals, we need to go well beyond this effort and actually sharply taper down fossil fuels."
News
SUPPORT OUR WORK.
We are independent, non-profit, advertising-free and 100%
reader supported.