Our work is licensed under Creative Commons (CC BY-NC-ND 3.0). Feel free to republish and share widely.
Jake Johnson
Jake Johnson is a senior editor and staff writer for Common Dreams.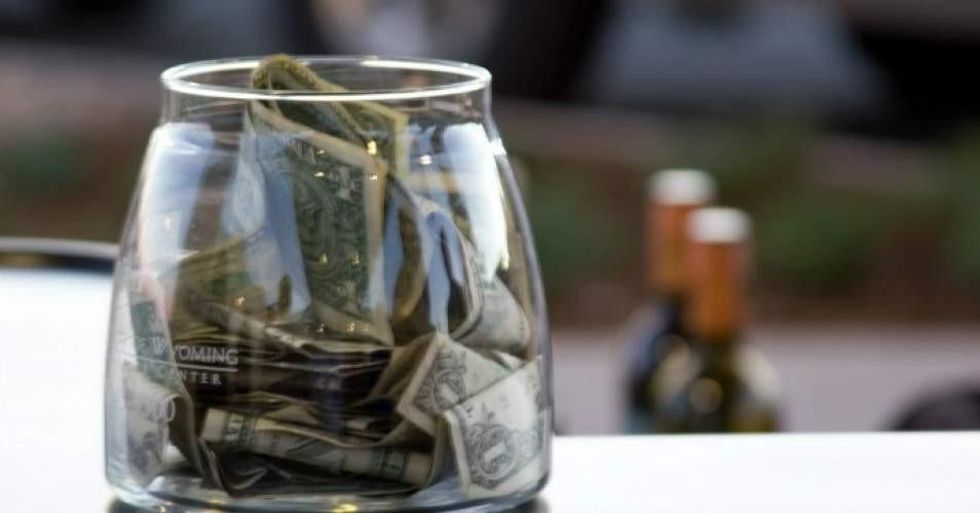 President Donald Trump's war on workers has spawned a number of disastrous policy moves, from cuts to federal employees' pay increases to directives making it harder for workers to unionize . But one of the " nastiest " policy shifts Trump is pursuing is a rule that would allow companies to steal their employees' tips--which, according to a new report , would cost workers $5.8 billion a year.
Published by the Economic Policy Institute (EPI) on Wednesday, the analysis also details the disproportionate impact the proposed rule would have on women, whose tips would account for nearly 80 percent--$4.6 billion--of the total stolen by employers.
\u201cFor this administration, anything that gives power to working people needs to be punished. So tip stealing is on the road to approval by the Trump administration. The @EconomicPolicy Institute estimates a total heist of $5.8 billion\u2014$4.6bn of that from women.\u201d

— Ben Wikler (@Ben Wikler) 1516212432
\u201cTrump to bosses: we'll no longer consider it stealing if you take $5.8 billion from restaurant workers' tips. New study of legalized tip stealing via @hshierholz @metaCoop @EconomicPolicy https://t.co/PtNicocg3c\u201d

— Amy Traub (@Amy Traub) 1516197760
By contrast, the "tip stealing" rule-- introduced by the Department of Labor in December--"would be a windfall to restaurant owners and other employers," who would essentially have total control over workers' tips, as long as they pay the minimum wage, EPI finds.
While EPI notes that employers would have the option to redistribute the tips to "'back of the house' workers like dishwashers and cooks," they would not be required to do so.
"Employers would be no more likely to share tips with back-of-the-house workers than they would be to make any other choice about what to do with a business windfall, including using the money to make capital improvements to their establishments, to increase executive pay, or to line their own pockets," EPI's report notes.
"Instead of giving workers a badly needed boost to their paycheck, the Trump administration is actively making it legal to steal tips from working people," Heidi Shierholz, EPI's director of policy, concluded in a statement on Wednesday.
With the rule's public comment period ending in just over two weeks, activists urged Americans to flood the Department of Labor with outrage that could help set the stage for future lawsuits.
\u201cSpread the word, but also do more. This proposed rule is open to public comment. Your comment is unlikely to change the immediate outcome, but if the admin doesn't address public input in its final rule, that creates space for lawsuits later. So: weigh in! https://t.co/dks8duNyEH\u201d

— Ben Wikler (@Ben Wikler) 1516212432
We've had enough. The 1% own and operate the corporate media. They are doing everything they can to defend the status quo, squash dissent and protect the wealthy and the powerful. The Common Dreams media model is different. We cover the news that matters to the 99%. Our mission? To inform. To inspire. To ignite change for the common good. How? Nonprofit. Independent. Reader-supported. Free to read. Free to republish. Free to share. With no advertising. No paywalls. No selling of your data. Thousands of small donations fund our newsroom and allow us to continue publishing. Can you chip in? We can't do it without you. Thank you.