Our work is licensed under Creative Commons (CC BY-NC-ND 3.0). Feel free to republish and share widely.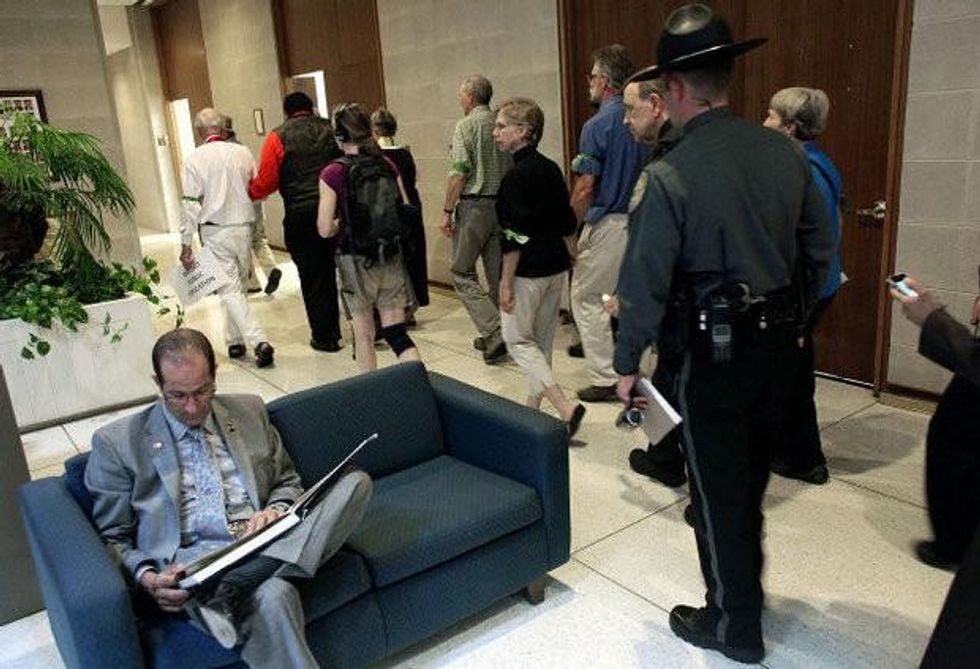 Demonstrating against the "cocktail of meanness" perpetuated by the North Carolina GOP, the seventh wave of the protests dubbed Moral Mondays resulted in 84 arrests this week, bringing the total to nearly 500 arrested since the actions began in April.
"...there's too much at stake, and justice will always prevail. They can pretend not to listen, but we cannot be silenced." - Elizabeth Benefield
According to the state chapter of the NAACP, this week's action focused on the importance of health and environmental justice, with an emphasis on the dangers of hydraulic fracturing.
One of the estimated 1,000 protesters, Elizabeth Benefield, commented to local outlet The News & Observer that she was there because she wanted legislators to know her opposition to their policies. "[T]here's too much at stake, and justice will always prevail," she said. "They can pretend not to listen, but we cannot be silenced."
Another demonstrator, Jay O'Berski, said he was inspired by the "cocktail of meanness" occurring in the legislature. He expressed his concerns, noting that these harmful policies are "starting to branch out" and affect other areas.
What differentiates this action from previous gatherings was the presence of researchers from UNC-Chapel Hill who canvassed the crowd collecting demographic information. The move to collect this data was a result of Governor Pat McCrory's earlier comment that the demonstrators are "outsiders," implying that not enough support for the movement exists within the state.
Organizers told The News & Observer that they are anticipating an even larger crowd next week, which falls on the last Monday before unemployment benefits are set to be cut as part of a law signed by the Governor earlier this year.
Lucia Brown is a summer editorial intern at Common Dreams.


_____________________
We've had enough. The 1% own and operate the corporate media. They are doing everything they can to defend the status quo, squash dissent and protect the wealthy and the powerful. The Common Dreams media model is different. We cover the news that matters to the 99%. Our mission? To inform. To inspire. To ignite change for the common good. How? Nonprofit. Independent. Reader-supported. Free to read. Free to republish. Free to share. With no advertising. No paywalls. No selling of your data. Thousands of small donations fund our newsroom and allow us to continue publishing. Can you chip in? We can't do it without you. Thank you.