Our work is licensed under Creative Commons (CC BY-NC-ND 3.0). Feel free to republish and share widely.
Lauren Mccauley
Lauren McCauley is a former senior editor for Common Dreams covering national and international politics and progressive news. She is now the Editor of Maine Beacon. Lauren also helped produce a number of documentary films, including the award-winning Soundtrack for a Revolution and The Hollywood Complex, as well as one currently in production about civil rights icon James Meredith. Her writing has been featured on Newsweek, BillMoyers.com, TruthDig, Truthout, In These Times, and Extra! the newsletter of Fairness and Accuracy in Reporting. She currently lives in Kennebunk, Maine with her husband, two children, a dog, and several chickens.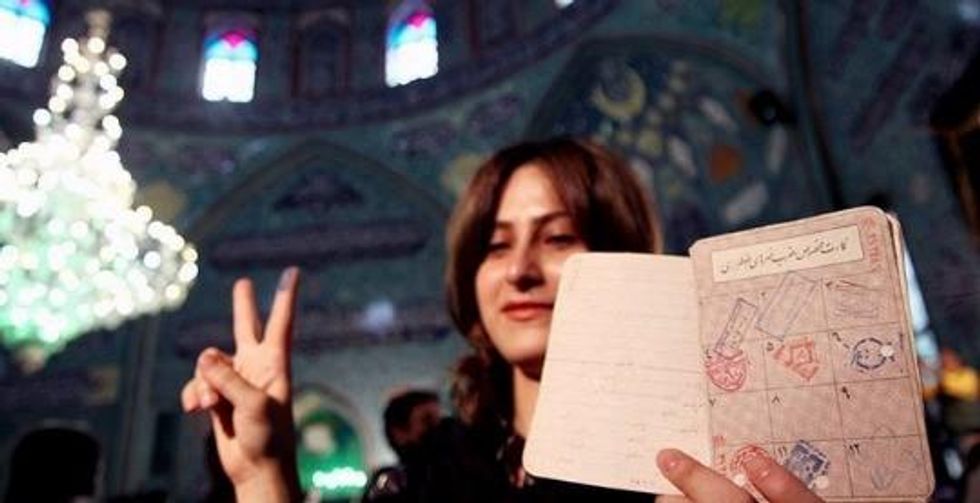 Millions of Iranians are headed to the polls Friday to vote in the first presidential election since the highly controversial 2009 vote. Though many are despairing over a set of candidates which many say present "no alternative" to the conservatives and regime insiders who dominate Iranian politics, other reformist-minded Iranians are determined to find a glimmer of hope.
Reporting from Tehran, the BBC's Mohsen Asgari Mohsen Asgari describes the long queues outside of the country's polling places:
As I approach southern parts of Tehran, the lines of people are longer and in some places it is unbelievably crowded. I found Ebrahim Yazdi, a former foreign minister and now a prominent dissident, in one long queue. 'I vote because I love Iran and I am faithful to the process of democracy,' he said.
In an election where roughly 50 million people are eligible to vote, reports indicate that "millions" have shown up to cast their ballots. Polls across Iran opened at 08:00 local time (03:30 GMT) and were orginally scheduled to close at 18:00 (13:30 GMT). However Iranian Interior Minister Mostafa Mohammad Najjar later announced voting time will be extended for another two hours due to a "rush of voters."
Not everyone in the country shares in this enthusiasm.
The early disqualification by the Guardian Council--the conservative body in charge of vetting all election candidates--of reformist candidate Hashemi Rafsanjani left many liberal Iranians divided over whether or not to vote at all for a field of candidates, described by one Iranian writer, as lacking "any sense of major diversity in their policies and ideologies."
However, a recent rally behind the moderate cleric candidate Hassan Rouhani, including endorsements by Rafsanjani and former president Mohammad Khatami, have given the reformists some hope.
Though described by some as a longtime regime insider, many hope the election of Rouhani--according to Jadaliyya, an independent ezine produced by the Arab Studies Institute--will "create enough breathing room for the country's diaspora to reignite the same grassroots activism experienced during Khatami's presidency," hopefully giving the reformists some "space" for change.
According to early reports from the Guardian's live blog of election events, Rouhani's campaign managers have already "complained of irregularities" with the polling.
"They claim there was deliberate attempt to confuse reformists voters at thousands of polling stations by failing to update election lists to show that reform candidate had dropped out of the race," the Guardian reports. "They also complained of a delay in the issuing of paper work for their election monitors."
Following the 2009 election of current Iranian President Mahmoud Ahmadinejad, protesters took to the streets in anger over the results which they said had been rigged.
Ballot counting is expected to start at midnight local time and results are due to be announced in the following 24 hours. Candidates will have up to three days to lodge complaints to the Guardian Council if they are unhappy with the results.
_____________________
We've had enough. The 1% own and operate the corporate media. They are doing everything they can to defend the status quo, squash dissent and protect the wealthy and the powerful. The Common Dreams media model is different. We cover the news that matters to the 99%. Our mission? To inform. To inspire. To ignite change for the common good. How? Nonprofit. Independent. Reader-supported. Free to read. Free to republish. Free to share. With no advertising. No paywalls. No selling of your data. Thousands of small donations fund our newsroom and allow us to continue publishing. Can you chip in? We can't do it without you. Thank you.