Our work is licensed under Creative Commons (CC BY-NC-ND 3.0). Feel free to republish and share widely.
Jacob Chamberlain
Jacob Chamberlain is a former staff writer for Common Dreams. His website is www.jacobpchamberlain.com.
The second day of Pfc. Bradley Manning's trial commenced Tuesday.
Three of the witnesses scheduled to testify against the U.S. war crimes whistleblower include two Army Computer Crimes Investigative Unit agents involved in forensic examinations of evidence.
Adrian Lamo, the known hacker turned government informant who turned Manning into federal authorities, will also testify today.
Follow live tweets from journalist on the inside of the courtroom:
Tweets about "from:carwinb OR from:Edpilkington OR from:kgosztola"
On Monday around 20 Manning supporters were allowed into the small courtroom including Princeton University professor and civil rights activist Cornel West and Medea Benjamin from CODEPINK.
However, many of the supporters, hwo wore black t-shirts with the word TRUTH printed across the front, were asked by the military to turn their shirts inside out before entering.
"It's important to support him," said Anne Wright, a retired Army colonel and CODEPINK activist. "I spent 29 years in the military, and what Bradley Manning has done is exposed government corruption and brutality."
In the defense's opening statements on Monday, lawyer David Coombs outlined Manning's moral compass which had informed his sense of duty to report the wrong-doings of the U.S. military, saying that Manning felt he "needed to do something to make a difference in the world. He needed to do something to help improve what he was seeing ."
The defense also argued that Manning specifically selected documents that could not be used "against the United States" and "could not be used" to the advantage of a foreign nation.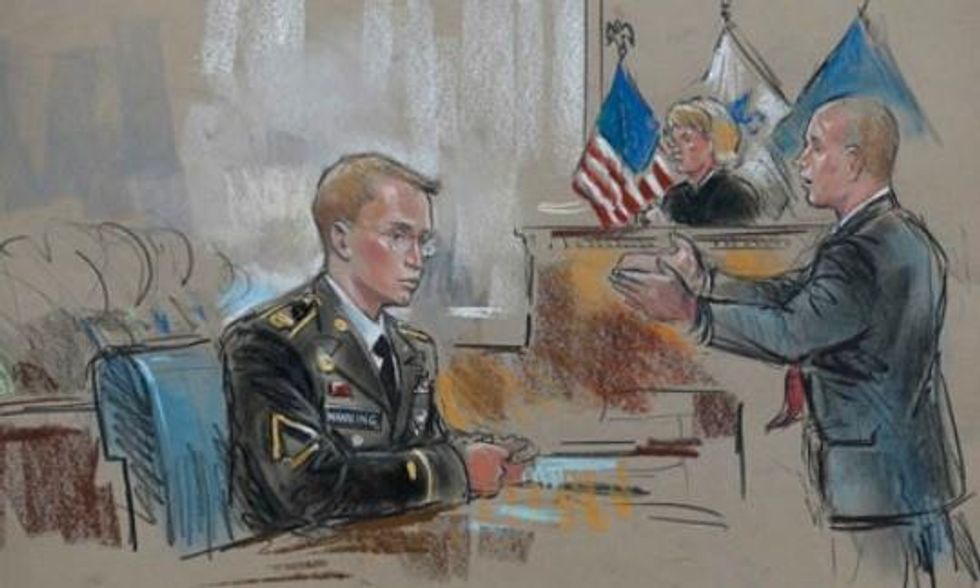 _______________________
We've had enough. The 1% own and operate the corporate media. They are doing everything they can to defend the status quo, squash dissent and protect the wealthy and the powerful. The Common Dreams media model is different. We cover the news that matters to the 99%. Our mission? To inform. To inspire. To ignite change for the common good. How? Nonprofit. Independent. Reader-supported. Free to read. Free to republish. Free to share. With no advertising. No paywalls. No selling of your data. Thousands of small donations fund our newsroom and allow us to continue publishing. Can you chip in? We can't do it without you. Thank you.