Our work is licensed under Creative Commons (CC BY-NC-ND 3.0). Feel free to republish and share widely.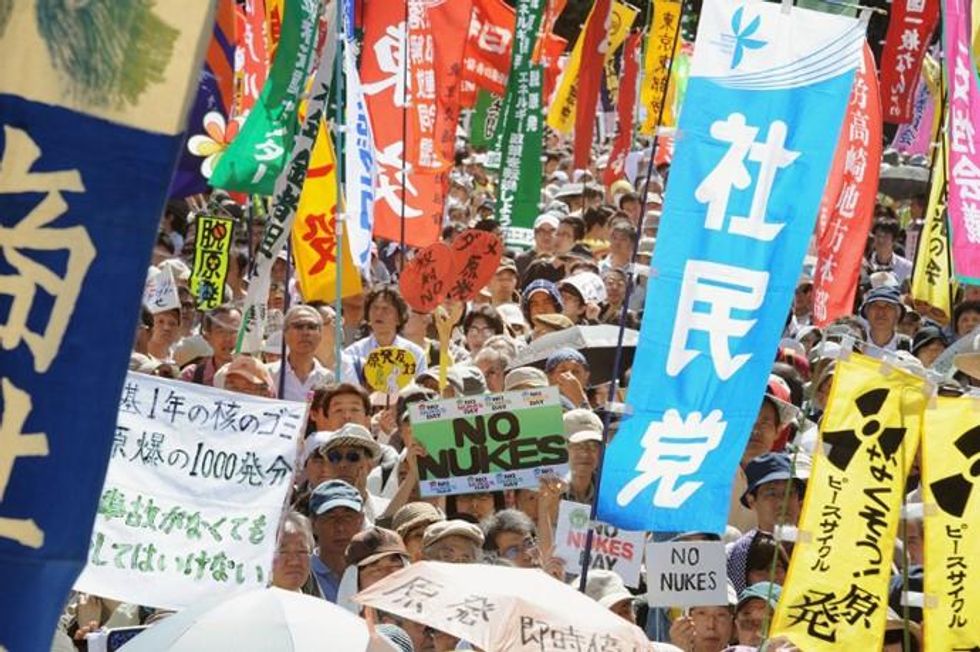 Thousands of people, including victims from the
Fukushima
disaster in 2011, took to a central park in Tokyo on Sunday to protest the Japanese government's intent to restart the nation's nuclear reactors.
Agence France-Pressereports:
Protesters later marched through the capital, holding anti-nuclear banners including one which read: "No Nukes! Unevolved Apes Want Nukes!"

They also demonstrated outside the headquarters of Tokyo Electric Power Co, operator of the Fukushima Daiichi nuclear power plant which was crippled by meltdowns after the March 2011 tsunami.

[Japan's Prime Minister Shinzo Abe], whose Liberal Democratic Party has close ties with the nation's powerful business circles, has repeatedly said he would allow reactor restarts if their safety could be ensured.

Japan turned off its 50 reactors for safety checks in the wake of the disaster but has restarted two of them, citing possible summertime power shortages.
And RTadds:
Shortly after the Fukushima disaster in March 2011, the Japanese government pledged to fully abandon atomic energy by the 2030s. However, in about a year authorities realized their promise was a hasty one, as the archipelago nation had hardly any other means to ensure sufficient electric energy supply but to return to nuclear power generation.

Earlier this year two nuclear reactors were put back into operation in Japan and plans were announced to restart six more by the end of 2013.



Prime Minister Shinzo Abe has repeatedly promised the reactors would only be restarted if their safety is ensured by a special supervising body - Nuclear Regulation Authority. But his words could never quell the anti-nuclear moods in the country, where the tsunami disaster took 19,000 lives and lead to some 150,000 residents of the Fukushima area being displaced.



It's estimated the post-disaster clean-up would take about 30 to 40 years and cost around US$15 billion.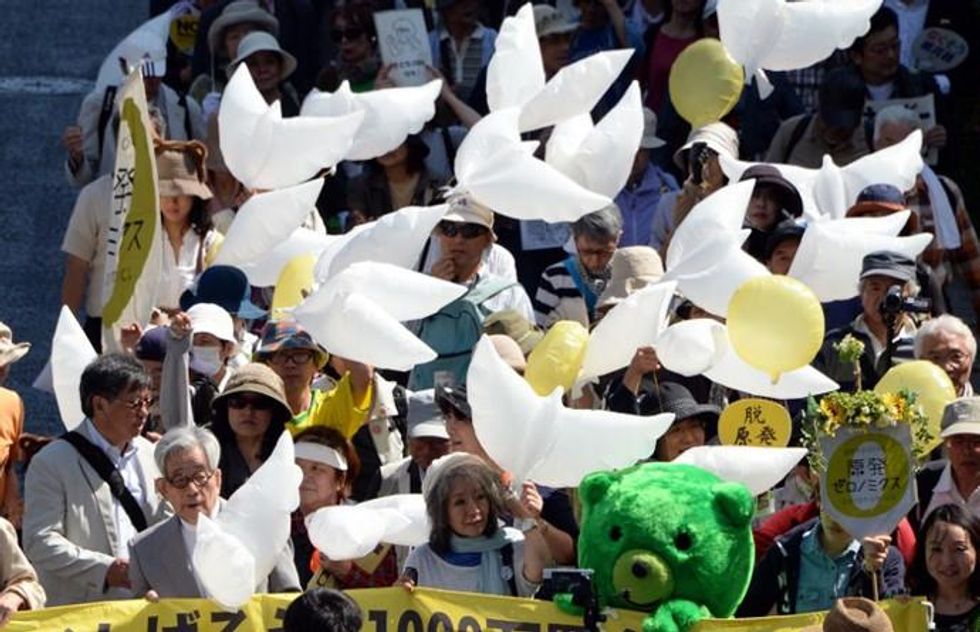 __________________________________
We've had enough. The 1% own and operate the corporate media. They are doing everything they can to defend the status quo, squash dissent and protect the wealthy and the powerful. The Common Dreams media model is different. We cover the news that matters to the 99%. Our mission? To inform. To inspire. To ignite change for the common good. How? Nonprofit. Independent. Reader-supported. Free to read. Free to republish. Free to share. With no advertising. No paywalls. No selling of your data. Thousands of small donations fund our newsroom and allow us to continue publishing. Can you chip in? We can't do it without you. Thank you.