This work is licensed under a Creative Commons Attribution 4.0 International License
Cherrie Bucknor
Cherrie Bucknor is Research Assistant with the Center for Economic and Policy Research.
Last Monday, President Obama commuted the sentences of 46 non-violent drug offenders. While doing so, he highlighted what he believed to be the harsh sentencing guidelines that kept these men and women in prison. These commutations, President Obama's recent speech at the NAACP Convention in Philadelphia, and his Thursday visit to the El Reno Correctional Institution in Oklahoma represent the latest moves in his push for criminal justice reform. It has also sparked some spirited debate on incarceration here, here, and here.
As President Obama and others have mentioned, the incarceration rate has fallen over the past few years. After almost 30 years of steady increases, the incarceration rate peaked at 757.7 in 2007, and fell to 698.7 by the end of 2013.[i] This is certainly promising news, especially if this trend continues.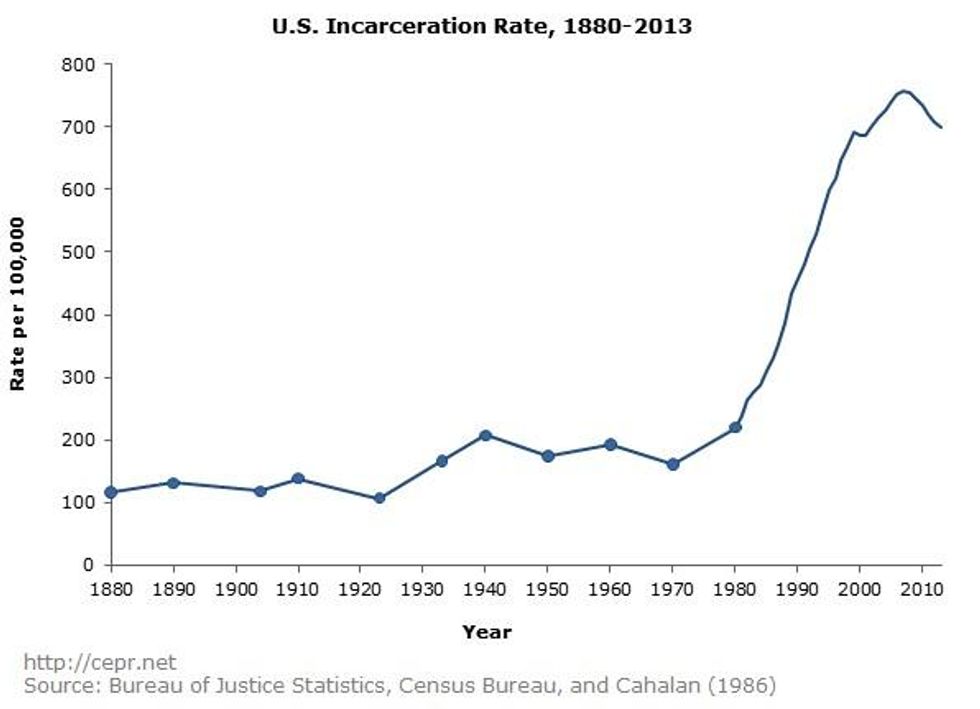 However, there is still much work to be done. Although we have seen a decrease in the incarceration rate, there are still 2.2 million men and women currently incarcerated in prisons and jails. Furthermore, these 46 inmates as well as the hundreds of thousands of other inmates released every year are likely to face many obstacles in their struggle to adjust to life outside of prison.
Criminal justice reform shouldn't end with improving conditions in prisons and jails and getting rid of overly harsh sentencing laws. We must also consider what happens to these men and women once they're released. Will they be able to find jobs? Will they be able to vote? How about receive public assistance? In many cases, the answer to these questions is no.
Criminal justice reform shouldn't end with improving conditions in prisons and jails and getting rid of overly harsh sentencing laws.Research has shown that having to declare your criminal history on job applications decreases your chances of continuing in the hiring process. 19 states restrict voting rights while ex-offenders are on parole or probation, and 12 of them keep these restrictions in place for some crimes, even after the ex-offenders are off of parole or probation. Also, many drug offenders face bans on access to public assistance in the form of cash benefits (TANF or Temporary Assistance to Needy Families) and SNAP (Supplemental Nutrition Assistance Program, or food stamps).
Given the large number of prisoners currently incarcerated, it is likely that it will be many years before the ex-prisoner population begins to noticeably decrease. It is imperative that we take the necessary steps to ensure that these ex-offenders have the tools they need to be successful once they are released.
We've had enough. The 1% own and operate the corporate media. They are doing everything they can to defend the status quo, squash dissent and protect the wealthy and the powerful. The Common Dreams media model is different. We cover the news that matters to the 99%. Our mission? To inform. To inspire. To ignite change for the common good. How? Nonprofit. Independent. Reader-supported. Free to read. Free to republish. Free to share. With no advertising. No paywalls. No selling of your data. Thousands of small donations fund our newsroom and allow us to continue publishing. Can you chip in? We can't do it without you. Thank you.