John Nichols
John Nichols is Washington correspondent for The Nation and associate editor of The Capital Times in Madison, Wisconsin. His books co-authored with Robert W. McChesney are: "Dollarocracy: How the Money and Media Election Complex is Destroying America" (2014), "The Death and Life of American Journalism: The Media Revolution that Will Begin the World Again" (2011), and "Tragedy & Farce: How the American Media Sell Wars, Spin Elections, and Destroy Democracy" (2006). Nichols' other books include: "The "S" Word: A Short History of an American Tradition...Socialism" (2015), "Dick: The Man Who is President (2004) and "The Genius of Impeachment: The Founders' Cure for Royalism" (2006).
Chokwe Lumumba maintained a civil rights commitment that was rooted in the moment when his mother showed her eight-year-old son the Jet magazine photograph of a beaten Emmett Till in his open casket. The commitment was nurtured on the streets of Detroit, where Lumumba and his mother collected money to support the Southern Nonviolent Coordinating Committee and the civil rights struggles of the early 1960s.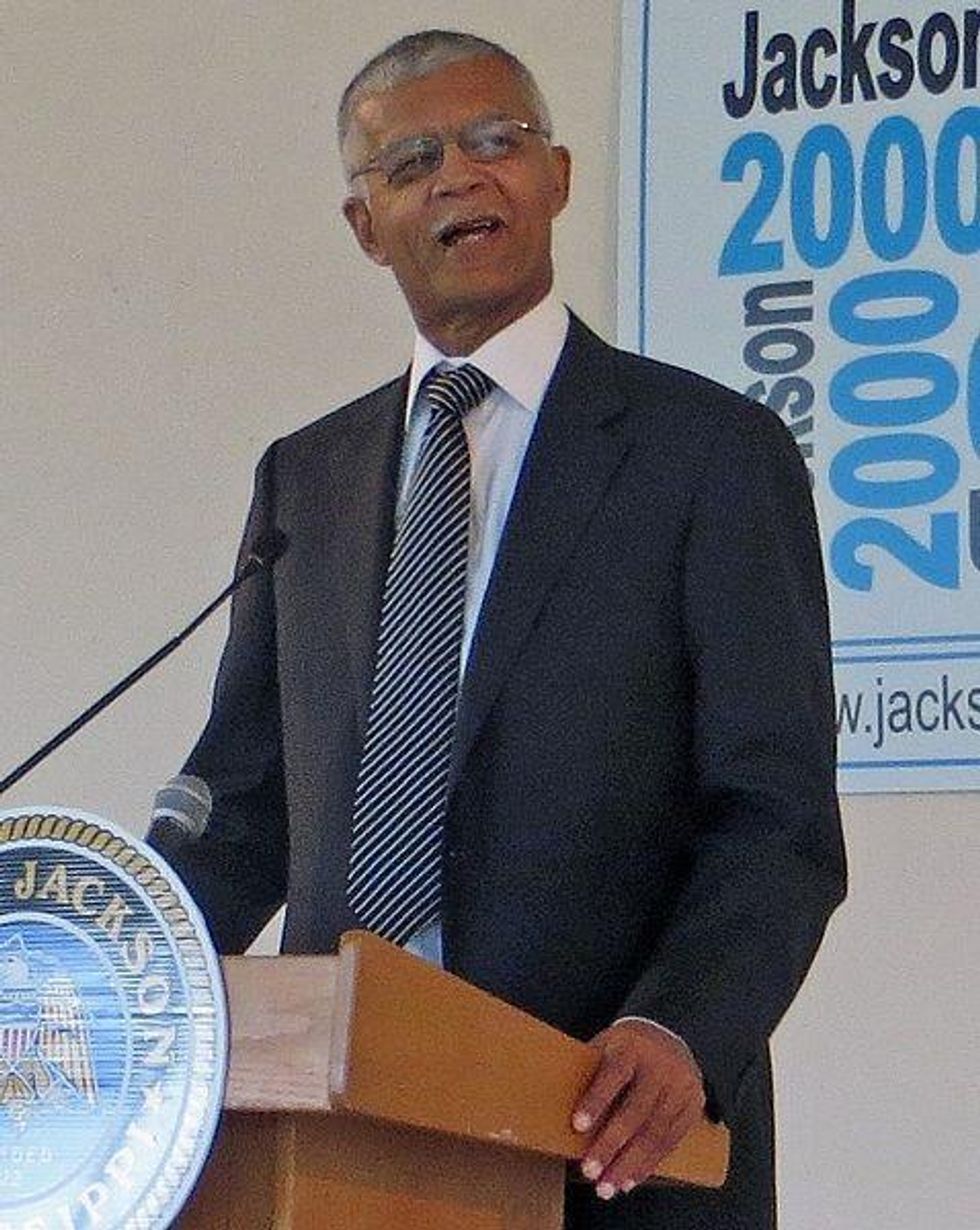 Half a century later, he would be the transformational mayor of a major southern city, Jackson, Mississippi. But just as his tenure was taking shape,
Lumumba died unexpectedly
Tuesday at age 66.
The mayor's death ended an epic journey that challenged conventions, upset the status quo and proved the potential of electoral politics to initiate radical change -- even in a conservative southern state.
As a young man, inspired by the Rev. Martin Luther King Jr's struggle to address "infectious discrimination, racism and apartheid," and shocked into a deeper activism by King's assassination, Lumumba changed his name from Edwin Taliaferro--taking his new first name from an African tribe that had resisted slavery and his new last name from the Congolese independence leader Patrice Lumumba.
Chokwe Lumumba became a human rights lawyer "defending political prisoners people who are being prosecuted because of their political beliefs." His clients would eventually include former Black Panthers and rapper Tupac Shakur. His remarkable list of legal accomplishments included his key role in the 2010 decisionof Mississippi Governor Haley Barbour to suspend the sentences of Jamie and Gladys Scott, Mississippi sisters who were released after serving 16 years of consecutive life sentences for an $11 robbery -- a punishment that came to be understood as a glaring example of the extreme over-sentencing of African Americans.
When he was not in court, Lumumba was agitating, as a civil rights and anti-apartheid activist, as a leading figure in the Republic of New Afrika, and as a co-founder of the National Coalition of Blacks for Reparations in America and the Malcolm X Grassroots Movement.
That's not the usual resume for the mayor of a major southern city.
But Chokwe Lumumba had no intention of becoming a usual mayor when he launched his bid last year for Jackson's top job. After a campaign in which the city councilman was outspent 4-1 and attacked as a militant, Lumumba defeated an incumbent mayor and a business-backed contender in the Democratic primary and then won more than 85 percent of the vote in the June, 2013, general election.
He took office not merely with the intent of managing Jackson but with the goal of transforming it. "People should take a note of Jackson, because we have suffered some of the worst kinds of abuses in history, but we're about to make some advances and some strides in the development of human rights and the protection of human rights that I think have not been seen in other parts of the country," he told Democracy Now! just days after his election.
For Lumumba, that meant building unprecedented coalitions that crossed lines of race, class, gender, ideology and politics. "Our revolution is for the better idea it's not just for the change in colors." he told The Jackson Free Press.
Lumumba wanted Jackson to create a "solidarity economy," with en emphasis on developing cooperatives and establishing models for local development and worker ownership.
"We have to make sure that economically we're free, and part of that is the whole idea of economic democracy," said the mayor, who explained in an interview shortly after his election:
We have to deal with more cooperative thinking and more involvement of people in the control of businesses, as opposed to just the big money changers, or the big CEOs and the big multinational corporations, the big capitalist corporations which generally control here in Mississippi. They are a reality.

And so it's not that we're going to throw them out of Mississippi. I don't think that's going to happen, but I do believe that we can develop ways of working to have Blacks and other - indeed, not just Blacks but other poor people, or people who are less endowed with great wealth - to participate in the economy on an equal basis.
Lumumba was building the coalitions, and gaining a striking level of support for his vision, when he died unxpectedly from heart failure at age 66.
Lumumba had run for the mayoralty as "a Fannie Lou Hamer Democrat" and promised to renew the small "d" democracy vision of Hamer's Mississippi Freedom Democratic Party. True to his campaign slogan, "The People Must Decide," he sought to organize new social and economic networks (with a special emphasis on developing cooperatives) in Mississippi's capital city and boldly asked citizens to vote to raise their own taxes in order to repair the city's crumbling infrastructure. While most politicians avoid association with tax hikes, Lumumba campaigned across the city of 175,000 - announcing that "we can fix the problem" - and on January 14, 2014, the mayor won a 9-1 vote of confidence.
Celebrating that victory, Lumumba declared, "I want to just say that it's been a resounding victory here, and there's only one way to go -- that's up. We're going to do exactly what we said. We said at the very beginning that we were going to take infrastructure and revitalize infrastructure and transition infrastructure into economy."
The mayor's enthusiasm extended to his efforts to convince Mississippi's conservative legislature to support aid to Jackson. He created a sense that just about anything was possible in a city that embraced his activist agenda on human rights and economic justice issues.
"I have known Mayor Lumumba since 1974," said Congressman Bennie Thompson, D-Mississippi. "One of the reasons I was so public about my support for the mayor, was that I believed once people got to know the real Chokwe Lumumba they would find him to be an extremely bright, caring and humble individual. His election as mayor and very short term in office demonstrated exactly that."
Lumumba death, from heart failure, came as a shock. And a shocking loss for a city that had elected him just months earlier. Crowds gathered at Jackson's city hall to mourn that loss. "Words cannot do justice to the emotions we all feel right now. Our great captain has fallen. Our hearts are broken," said Hinds County (Jackson) Democratic Party chair Jacqueline Amos. "The legacy of Chokwe Lumumba must not be buried with the man."
Amos is so very right.
Cities are the places where radical reformers can still break the political mold and make real change, where the politics of concession and compromise can be replaced with the politics of people power and renewal. Chokwe Lumumba proved that, and the best way to honor his accomplishment is to elect more mayors who are as determined as he was to be transformative leaders.
We've had enough. The 1% own and operate the corporate media. They are doing everything they can to defend the status quo, squash dissent and protect the wealthy and the powerful. The Common Dreams media model is different. We cover the news that matters to the 99%. Our mission? To inform. To inspire. To ignite change for the common good. How? Nonprofit. Independent. Reader-supported. Free to read. Free to republish. Free to share. With no advertising. No paywalls. No selling of your data. Thousands of small donations fund our newsroom and allow us to continue publishing. Can you chip in? We can't do it without you. Thank you.