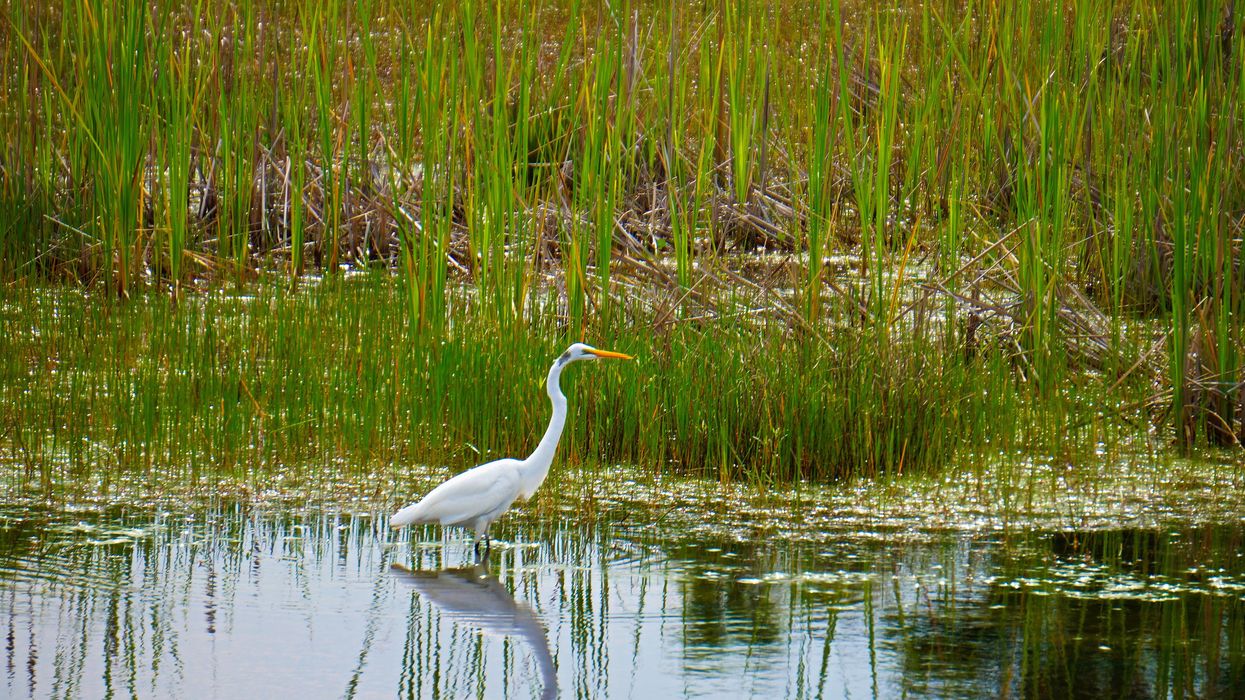 "Congress and local elected officials must now step in and do more to protect clean water through durable legislation and state-based action," said one advocate.
Under a U.S. Supreme Court ruling condemned by clean water advocates earlier this year, the Environmental Protection Agency on Tuesday announced a revised rule that could clear the way for up to 63% of the country's wetlands to lose protections that have been in place nearly half a century under the Clean Water Act.
EPA Administrator Michael Regan said he had been "disappointed" by the 5-4 decision handed down in Sackett v. Environmental Protection Agencyin May, but he was obligated under the ruling to issue a final rule changing the agency's definition of "waters on the United States."
As Common Dreamsreported, the high court ruled in May that the Clean Water Act protects waters and wetlands that have a "continuous surface connection to bodies that are waters of the United States in their own rights," such as major rivers and coastlines.
Prior to the ruling, the Clean Water Act protected wetlands as long as they had a "significant nexus" to regulated waters, but the EPA rule removes that test from consideration when determining if a waterway should be protected. The rule will leave streams and tributaries—and the communities adjacent to them—without protections from pollution that can be caused by housing and business development, mining, pipeline construction, and a number of industries.
The ruling and resulting EPA rule reflected "the Supreme Court's disturbing pattern of striking down environmental regulations to serve industry interests," said environmental law group Earthjustice on Tuesday.
An EPA official toldThe Washington Post that an estimated 1.2 million to 4.9 million miles of ephemeral streams across the U.S. would immediately lose protections now that the final rule has been issued.
Julian Gonzalez, a water policy lobbyist with Earthjustice, told the Post that changing the rule is "not necessarily what they want to do" at the EPA, while Patrice Simms, the group's vice president of litigation for healthy communities, called the court's ruling a "politically motivated decision" that "ignores science and flies in the face of what almost everyone knows: that we all need clean water."
"The Supreme Court's right-wing supermajority's disastrous ruling in Sackett v. EPA reduced EPA's ability to protect our wetlands and waters from destruction and contamination," said Simms. "The new rule from EPA adjusts its existing regulations to comport with Sackett and reflects our dangerous new reality—one where mining companies, Big Ag fossil fuel developers, and other polluting industries can bulldoze and fill wetlands indiscriminately, harming our public health and ecosystems."
With state regulatory agencies and legislatures now empowered to determine how wetlands are protected, Earthjustice said waterways in states including Texas, Kentucky, Oklahoma, and Colorado are the most vulnerable to industrial pollution. States including Vermont, New York, and Minnesota currently have some of the strongest protections in place.
Marc Yaggi, CEO of Waterkeeper Alliance, said that with the climate and pollution crises becoming increasingly destructive, "there could not be a worse time to weaken the Clean Water Act."

"Intensifying droughts are wreaking havoc on agriculture, pollution and toxins are increasingly threatening water sources nationwide, and millions of people are contending with dangerously contaminated drinking water," said Yaggi. "Congress and local elected officials must now step in and do more to protect clean water through durable legislation and state-based action."

News