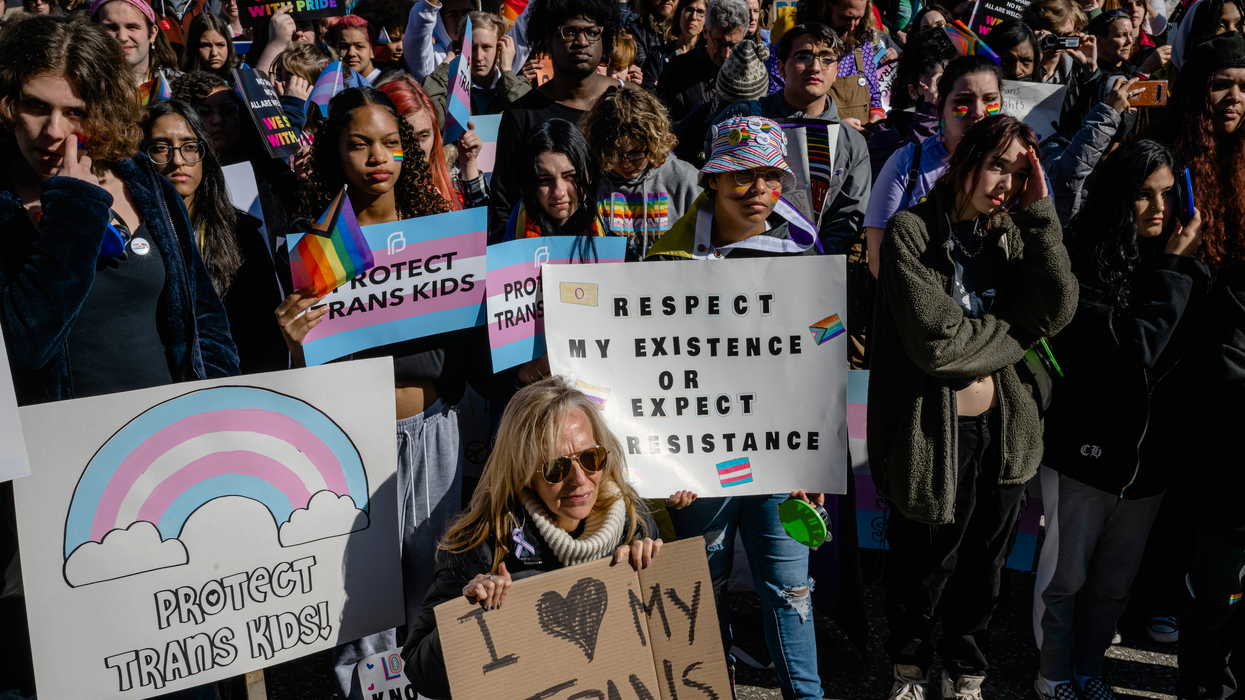 "While we lost the battle in the legislature, our defeat is temporary. We will not lose in court," said one Kentucky activist. "And we are winning in so many other ways."

West Virginia and Kentucky on Wednesday joined the growing list of U.S. states where Republicans have banned gender-affirming healthcare for minors, denying them access to evidence-based treatments that advocates say have saved the lives of countless transgender youth.
Republican West Virginia Gov. Jim Justice signed legislation outlawing the prescription of hormone therapy and fully reversible puberty blockers to anyone under age 18. Minors are also now prohibited from undergoing gender-affirming surgeries, even though doctors say no such operations are performed in the state. The law contains an exception for minors who are deemed at risk of suicide or other self-harm, diagnosed with severe gender dysphoria by two doctors, and have parental consent.
According to UCLA's Williams Institute on Sexual Orientation and Gender Identity Law and Public Policy, West Virginia is the state with the highest per capita number of transgender youth in the country, by far.
"We are denying families, their physicians, and their therapists the right to make medically informed decisions for their families."
Following the lead of Tennessee—which recently banned public drag shows—Republican state lawmakers in West Virginia have also recently introduced a pair of bills ostensibly aimed at "protecting minors from exposure to indecent displays," in part by defining "obscene matter" as "included but not limited to transvestite and/or transgender exposure in performances or displays to minors."
One of the bills punishes violators with a year in prison; the other imposes a six-month sentence.
Meanwhile, Republican state lawmakers used their supermajority in both chambers of the Legislature to override Democratic Gov. Andy Beshear's veto of legislation described by Louisville Courier Journal reporter Olivia Krauth as "one of the nation's most extreme anti-trans bills."
Hundreds of LGBTQ+ youths and their allies rallied outside the Kentucky state Capitol, and 19 activists were arrested inside the building and charged with criminal trespassing after refusing orders to leave, the Courier Journal reported.
Hazel Hardesty, a transgender teen who spoke at the rally, said that without gender-affirming care, "my male puberty would continue" and "cause a lot of mental distress."
"People don't even understand how it feels," the 16-year-old said. "Going through the wrong puberty, every day your body is a little bit farther from what feels like you. And eventually, you don't even recognize yourself in the mirror."
Another trans teen, June Wagner, told the crowd that "my own government is working against me."
As Krauth noted, the Kentucky bill:
Bans all gender-affirming medical care for trans youths;
Requires doctors to de-transition minors in their care if they're using any of the restricted treatment options;
Prohibits conversations around sexual orientation or gender identity in school for students of all grades;
Requires school districts to forbid trans students from using the bathroom tied to their gender identities;
Allows teachers to refuse to use the pronouns a student identifies with.
"We are denying families, their physicians, and their therapists the right to make medically informed decisions for their families," Kentucky state Sen. Karen Berg (D-26) said on the chamber's floor prior to the vote.
"To say this is a bill protecting children is completely disingenuous, and to call this a 'parents' rights' bill is an absolutely despicable affront to me, personally," Berg added, recounting how her transgender son killed himself in December. She also linked anti-trans legislation to violent attacks on transgender people.

The ACLU of Kentucky's new executive director, Amber Duke, called the veto override "another shameful attack on LGBTQ youth."
"Trans Kentuckians, medical and mental health professionals, and accredited professional associations pleaded with lawmakers to listen to the experts, not harmful rhetoric based in fear and hate," Duke continued. "Their pleas fell on deaf ears."
"To all the trans youth who may be affected by this legislation: We stand by you, and we will not stop fighting. You are cherished. You are loved. You belong," she added. "To the commonwealth: We will see you in court."
Trans youth can still obtain gender-affirming care in Kentucky, as the law won't take effect for 90 days.
The American Medical Association, the American Psychiatric Association, and the American Academy of Pediatrics are among the many medical groups supporting gender-affirming care for minors. A study published last year by the University of Washington found that youth who received such healthcare were 73% less likely to experience suicidality and 60% less likely to suffer from depression than minors who did not get care.
Yet GOP-led state legislatures in 2023 have already introduced more than 100 bills aimed at banning or severely limiting gender-affirming healthcare for minors, according to the ACLU.
As The Associated Press notes:
At least 11 states have now enacted laws restricting or banning gender-affirming care for minors: Alabama, Arkansas, Arizona, Georgia, Iowa, Kentucky, Mississippi, Tennessee, Utah, South Dakota, and West Virginia. Federal judges have blocked enforcement of laws in Alabama and Arkansas, and nearly two dozen states are considering bills this year to restrict or ban care.
Earlier this month, the Idaho House of Representatives passed a bill that would make providing gender-affirming care to transgender youths a felony, punishable by life imprisonment. The legislation also contains a provision making it a crime for parents or guardians to allow their children to travel out of the state for treatment.
According to the Williams Institute, more than 144,000 U.S. transgender youth lost or remain at risk of losing access to gender-affirming care due to bans.
Belying Republican claims that healthcare bans are for the protection of children, GOP-led states have also moved to ban or limit gender-affirming care for adults.

Speaking after the Kentucky veto override, Chris Hartman from the advocacy group Fairness Campaign said in a statement that "while we lost the battle in the legislature, our defeat is temporary."
"We will not lose in court," Hartman added. "And we are winning in so many other ways."
News